How Progress Bars Let You Easily Track Contract Stages
By Karen Howe, Training Director at Contract Logix
Fall is in the air. It's the time of year for back-to-school, apple picking, football, and crisp, cool evenings (at least here in the Northeast). Seeing the progress of the seasons makes me think of progress in other arenas, like contract execution.
The Merriam-Webster dictionary defines progress as "a forward or onward movement (as to an objective or to a goal)". If your goal is to get a contract signed in a timely fashion, wouldn't it be helpful to know how you're doing against that goal? And wouldn't having a clear, easy-to-interpret, and graphical way to track contract stages and measure progress be an advantage?
Progress bars enable users of Contract Logix's Premium Contract Management System to see at a glance how far along a contract is in the contracting process and track contract stages as it moves from Draft to Review, Approval, Signature and is finally Executed. Each contract stage along the way is assigned a color-coded percentage of completeness, as shown in the example below.

You don't need to open a contract record to see the bars (they're visible in the Contracts grid) and the colors stand out, allowing you to quickly scan the list to see where a contract is right now. Progress bars are also displayed for the individual contracts you add to your Watch List, so you can track contract stages and gauge the progress of the contracts most important to you.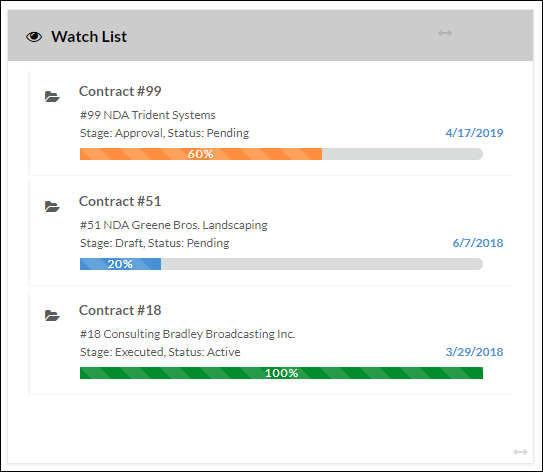 Takeaway
Contract management software from Contract Logix offers users lots of detailed information, but sometimes you just need a simple and quick visual to grasp an idea like how to track contract stages.  Progress bars fulfill that need, just as the sight of a bright red apple ripening on the tree or a football field under the Friday night lights heralds the start of autumn.