Benefits of Contract Management Software and How It Can Help Your Business
The software business is complex and challenging, especially with the many contracts necessary to manage licenses and commitments. To reduce complexity, improve productivity, and accelerate revenues, consider automating your contract process with contract management software – like the all-digital solutions offered by Contract Logix. 
Key Takeaways
Contract management software automates all aspects of the software contract process.
Software businesses leverage the benefits of contract management software to manage deadlines, deliverables, licenses, and royalties effectively.
Contract management software helps software businesses close deals faster, reduce paperwork, minimize errors, and lower costs.
😉 P.S.: Learn how to manage your contracts digitally HERE.
What Are the Benefits of Contract Management Software?
Contract management software helps companies automate and manage the entire contract lifecycle. Contract management software enables organizations to standardize contract language, efficiently route in-process contracts, and securely store digital contracts while providing easier searching and access.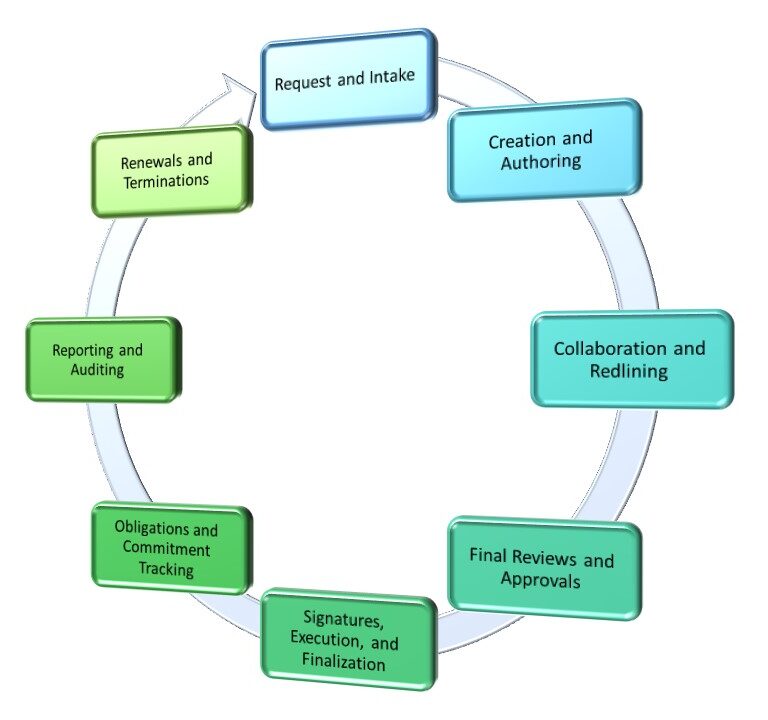 Contract management software touches all aspects of the contract lifecycle, including:
Request and intake

. Standardizes the contract request process and automates the collection and intake of key information. 

Creation and authoring

. Uses predesigned contract templates with pre-approved language and clauses to standardize

new contract creation

. 

Collaboration and redlining

. Automatically routes in-process contracts to the right individuals and departments and electronically tracks all edits and changes. 

Final reviews and approvals

. Makes reviewing and approving contract language as easy as marking checkboxes on an online form.

Signatures, execution, and finalization

. Uses

electronic signatures

(e-signatures) to speed up final execution and stores all finalized contracts in a centralized digital repository. 

Obligations and commitment tracking

. Automatically tracks all upcoming deadlines and deliverables and sends out notifications to key individuals.

Reporting and auditing

. Makes it easy to search and access stored contracts, create informative reports, and create a detailed audit trail.

Renewals and terminations

. Automatically notifies key parties when contracts are due to expire so they can be renewed, renegotiated, or left to expire. 
All of this is made possible because all contracts in a contract management software platform are completely digital. Contracts are created from digital contracts, routed digitally, signed digitally, and stored in a massive digital repository. This minimizes manual operations, reduces errors, and results in a more secure and efficient process. 
How Can Businesses Get The Benefits of Contract Management Software?
IBISWorld estimates that the U.S. software industry generated $456.7 billion in revenues in 2023, averaging 6.2% annual growth over the past five years. The global software market is also exhibiting strong growth, with revenues expected to increase from $650.7 billion in 2023 to $812.9 billion by 2027.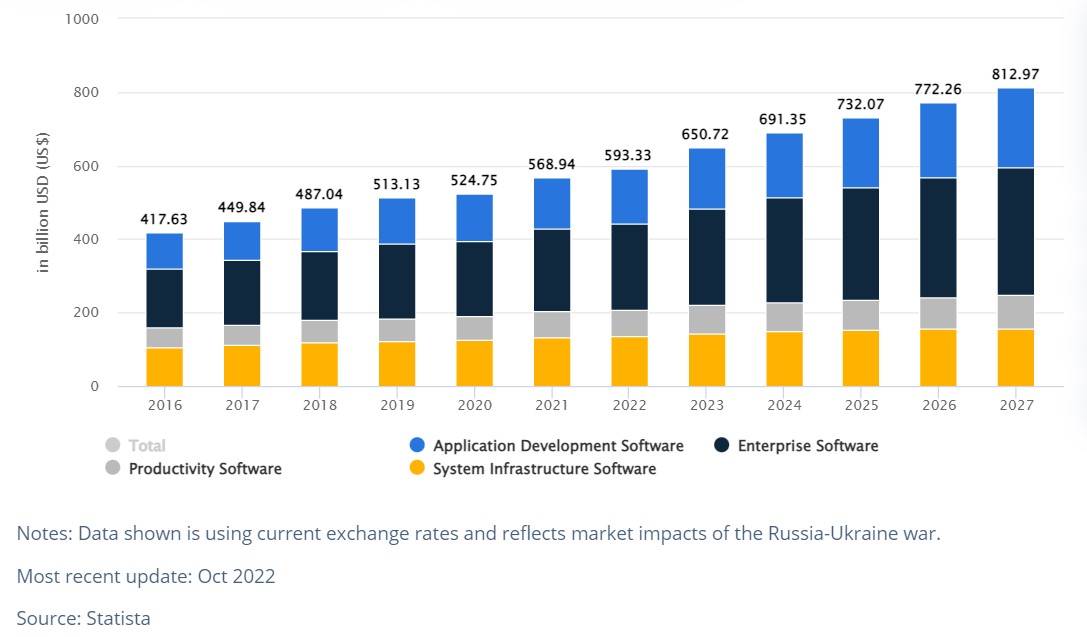 SOURCE: https://www.statista.com/
These numbers emphasize the need for software companies to tightly manage all aspects of their business. Companies in the software industry can especially benefit from the functionality of today's contract management software. The versatile automation enabled by contract management software solutions easily meets the unique business needs of software publishers. 
Here are eight important ways software publishers can get the benefits of contract management software. 
Optimize Deadline and Deliverable Tracking
Software publishers have to deliver their software on strict schedules. Missing a deadline can be catastrophic, both for the company and for its clients, who depend on that software to run their businesses. In turn, software publishers depend on their employees and subcontractors to meet their deadlines and deliver key pieces of code. There is little margin of error for any entity to default on key deliverables. 
Contract management software does a much better job tracking deadlines and deliverables than manual systems. Instead of relying on spreadsheets and Gantt charts, software businesses can now use contracting software to track every contract deliverable. Key players receive automated reminders of upcoming deadlines to minimize unpleasant surprises. This ensures nothing gets overlooked or forgotten as the process is fully automated. 
Better Manage Software Licenses
The software business runs on licenses or subscriptions. Software companies license key code from third parties and license their own applications to their client base. Managing all these software licenses is a major challenge, especially when relying on manual methods such as spreadsheets and multi-page physical contracts. 
Because contract management stores all contract details digitally, it is much better suited to manage your software company's various vendor and customer licenses. All contract information is stored in a central repository, making it easy to generate reports, analyze data, and receive notifications. All those licenses suddenly become easy to manage – even as the software business continues to grow. 
Streamline Software Royalty Management
Royalties are part and parcel of software licensing. Many companies adopt a royalty-based business model to license their software, charging customers a monthly, quarterly, or yearly royalty or licensing fee to use their applications. 
Keeping track of royalties due and royalties paid is a monumental challenge unless the entire system is digitized and automated, as it is with a contract management system. Contract management software streamlines royalty tracking and collection, leading to improved revenue recognition.
Close Deals Faster
Because contract management software speeds up the entire contract lifecycle, your software business can close more deals in less time. You no longer have to wait and wait for a contract to be circulated and signed. It now gets circulated electronically and signed digitally. 
Reduce Errors
Manually managed physical contracts are prone to human error. Digital contracts managed automatically are not. The fewer hands that touch a contract, the fewer opportunities for error. 
Reduce Paperwork
Electronic contracts naturally reduce any company's paperwork. Given the huge number of details involved in negotiating and fulfilling a typical software contract, the switch to an electronic system substantially reduces paper usage and document management time.
Improve Security
Security is paramount in the software business, and physical contracts and accompanying documents are notoriously difficult to secure. Electronic contracts stored in a central repository can be secured with today's cybersecurity tools, limiting access to only authorized individuals. 
Reduce Costs
Implementing contract management software has the potential to dramatically reduce costs for software companies. By minimizing manual labor and increasing overall efficiency, software publishers can enjoy substantial cost savings. When paired with the corresponding revenue acceleration realized by contract management software, profits are sure to increase – immediately and for the long term.
Manage Your Business' Software Contracts with Contract Logix
When it comes to contract management software, Contract Logix stands head and shoulders above the competition. Contract Logix's contract management software solution automates the entire contract lifecycle, from inception through execution and beyond, while centralizing the storage of all software-related contracts. It makes it easy to manage your company's many software license and royalty agreements and minimize errors and operating costs. 
Contact Contract Logix to learn more about the Benefits of Contract Management for your business.
Accelerate Your Digital Transformation With Contract Logix
Download our Data Extraction Product Brief to learn how you can automate the hard work using artificial intelligence