8 Important Contract Lifecycle Management Software Features for 2023
Tired of using spreadsheets and shared drives to manage your legal agreements? Tired of missing obligations, losing contracts, or just dealing with inefficient and risky processes? If your organization is ready to move to contract automation by adopting contract management software, what's the best solution for you? There are lots of options available that will modernize your contract workflow and make the entire contract lifecycle more efficient. Regardless of which solution you choose, there are a number of important features you'll want to ensure are available when making your decision. Read on to learn what contract lifecycle management software features you need.
Key Takeaways
Contract lifecycle management software features automates all aspects of the contract lifecycle
The best CLM solutions include a centralized digital contract repository, powerful search capability, pre-designed contract templates, and automated contract workflow
Look for CLM software that includes eSignature integration, automated notifications, easy-to-use dashboards, and robust reporting 
Some of the best CLM solutions today also support advanced analytics and intelligence to help you further mitigate risk and deliver business insights
What Is Contract Lifecycle Management Software?
According to KPMG, 76% of organizations surveyed say it's a top priority to move to an automated contract lifecycle management solution. There are many reasons why. 
Contract lifecycle management (CLM) software automates the entire contract lifecycle. It helps you manage each step of the lifecycle and follow all the proper processes. CLM software removes many of the variables from contract management, thus reducing errors, speeding up the workflow, and reducing costs—up to 60%, according to Deloitte.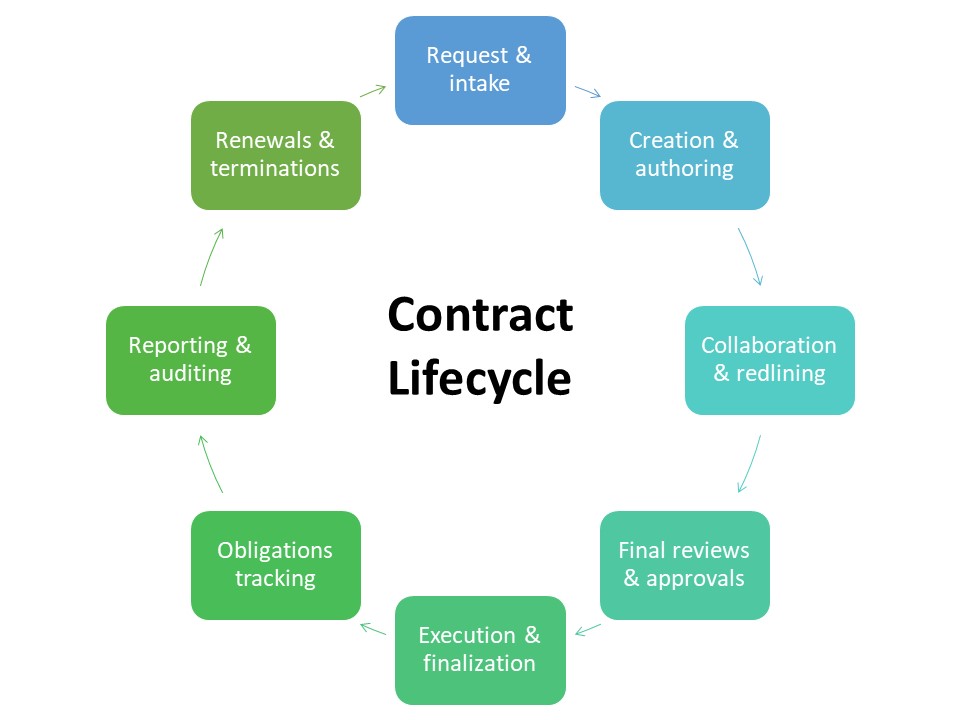 Contract lifecycle management software features manage every stage of the contract lifecycle:
Request and intake

. CLM software automates the intake of information crucial for creating a new contract. 

Creation and authoring

. CLM software builds new contracts from a preapproved library of clauses and contract templates, complete with standardized language, terms, and formats. 

Collaboration and redlining

. CLM software automatically routes contracts and enables fast and easy editing of electronic files. 

Final reviews and approvals

. Automatic routing ensures that the right individuals and departments review and approve the final contract.

Execution and finalization

. CLM software uses eSignatures for faster execution and then finalizes the process digitally. 

Obligations tracking

. Once a contract is finalized, CLM software loads key deliverables into its system and automatically sends notifications of important upcoming dates. 

Reporting and auditing

. CLM software stores all contracts digitally and provides robust reporting and actionable insights. 

Renewals and terminations

. CLM software keeps working for the entire life of a contract, up to and including notifying staff when a contract is up for renewal or termination. 
CLM software does all this and more. It's essential for helping any organization run more effectively and efficiently. 
What Should You Look for in CLM Software?
Choosing the best contract lifecycle management software for your organization is not an easy task. In fact, there are many solutions on the market which can make your evaluation confusing and complicated. You need to make sure that the solution you choose includes all the features your organization needs. In particular, choose a CLM solution that offers these eight essential features.
Centralized Digital Contract Repository
The best CLM systems are built around a centralized digital repository for all contracts and supporting documents. New contracts should be created in digital format, and older ones scanned and digitized. This enables the efficient digital storage of all documents in a central archive—a much more secure and easier-to-access approach than storing documents in individual departments or locations throughout your organization. 
Powerful Search Functionality 
By storing all contracts in a central location, staff can more easily search for, and access archived contracts. They can even use keyword searches to access information across multiple documents. This dramatically reduces the time spent looking for a single contract or piece of information. Look for CLM solutions with powerful and accurate optical character recognition (OCR) technology which will index all of the information in your contracts so that it is completely searchable.
Contract Clause and Template Libraries
You don't need to start every new contract from scratch. Look for a CLM solution that supports clause and template libraries where you can create and store all your approved legal language and contract formats such as NDAs, MSA, SOWs, and more. Users should be able to choose from a menu of preapproved contract elements to build a new contract with standardized language and content—and then add customized terms and clauses for each specific project. It's a great way to avoid deviation from approved language while increasing the speed and compliance of assembling contracts.
Automated Contract Workflow 
One of the best contract lifecycle management software features is the ability to route contracts automatically to the right individuals and departments. It's all done digitally, so there's no more walking a paper contract from office to office or getting emails lost in someone's inbox. Contracts route to the appropriate parties for editing, review, and approval—nothing gets lost in the process, and the system knows where every contract is at any given moment. It also helps ensure an audit trail because there is a complete digital record of who did what in the contract's lifecycle, it's fast, and it avoids the risk of sending the contract to the wrong person at each stage.
eSignature Execution
Another way that CLM software speeds up contract workflow is by the use of eSignatures. Management can sign contracts as soon as they're approved without having paper documents stack up in an overflowing inbox. Signing a contract electronically is legally binding, fully secure, and easy to track and verify. Look for solutions that easily integrate with the leading e-signature providers such as AdobeSign, DocuSign, and Sertifi.
Automated Notifications
Make sure the CLM solution you choose has an automated notification system to alert you when contract deadlines and deliverables are approaching. Let the system track all critical dates and ensure you don't miss any of them. Using these automated notifications and tasks, you can eliminate the risk of missing key obligations such as a termination window or other commitments.
Easy-to-Use Contract Dashboards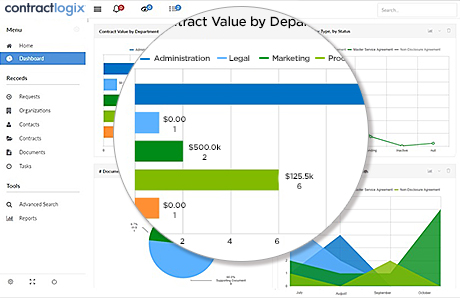 The best CLM solutions offer easy-to-use contract dashboards that let you see the progress of all contracts at a glance such as their stages and statuses. You want a dashboard to display the number of new and active contracts, their current status, the total contract value, contracts soon to expire, and more. 
Robust Reporting and Advanced Analytics
When evaluating a CLM solution, look at the reports and analysis it can generate. You want a selection of built-in reports that meet most of your needs and the ability to create custom reports. The more detailed the reporting, the more useful analysis you can make of your contracts and your business. It's also important that it has advanced analytics you can access with real-time with data that allows you to benchmark and track important contract management-related KPIs. You can use these KPIs to optimize the performance of your contracts and processes and eliminate potential legal bottlenecks.
Contract Logix – A Data-Driven CLM Software Platform
Contract Logix is a leader in today's CLM software market. Contract Logix's CLM Platform is a feature-rich and data-driven solution that delivers end-to-end contract lifecycle management. This state-of-the-art solution transforms the entire contract process and helps you execute contracts faster and more accurately than ever. 
There's a reason that Contract Logix is trusted by leading organizations worldwide, including:
Allegis Group

Boston Mutual Life Insurance Company

Care.com

Catalent Biologics

Children's Hospital and Medical Center

HomeAdvisor

Kettler

Ligand

Mycovia Pharmaceuticals

Sunpower
With Contract Logix, you get an easy-to-use and intuitive solution that can be onboarded and adopted by your organization quickly and cost-effectively. You'll also be able to unlock the wealth of data in your contracts and processes to deliver the business actionable insights using Metrics Manager. You can automate workflows and alerts, assemble negotiation-ready contracts quickly with the Collaboration Room, and more. If you are considering gaining access to contract lifecycle management software features software for your organization, please request a demo of Contract Logix.
Contact Contract Logix to learn more about the best contract lifecycle management software features available today.