Contract Logix Awarded "Highest User Adoption" and "Easiest to Use" on G2's Summer 2022 Mid-Market Indexes for Contract Lifecycle Management (CLM)
Leading Provider of Data-driven Contract Management Software also a "High Performer" in Multiple G2 Summer 2022 Grid ® Reports for CLM and Contract Management
Lowell, MA – July 12, 2022 – Contract Logix, a leading provider of data-driven contract lifecycle management (CLM) software, today announced that the Contract Logix platform was awarded "Highest User Adoption" software within G2's Summer 2022 Mid-Market Contract Lifecycle Management Implementation Index and "Easiest to Use" within the G2 Summer 2022 Mid-Market Contract Lifecycle Management Usability Index for the third consecutive quarter. The company was also named a "High Performer" in all G2 Summer 2022 Grid ® Reports for Contract Lifecycle Management Software including Enterprise, Mid-Market and Overall for the sixth consecutive quarter, and a "High Performer" in both the Mid-Market and Overall Summer 2022 Grid Reports for Contract Management.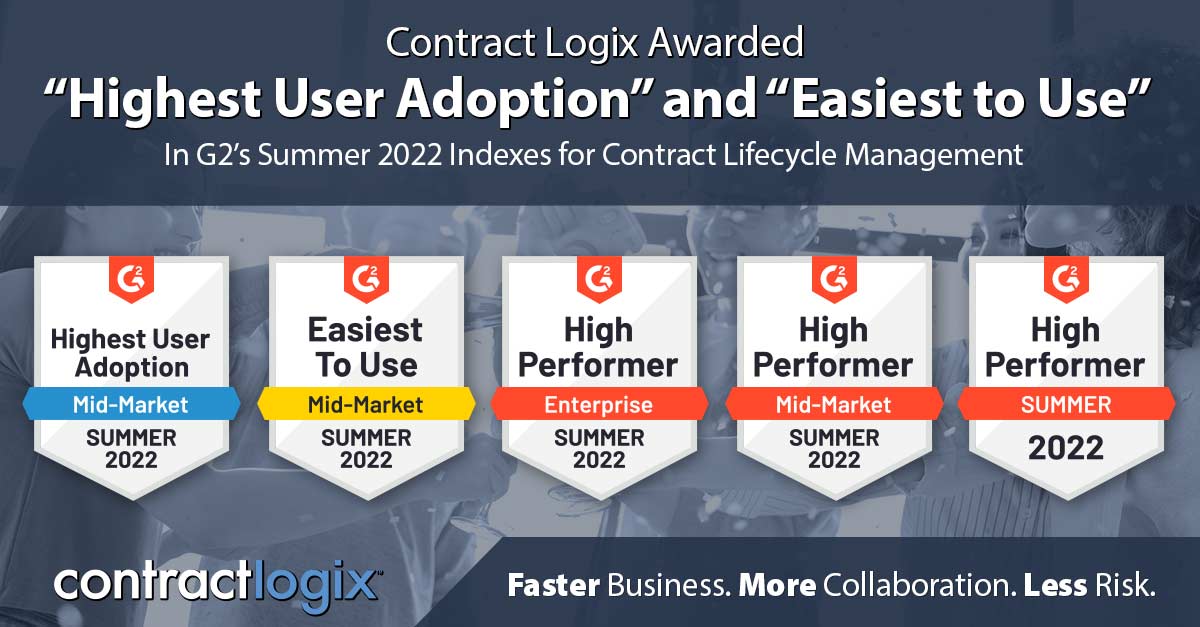 "The contract lifecycle management market is extremely exciting right now, and we understand that organizations have a number of different vendors they can approach about streamlining their contracting processes," said David Blume, Chief Revenue Officer. "That's why Contract Logix is both humbled and thrilled by our consistent G2 ratings – because they are based on the input of our valued customers, real CLM users. We're committed to helping our customers modernize their contracting processes and successfully digitally transform with our software."
Contract Logix continues to see triple-digit percentage growth in its product usage as organizations race to digitize contracting processes. This record-setting growth is a direct result of Contract Logix's award-winning user adoption, ease of use, and ability to quickly deliver business value to its customers. A key differentiator and driver behind Contract Logix's success is the company's unique and proven customer success model. Every Contract Logix customer is assigned a Customer Success Manager (CSM) to help onboard, set up, and get the most value out of its platform in the fastest time possible.
The company's "Quality of Support" also consistently ranks above average on G2. G2 scores products and sellers based on reviews gathered from its user community, as well as data aggregated from online sources and social networks.
Related Information:
About Contract Logix
Contract Logix is a longtime leader, innovator, and provider of intelligent and data-driven contract lifecycle management software. The company's software empowers legal, administration, IT, procurement, finance, and sales professionals across dozens of industries to digitally draft, negotiate, approve, execute, and manage their contracts. Hundreds of brands have partnered with Contract Logix to simplify, automate, and optimize their contracting processes while minimizing risk, increasing compliance, and finalizing business faster. For more information about Contract Logix, visit www.contractlogix.com and follow us on LinkedIn.