6 Tips for Managing SaaS Agreements with CLM Software
February 10th, 2023
How well does your organization manage all its software-as-a-service (SaaS) agreements? With the proliferation of SaaS apps, keeping track of all the different service agreements is increasingly difficult. Fortunately, your company can use contract lifecycle management (CLM) software to better manage your SaaS agreements — and save considerable time and money.
Key Takeaways
SaaS apps are increasingly popular in all types of companies and organizations
SaaS agreements define the scope of the service, including the number of users allowed, data ownership, liabilities, performance expectations, and subscription terms and pricing
CLM software automates the creation, execution, and management of all types of contracts, including SaaS agreements
Use CLM software to automate workflow, standardize language and terms, speed up execution, and centrally store all SaaS agreements
CLM software also provides detailed reporting on all SaaS agreements and helps manage subscription renewals, obligations, and terminations
PS: Learn the 10 Top 10 best practices for contract management HERE.
What is a SaaS Agreement? 
SaaS is an approach to delivering applications as a service over the Internet. Instead of installing traditional software on a company's computers or servers, SaaS apps are hosted on the provider's servers in the cloud and accessed by clients via the Internet. 
Companies effectively "rent" SaaS applications instead of buying traditional software. The subscription payment for most SaaS apps are either billed monthly or yearly, the cost of which includes ongoing maintenance and updates.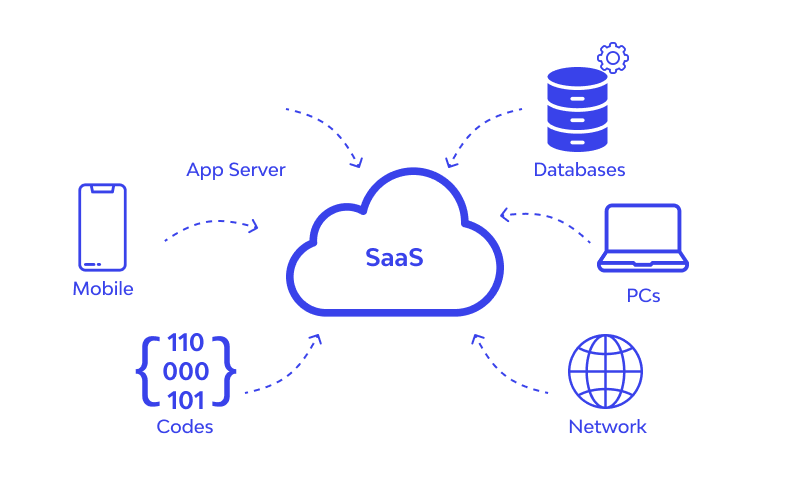 SOURCE: https://www.wallarm.com/
A SaaS agreement differs from a traditional software sales or licensing agreement in that it's a service agreement in which no physical goods are exchanged. It defines the terms and conditions of how the app is hosted, delivered, and maintained, as well as how many users have access to the app and how they can use it. 
The typical SaaS agreement includes the following key clauses that define:
Access rights and number of users

Data ownership (who owns the rights to the data created by and/or used by the SaaS app)

Data security and what happens in a data breach

License scope

Limitation of liability

Performance objectives

Rights to a physical copy (you typically don't gain rights to this)

Service level agreement (SLA) defining minimum performance standards

Subscription model and pricing 

Term, termination, and renewal
All of these clauses need to be negotiated and performance monitored on an ongoing basis. 
What is CLM Software? 
CLM software automates the entire contract lifecycle. It helps organizations manage each step of the contract process, from inception to execution and beyond. The software is especially useful in managing contract deliverables and end-of-contract renewals. 
CLM software touches every aspect of the contract lifecycle, including:
Request and intake of initial information
Creation and authoring, based on a preapproved library of templates and clauses
Collaboration and redlining, including creating an audit trail
Reviews and approvals, including automated contract routing
Execution and finalization via e-signatures
Deliverables and obligations tracking, using automated notification of scheduled deliverables
Reporting, analysis, and auditing
End-contract renewals and terminations
Organizations use CLM software to automate all types of contracts, from sales contracts to procurement contracts. It's beneficial for managing SaaS agreements. 
How Can CLM Software Help Manage SaaS Agreements?
The Gartner Group projects that the global market for SaaS applications will surpass $1.4 trillion by 2024. That statistic is echoed by BetterCloud's 2023 State of SaaSOps Report, which notes that the average organization uses 130 SaaS applications, up 18% from the previous year. That's a lot of SaaS agreements for any company to manage.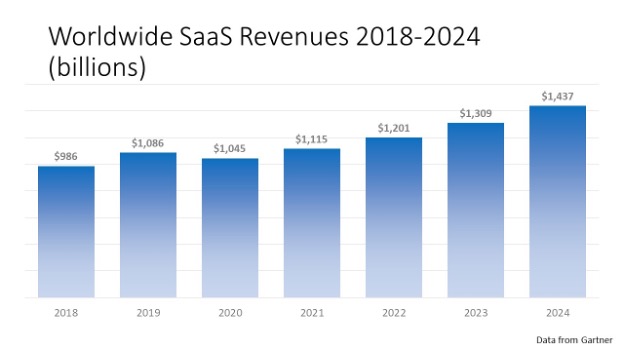 SOURCE: Chart created by author from data at https://www.gartner.com/
Fortunately, CLM software can help your organization better manage all its SaaS agreements. Here are some tips on how to make that happen.
Automate Agreement Workflow
One of the main benefits of CLM software is how it automates the entire contract workflow. All contracts are created in digital format, so they can easily be transmitted to and from key stakeholders. 
Built-in logic in the software knows to route each contract to the correct stakeholder at key points in the process. All routing is tracked electronically so contract managers know where a contract is at any point in the cycle. Nothing gets lost, everybody sees what they need to see, and it all happens without cumbersome manual tracking processes. 
Standardize SaaS Agreement Formats and Language
One danger of handling dozens of SaaS agreements from an equal number of providers is dealing with the varying terms and language across all those documents. CLM software helps to standardize these agreements by using a library of pre-approved contract templates. 
New contracts no longer have to be constructed from the ground up, ensuring uniformity of structure and language not previously possible. In addition, by drawing from a similar library of pre-approved terms and clauses, negotiation is kept to a minimum, and all agreements fit within your organization's financial and operational parameters. 
Speed Up Execution
When key management has to sign hundreds or thousands of contracts each year, it's easy for any given contract to get lost in the shuffle or have its signing put off until a more convenient time. CLM software not only routes all contracts electronically but also uses electronic signatures (e-signatures) to take the pain out of the signing process. 
With e-signatures, managers can view a contract on screen and sign it electronically in just a few minutes. It's fast and convenient and speeds up the execution of your SaaS and other agreements. 
Store All Agreements Centrally
Instead of individual agreements being stored in separate departments or offices, CLM software stores all contracts in a central digital repository. That makes it easy to keep track of all agreements, ensure no department operates in its own isolated silo, and secure those agreements from unauthorized access. It also makes it easier to search and access all your organization's contracts.
Receive Detailed Reporting of SaaS Agreements
If your organization has a hundred or more different SaaS agreements, tracking each of them manually is nearly impossible. CLM software generates detailed reports that list all your SaaS agreements and the state of each, making this task more manageable. You'll know how many agreements you have, how much they're costing you, and when each is due to expire. 
Receive Notification of Agreement Expirations and Renewals
Many SaaS agreements automatically renew unless manually declined. If you don't know which agreements are due to automatically renew and when, you could end up paying for apps you no longer use. CLM software can be configured to notify you of all auto-renewals so you can take action to terminate or renegotiate as necessary.
Similarly, you don't want essential SaaS agreements to expire. When CLM software notifies you before expiration, you'll have time to renew those apps you want and need.
Contract Logix: The Best Way to Manage SaaS Agreements
When your company manages many SaaS agreements, turn to the experts at Contract Logix. Our CLM solution automates the entire agreement process, ensuring you won't be taken by surprise when a service agreement automatically renews or unexpectedly expires. It's the best way to manage all your SaaS agreements in one place!
Contact Contract Logix to learn more about managing SaaS agreements with CLM software. 
Accelerate Your Digital Transformation With Contract Logix
Download our Data Extraction Product Brief to learn how you can automate the hard work using artificial intelligence