The Ins and Outs of a Contract Lifecycle Management Process
How much do you know about the contract lifecycle management process (CLM)? Experts estimate that businesses depend on contracts to govern 60% to 80% of their operations. You negotiate and execute contracts with various vendors for the goods and services you need and negotiate and execute contracts with your customers and clients to deliver your goods and services to them. Every contract has its own distinct lifecycle, and managing the contract lifecycle is imperative for effective and efficient operation. The more you know about contract lifecycle management, the more control you'll have over your business and the less risk you will need to mitigate.
Key Takeaways
Contract lifecycle management (CLM) tracks and manages contracts from initial request through archiving and renewal
The eight stages of the contract lifecycle are request and intake, initial draft, collaboration and redlining, final reviews and approvals, signatures and execution, deliverables tracking, archiving and reporting, and renewals and termination
CLM software

like Contract Logix automates all stages of the contract lifecycle
Benefits of CLM software include more efficient workflow, faster completion times, fewer errors, less risk, more compliance, and reduced costs
What Is Contract Lifecycle Management?
Contract lifecycle management, abbreviated as CLM, involves the tracking and management of your firm's contracts from their initial request and drafting through their execution, archiving, and possible renewal. A contract lifecycle management process is necessary to ensure that contracts:
Are executed in a timely fashion

Are as accurate as possible

Comply with all legal and regulatory requirements

Are fulfilled according to scheduled deadlines

Are easy to retrieve, if necessary
Efficient contract lifecycle management can help your organization improve efficiency and lower contract-related costs. (World Commerce & Contracting reports that poor contract management can cost the average company 9% of its bottom line.)
The 8 Stages of a Contract Lifecycle Management Process
The contract lifecycle consists of eight distinct stages: 
Request and intake

Initial draft

Collaboration and redlining

Final reviews and approvals

Signatures and execution

Deliverables tracking

Archiving and reporting

Renewals and termination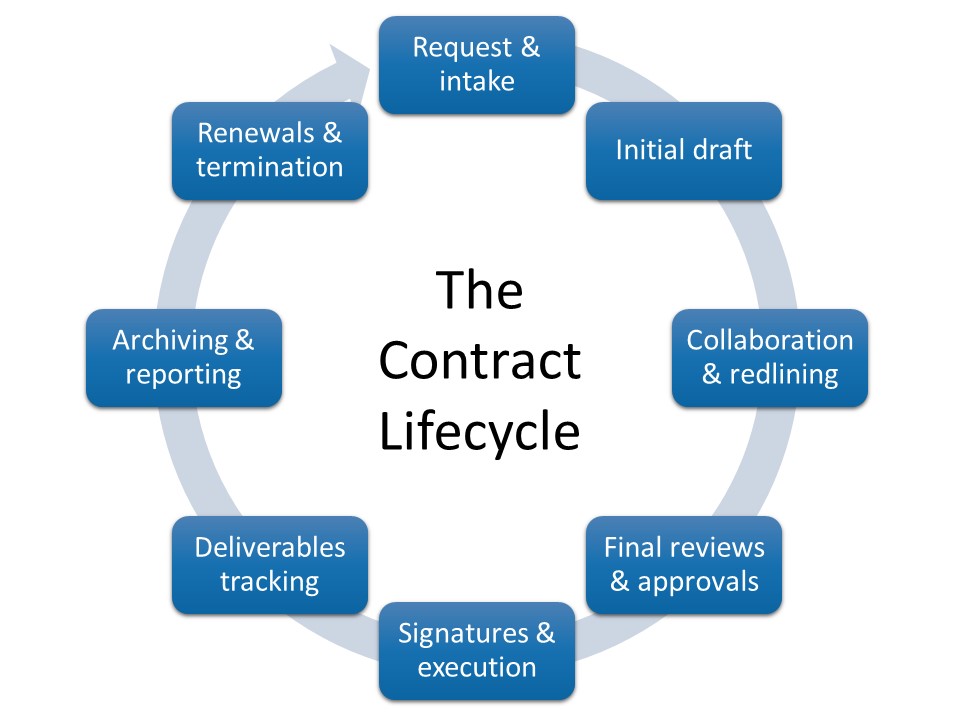 It's important to closely manage each contract through the entire lifecycle to achieve maximum efficiency. Let's examine each stage in more detail. 
Stage 1: Request and Intake
The contract lifecycle begins with the initial contract request. The request should come with all the information necessary to complete the contract, including: 
Goods and services involved

Target costs and pricing

Key obligations and commitments

Delivery dates

Termination or renewal date

Other important terms and conditions
These details may change over the contract lifecycle, as specific items get negotiated, but initial dates and numbers are necessary to get the process going.
Stage 2: Initial Draft
Next, the parties create the first draft of the contract. This initial draft should include all the information provided during the intake process, using the appropriate legal language. 
Stage 3: Collaboration and Redlining
After the parties have completed the initial draft of the contract,  it then goes to all appropriate parties within your company. This enables individuals to provide their feedback and suggest any necessary changes. After this internal review is complete, the contract is then sent to the other party for them to do the same. You must incorporate all changes into the final draft of the contract.
Stage 4: Final Reviews and Approvals
The final draft of the contract is now routed to stakeholders—including legal staff—from both parties for their final review and approvals. When all stakeholders approve the final version, the contract is ready for signatures. 
Stage 5: Signatures and Execution
The be legally binding, authorized personnel from both parties must sign the contract. Signatures can be either physical or digital, using e-signatures. Once executed, the contract should be finalized and sent to relative departments within your organization for tracking and fulfillment. 
Stage 6: Deliverables Tracking
You must track all deliverables to which you've committed to properly fulfill them. You should also track deliverables due from the other party to ensure they fulfill their commitments, too.
Stage 7: Archiving and Reporting
All executed contracts, whether physical or electronic, should be securely archived. Storage should be such that contracts are easily accessible and retrievable. You should also feed each contract's data into a central reporting system that tracks the current status of all your firm's contracts.
Stage 8: Renewals and Termination 
Finally, when the contract's end date approaches, you need to be alerted so you can decide whether to renew, renegotiate, or terminate that contract. 
How Software Automates the Contract Lifecycle Management Process
You can automate the entire contract lifecycle via contract management software, such as the CLM Platform from Contract Logix. CLM software standardizes contract creation, automates the contract workflow, and electronically stores all contracts in a central repository for easy search and retrieval. By automating the contract lifecycle, CLM software makes the entire process faster and more efficient while at the same time minimizing errors and reducing costs. 
CLM software integrates with each stage of the contract lifecycle, changing and approving workflows, as detailed next.
Request and Intake
CLM software standardizes the contract request process. The intake process is also made easier via standardized electronic intake forms.
Initial Draft
Instead of writing each new contract from scratch, CLM supports a library of preapproved contract templates and clauses on which to base each new contract. These clause and template libraries include standardized language and formats, and you can customize them with the contents of a terms and conditions library. 
Collaboration and Redlining
Routing of the draft contract is automated and done electronically so that the right individuals and departments always receive what they need. Editing and redlining are also done digitally, with a proper editing history recorded. Tools such as Contract Logix provide concurrent, cloud-based and real-time negotiation and collaboration capabilities while automatically capturing and tracking all changes and versions.
Final Reviews and Approvals
The final review process is also automated and done electronically. Approvals are also done electronically. 
Signatures and Execution
The approved contract is electronically routed to the proper parties to sign, and signing is done via e-signatures. The completed contract is automatically distributed to the appropriate parties for fulfillment and archiving upon execution.
Deliverables Tracking
The CLM system automatically tracks deliverable dates and other important contractual obligations and sends out automatic notifications when deliverables are due. It also tracks fulfillment status for all contracted items.
Archiving and Reporting
All executed contracts and supporting documents are stored in a centralized digital contract repository. Archived contracts are easily keyword searchable and retrievable by authorized parties. All contract data is also available for reporting and analysis. 
Renewals and Termination
The CLM system also tracks all contracts' end dates and sends out automatic notifications when a contract is ending. The system can also analyze contract performance and recommend appropriate end-of-contract actions. 
Benefits of Using CLM Software for Your Contract Lifecycle Management Process
Automating the contract lifecycle with CLM software provides numerous benefits for your organization. The primary benefits include:
More efficient workflow

Fewer bottlenecks

Faster contract completion times

Fewer contract errors

Enhanced legal and regulatory compliance

Improved standardization 

Reduced costs 
Choose Contract Logix to Automate Your Contract Lifecycle Management Process
When you want to automate your contract lifecycle management, turn to the experts at Contract Logix. Our cloud-based CLM Platform automates the entire contract lifecycle, from initiation and creation to execution and archiving. Our CLM software helps you manage all your contracts, keep track of all deliverables, and ensure that your contracts comply with your company's standards and industry regulations. You'll save time and money by standardizing all your contract terms and language. 
Contact Contract Logix today to learn more about how to improve your contract lifecycle management process.
Read More