The Definitive Guide to Legal Contract Management
Nov 17th, 2022
How efficient is your organization's legal contract management? Contract management is essential for completing contracts quickly, mitigating legal and compliance risks, and meeting all agreed-upon deliverable dates. How well you do this affects your performance and the performance of the contracts in your portfolio.
You can do legal contract management manually or automatically via contract management software. Do you know the best practices for legal contract management—and how you can automate the entire contract management process? Read on to learn more in this definitive guide to legal contract management.
Key Takeaways
Contract management is necessary for adhering to legal, governmental, and industry regulations
Best practices for legal contract management include using predesigned contract clause and template libraries, standardizing negotiation and routing processes, and establishing a centralized contract repository
Effective legal contract management is made easier by embracing e-signatures and focusing on compliance management
The most effective way to manage legal contracts is with contract management software, such as that offered by Contract Logix
Why Contract Management Is Essential for Legal Professionals
Legal and contracting professionals in in-house legal departments deal with contracts daily. Managing those contracts efficiently and effectively is a key job responsibility.
Contract management isn't just about negotiating the best deal or ensuring all the i's are dotted, and the t's are crossed. Legal contract management involves efficiently managing the contract process from initiation to renewal while mitigating contract risk. Contracts must adhere not only to legal standards but also to company, industry, and governmental standards. They must also be actionable with easily achievable deliverables. 
While many individuals are involved in creating and executing a typical contract, it's up to a firm's legal and contracting professionals to ensure that the entire process runs smoothly with minimal risk. For that reason, legal and legal ops professionals need to focus on contract management in all its shapes and forms.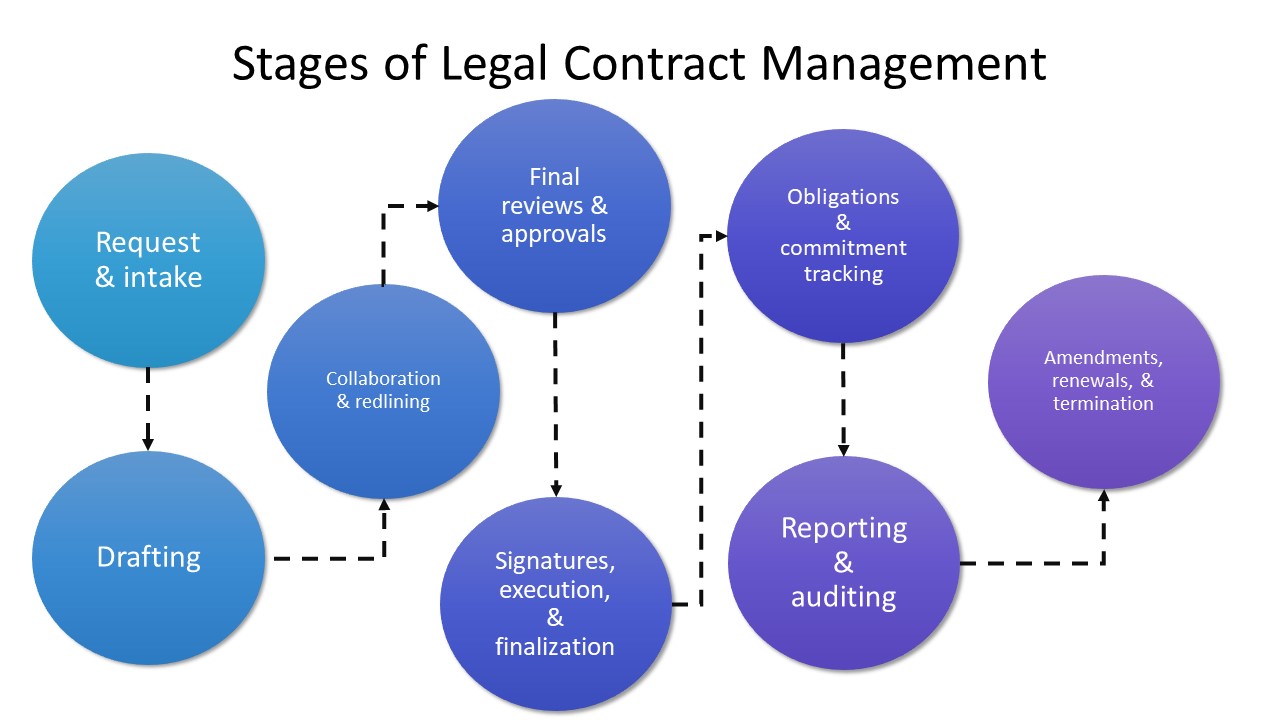 Best Practices for Legal Contract Management
Whether your firm manages contracts manually or via an automated contract management system, following a handful of best practices will make contract management easier and more efficient. Here are six of the more effective best practices you should consider.
Start with Predesigned Contract Clause & Template Libraries
You don't need to reinvent the wheel with every new contract you initiate. Instead of starting from scratch with each new contract, base new contracts on established contract templates. Design a selection of templates for different types of contracts such as a NDA, MSA, BPA etc., all using standardized language from your approved clause libraries. Create a library of preapproved terms and clauses you can swap into and out of contracts as necessary, and you'll eliminate loopholes and ensure greater compliance. 
Create a Standardized Process for Contract Negotiation
Just as your contracts should be standardized, so should your negotiation process. The more you can standardize the process, the easier it will be for paralegals and non-lawyers to conduct basic negotiations. If they know what's acceptable and what isn't, it frees up higher-priced legal staff to do essential work. 
Establish a Central Contract Repository
All of your legal contracts need to exist in one place. When a company stores contracts in different departments or offices, it is difficult to find individual contracts. Ninety percent of legal professionals say they have trouble locating individual contracts. That's why centralizing your contracts in a secure, searchable, digital, and cloud-based repository is a foundational best practice.
Departmental or location-based silos also increase the risks of non-standardized and non-compliant contracts. You increase visibility and access when you store everything in one place—physically or digitally (A central repository is also easier to keep secure.).
Standardize Contract Routing
Forward all contracts to the proper individuals to increase efficiency and minimize the risk of losing contracts. The entire process bogs down when no one is sure who needs to see a contract next. Your firm needs to establish a standardized routing process and ensure that all employees know how it works. For example, you may have an internal policy that states all contracts over a certain dollar value must be approved by the CFO or department head. Does everyone know they need to follow this? With a standardized process, you can ensure compliance with these types of rules.
Embrace Digital Signatures
Even if the rest of the process goes smoothly, inefficient execution can delay contract completion. Instead of waiting for busy executives to sort through all the paperwork sitting on their desks, embrace digital execution via e-signatures. It's easy to digitally sign a contract when it appears in an electronic inbox, and e-signatures are legally binding. Research shows that contracts with e-signatures typically get signed in just 37 minutes, compared to 5 days for traditional paper contracts.
Emphasize Compliance Management
Improved efficiency is one important goal. Enhanced compliance is another. Your firm's contract management process needs to include an emphasis on compliance management to ensure that all of your contracts are compliant with:
Established company standards

The terms of each individual contract

Industry and governmental regulations
A single mistake in a single contract can be legally and financially devastating. Focusing on compliance significantly reduces your firm's legal risk.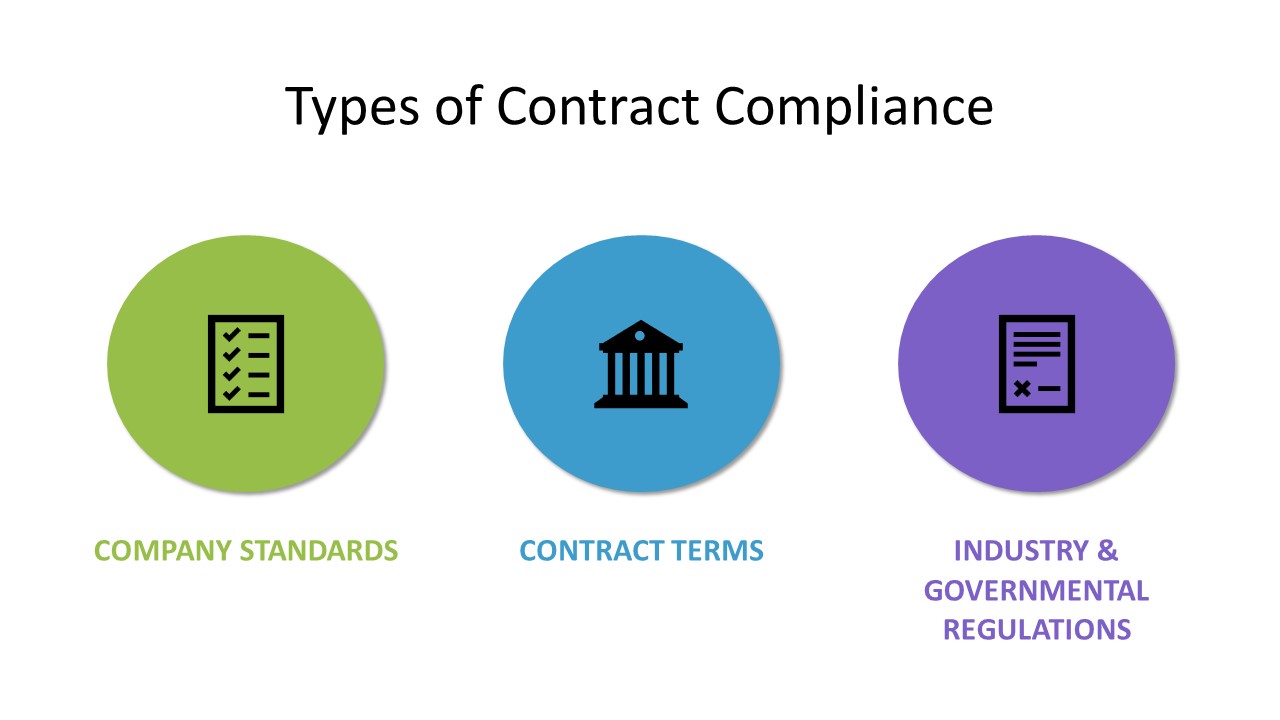 How Contract Management Software Benefits Legal Professionals
Traditionally, legal contract management has been a manual process, generating reams of paperwork and requiring constant phone calls and emails to keep the process moving. Today, contract management software automates that formerly manual process, making legal contract management easier and less risky. 
Legal contract management software starts at the initiation phase by using online forms to automate the request and intake process. Contract creation is made easier by predesigned digital contract templates with preapproved terms and clauses. Contract routing is done in an automated fashion using workflows to take the guesswork out of where a contract needs to go next.. Execution is via e-signatures, and deliverable tracking is fully automated. Finalized contracts are stored in a centralized digital repository that is easily accessible and secure. 
This automated management results in numerous benefits to legal professionals and the companies they represent. These benefits include:
Simplified contract management

Reduced workload

Increased efficiency

Easier and more easily tracked

redlining

Enhanced visibility and retrieval

Improved

compliance

Lower legal and financial risk

Improved collaboration

Fewer missed deliverables

Fewer dropped renewals
In addition, legal contract management software enables more robust reporting and in-depth analysis of individual contracts and your entire contract process. Easily extract data from digital contracts, and that data can help you improve future contracts and the way you manage them.
Let Contract Logix Be Your Legal Contract Management Platform
Legal professionals in independent law firms and large enterprises can benefit from legal contract management software. Contract Logix's CLM software automates legal contract management, providing a wealth of benefits throughout the entire contract process. It's the ideal solution for legal professionals looking to improve the management of their contracts.
Contact Contract Logix today to learn more about legal contract management software. 
Accelerate Your Digital Transformation With Contract Logix
Download our Data Extraction Product Brief to learn how you can automate the hard work using artificial intelligence