How to Manage Contract Compliance with CLM Software
How can you effectively, accurately, and efficiently manage contract compliance in your organization? Noncompliance with government and industry regulations can be costly with consequences involving financials, security, brand, and other legal risks. It's also important that your contracts comply with all internal business standards and policies. Fortunately, you can ensure and manage contract compliance using contract lifecycle management (CLM) software. Read on to learn how.
Key Takeaways
Your contracts need to adhere to your company's internal standards and meet all industry and government regulations.

Noncompliance can result in unnecessary risks such as inefficiency, poor partner relations, and hefty fines.

Contract lifecycle management software automates the entire contract process, from preapproved contract templates to auditable documentation and detailed reports.

By automating all contract-related processes using

contract management software

, you can ensure and manage contract compliance with both internal standards and external regulations.
What is Contract Compliance?
Contract compliance ensures that all contracts adhere to regulations and standards set internally by an organization, privately between the two parties of a contract, and publicly by governments and industry bodies such as the SEC, SOX, HIPAA, FISMA, the FDA, OSHA, and more. Noncompliance can significantly impact your organization both financially and legally.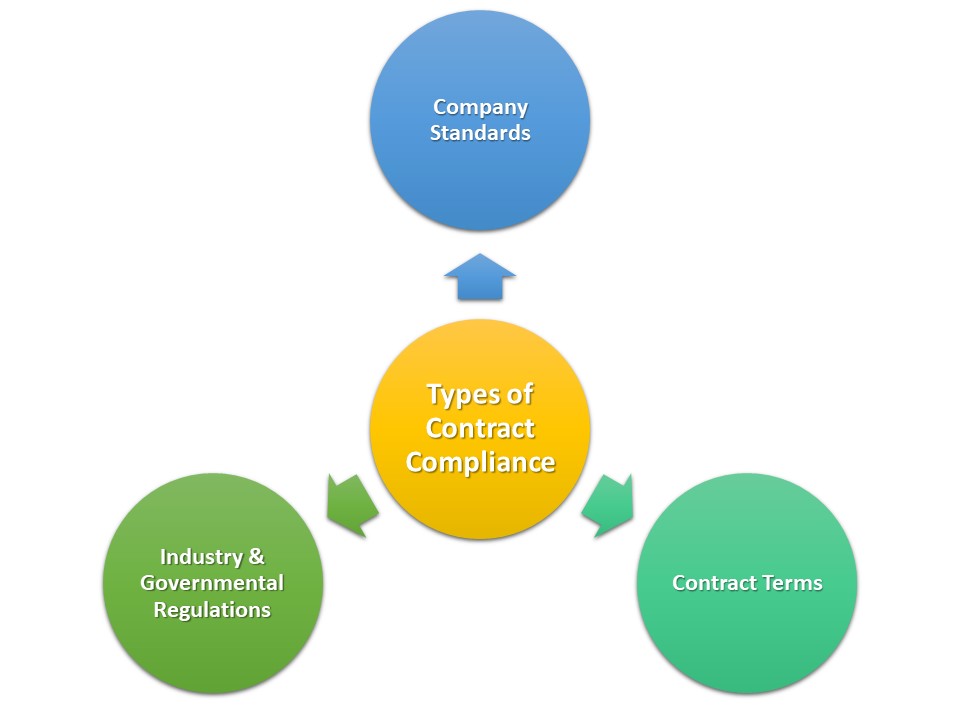 Compliance with Company Standards
All of the contracts executed by your organization should comply with your firm's established business processes, policies, and standards. For example, you may have required terms and conditions, financial limits not to be exceeded, or contract language insisted on by your legal department. In addition, you may require certain contract values or terms to be approved by different departments or management levels in the organization. It's essential to have internal compliance with these standards; you don't want staff acting on their own to author contracts that breach these standards. 
Compliance with Contract Terms  
Both parties to a contract must comply with the contract terms, responsibilities, and obligations they've agreed on. Not complying with these obligations will put a party in breach of that contract and be subject to contractual, financial, and legal penalties. Noncompliance with contract terms can damage a firm's reputation, result in avoidable costs, and make it difficult to negotiate future contracts in good faith. 
Compliance with Industry and Governmental Regulations
Various governmental regulations apply to your organization. In addition, many industries have their own regulations that must be complied with. For example, in the pharmaceutical industry it may be the FDA, in Energy the EPA, in Healthcare it could be HIPAA, in most industries it's SOX, and there are many more examples. All contracts you execute should comply with all relevant legislation and regulations. Noncompliance can result in legal action, hefty fines, and even the loss of licensing.
Why Contract Compliance is Important
All three types of contract compliance are important for your organization to operate effectively and legally. Compliance guarantees that your organization:
Operates according to a set of established standards

Fulfills its contractual commitments and obligations according to their terms

Meets all legal, internal, and regulatory requirements
Noncompliance can result in inefficient operations, lack of trust from vendors and customers, and possible regulatory action. This last issue is critical, as violations of governmental and industry regulations can result in substantial risk to your business including consequences such as fines, brand damage, and even lawsuits. 
For example, any company doing business in California must comply with the California Consumer Privacy Act (CCPA), legislation designed to protect the data privacy rights of California consumers. Violating the terms of the CCPA can result in fines of $7,500 per record affected. In addition, heavily-regulated industries, such as healthcare and finance, have their own regulations that carry their own penalties including HIPAA, FISMA, SOX, and other regulatory requirements. 
Regulatory non-compliance, when made public, can also lead to the loss of customers who don't want to buy from companies they deem unethical. This is evidenced by a Hotwire survey that found 47% of Internet users had stopped doing business with companies that didn't share their personal values. 
How Noncompliance Happens
Several possible factors can contribute to contract noncompliance. These factors include:
Employee mistakes

Employees not following or bending the rules

Intentional deception

Ignorance of regulatory requirements

Using inefficient and antiquated contract management practices and tools that make it difficult and manual to manage contract compliance
These last two factors are arguably the most common. First, when individuals working on contracts in your organization are unaware of specific legal, industry, or company requirements, they may create contracts that contain unacceptable language, terms, or conditions that can result in noncompliance and expose you to substantial fines. And second, when your organization isn't using the right tools to manage contracts in a digital and automated manner, it makes these mistakes much more common and harder to manage or eliminate.
How to Ensure and Manage Contract Compliance with CLM Software 
Contract lifecycle management (CLM) software automates much of the contract process. In doing so, CLM software ensures compliance with company standards, partner commitments, and industry and governmental regulations. 
Here are just some of the ways that CLM software can ensure contract compliance in your organization.
Pre-Approved Contract Templates and Clause Libraries Standardize Terms and Language
One of the first ways CLM software helps ensure contract compliance is by not letting individual employees create their own contracts from scratch. Instead, CLM software enables you to build a library of in-house legal-approved contract clauses and predesigned contract templates that help standardize contract language, terms, and clauses. Employees can now assemble contracts using the right formats and language. 
Each new contract starts with a preapproved template that complies with both internal standards and external regulations. Only the details of the individual deal need to be changed and automated rules can be applied to ensure the right language and clauses are used. The CLM software automatically routes contracts to the right personnel for review and approval so those contracts can be more closely scrutinized with compliance in mind. 
Centralizes and Secures All Contracts
One of the key features of CLM software is that it centralizes all contracts and related documents in a single, cloud-based digital repository. A centralized repository is more secure than storing contracts in multiple locations across your organization. 
In addition, a centralized data repository can be more easily protected against data breaches, ransomware, and other forms of cyberattack. You can also more easily limit access to authorized personnel only using features such as role-based permissions, robust authentication settings, encryption, and more. Protecting vendor and customer data is essential for complying with various data privacy regulations, such as the EU's GDPR and California's CCPA. And since contracts contain some of your most sensitive business data, it's critical for your organization as well.
Automatically Notifies You of Contract Obligations
To avoid noncompliance with contract terms and obligations, CLM software allows you to set up automated deadline alerts. This way, the appropriate staff are notified before an upcoming deadline or other contract obligation such as an auto-renewal, deliverable, etc. You will never overlook or miss a contract commitment again.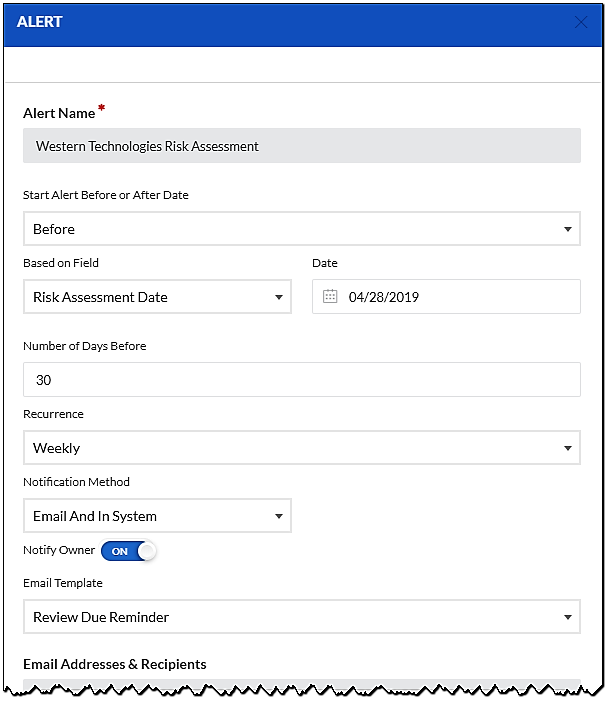 Provides Auditable Documentation
By storing all contracts and related documents digitally, CLM software provides you with easily auditable documentation. This is important for verifying and demonstrating regulatory compliance in many industries and for some governments.
It's also vital that you regularly review your contracts to ensure that they fully comply with all regulations. Regular audits will help catch any issues before they become widespread.
Automates Business Processes Using Workflows
A key advantage of contract management software and the way that it helps manage contract compliance is through the use of automated workflows. Using automated workflows, you can guarantee that your business rules and processes are followed for every contract, every time. You can automatically route contracts to the right people for drafting, review, approval, signature, and ongoing obligation management. Workflows not only ensure compliance, they provide your organization a huge increase in productivity and efficiency by leveraging automation to keep contracts moving through your process for pre-execution, execution, and post-execution management. 
Generates Detailed Reports
One of the most important ways CLM software can ensure contract compliance is by generating detailed reports. Accurate reporting on contract details helps you stay on top of all compliance issues. You can identify any possible noncompliance issues in advance and take appropriate action. With solutions like Contract Logix, these reports can be generated in real-time and easily shared with the appropriate people in the organization. 
Let Contract Logix Help with Your Contract Compliance Management
The best way to ensure contract compliance is to deploy CLM software from Contract Logix. Our CLM Platform automates the entire contract management process from start to finish, eliminating the risk of non-compliance with both internal standards and external regulations. Contract Logix CLM software also speeds up your contract workflow, reduces errors, and reduces your contract-related costs. It's the perfect solution to ensure compliance and make your entire contract process more effective and efficient. 
Contact Contract Logix today to learn more about ensuring contract compliance. 
Read More