Why Legal Contracts Benefit from Legal Contract Management Software
Do you use legal contract management software in your business or organization? If not, you should. Your handling of legal contracts can benefit greatly from the use of legal contract management software. Legal contract management software will save you time and money and help you manage your contracts much more efficiently.
Key Takeaways
Legal contract management software automates the entire contract process, from inception to execution to reporting
Using legal contract management offers many benefits to legal, legal ops, and procurement departments
Legal contract management software simplifies contract management, increases efficiency, and enables faster approvals
Legal contract management software makes it easier to retrieve contracts, increases compliance, and mitigates contract risk
What is Legal Contract Management Software?
Legal contract management software automates the entire contract workflow. The software handles all aspects of the contract lifecycle, starting with contract request and intake, moving through drafting and redline, and ending with execution and post-execution management. Every step is electronic and automatic, integrating with your existing systems and storing all contracts and supporting documents in a central legal document repository.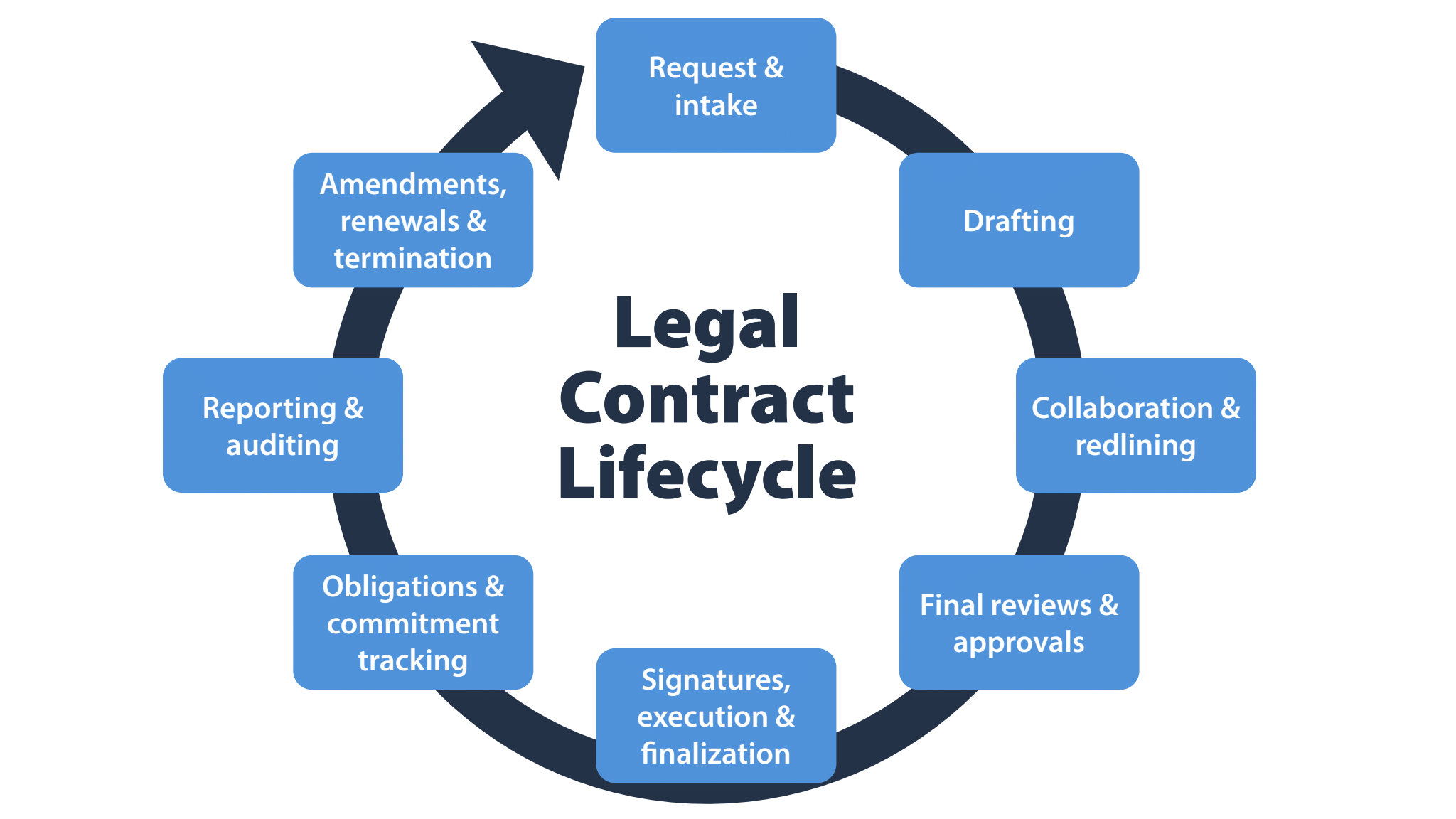 The use of contract management software in legal and procurement departments fully integrates into your traditional operations, making them more efficient. You'll be able to draft and review contracts much more quickly, with fewer errors and a higher degree of compliance. Even better, legal contract management is easy to use – both for drafting contracts and retrieving them at a later date. 
Look for legal contract management software with the following features:
Clause and template libraries 

User-configurable fields

Automated electronic workflow

Electronic review and redlining

Execution via e-signature 

Calendar reminders

Email alerts

Centralized document storage

Full-text indexing

Document security

Keyword searching 

Robust reporting

And more
How Legal Contract Management Software Benefits Legal Contracts
Legal contract management software, such as that offered by Contract Logix, offers many benefits to legal and procurement departments in companies and other organizations. Here are ten of the most significant benefits. 
Simplifies Contract Management
One of the primary goals of legal contract management software is to simplify the process of contract management. Many mid-market and enterprise organizations need to manage thousands of contracts daily; even smaller legal departments commonly manage dozens of contracts daily. Keeping track of all those contracts in the various stages of the contract lifecycle is challenging, and legal contract management software can make it less so by automating much of the workflow. The entire contract management process is simplified and thus made easier for staff to handle.
Increases Efficiency
By automating key elements of the contract management process, legal contract management software increases the efficiency of legal staff. Staff no longer have to spend excessive time on manual processes; by automating those processes, staff can spend time on more productive and creative tasks. The entire workflow is faster and more efficient, requiring less manual input for contracts to move smoothly through the system.
Eases Contract Redlining
Redlining has always been a time-consuming part of the legal contract management process. By employing a digital contract management software system in the drafting and negotiation stages of the process, all changes are made electronically, reducing the chances for errors. The software makes it easier for teams and individuals to collaborate on redline changes and keeps a complete record of the contract's change history. 
Enhances Visibility and Retrieval
According to the 2021 Ernst & Young Law Survey, 90% of legal professionals say they have trouble locating individual contracts. This issue is greatly alleviated via the use of legal contract management software. 
Contract management software stores all contracts and supporting documents in a single document repository. All documents are fully indexed and supplemented with descriptive metadata. This increases the visibility of all contracts and makes it easy to find individual contracts or cross-contact information via simple keyword searches. All contract data is easily accessed in real-time.
Increases Compliance
Contracts that do not comply with industry and government requirements can put any business or organization in legal and financial jeopardy. The costs of non-compliance are not inconsequential; looking at data privacy regulations alone, the average cost of non-compliance is close to $15 million per violation. By stipulating standardized contract terms and language that meet all regulatory requirements, a legal contract management system reduces the risk of noncompliance. 
Mitigates Risk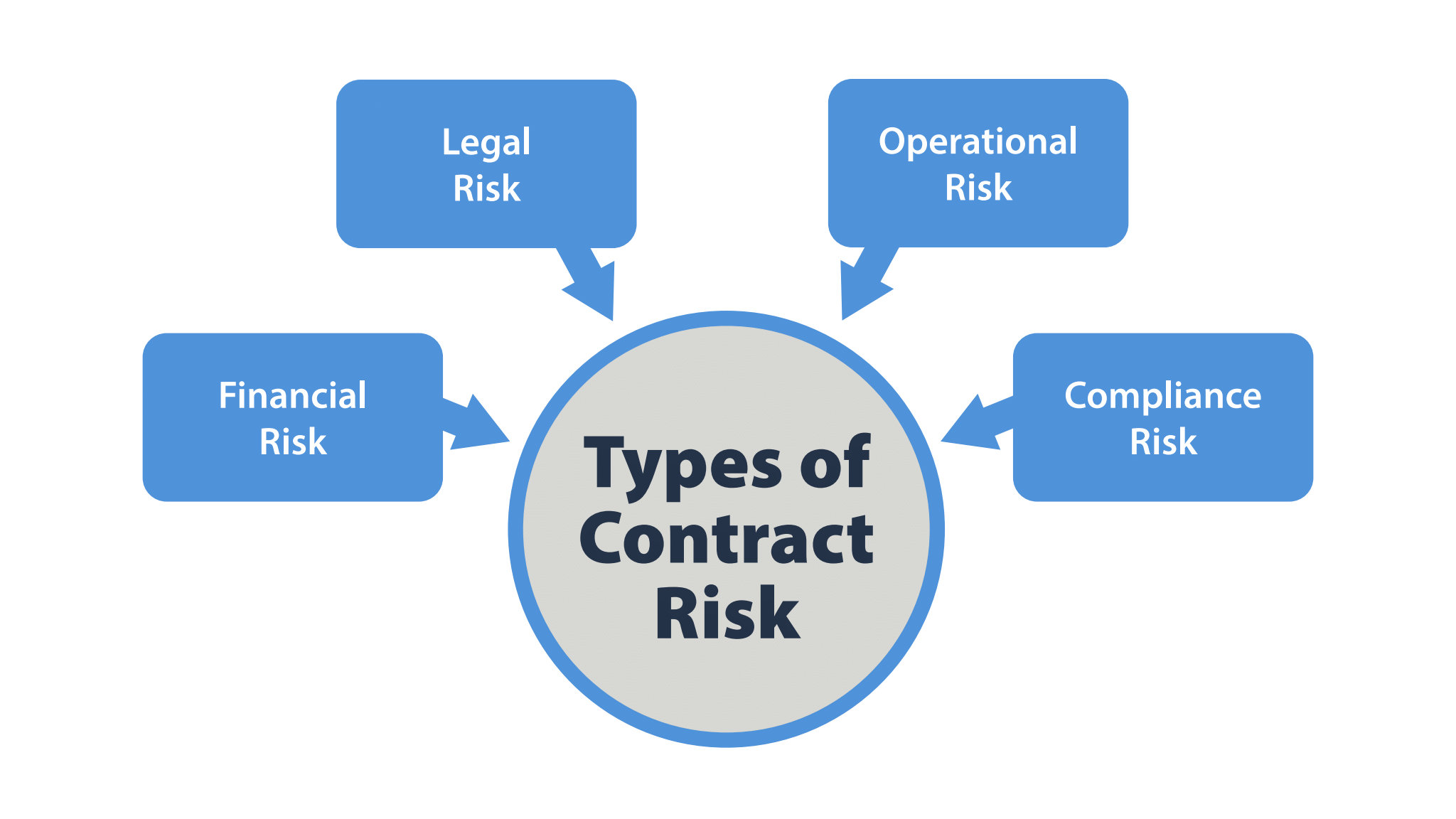 The risk of non-compliance is just one of several types of risks associated with contracts. By automating key processes and requiring standardized contract terms and language, legal contract management software all  types of contract risk:
Legal 

Financial

Compliance

Operational
Improves Collaboration
With traditional physical contracts, a single document is passed from individual to individual, making true collaboration difficult. With legal contract management software, multiple team members can work on the same contract simultaneously, in real-time, and have all their changes automatically recorded. This enables greater cross-department collaboration, which speeds up the contract process and reduces errors and the need for after-the-fact redlining.
Eliminates Contract Silos
Many organizations let individual departments or branches initiate their own contracts. This keeps contracts – and the key information within – siloed across the organization. By centralizing both the contract process and contract storage, those department silos are eliminated. This results in more standardized contracts and improves visibility and retrieval,
Automates Contract Reviews
Legal contract management software doesn't eliminate the need for contract reviews, but it does make the review process easier. Whether you're reviewing contract mid-process or post-execution, contract reviews are now entirely automated. This standardizes the review process, enables more regularly scheduled reviews, and holds all parties more accountable.
SOURCE: Remote Lawyer via YouTube
Enhances Analysis and Insight
Finally, legal contract management software enables more robust reporting and in-depth analysis of your contracts and contract process. Extracting more data from your contracts provides the more actionable insight you can use to improve your contract terms and how you manage your contract process.
Let Contract Logix Improve Your Legal Contract Management
Whether work in the legal or procurement department of a large enterprise or mid-market organization, Contract Logix can help improve your contract management process. Our CLM software automates your legal contract management, providing all the benefits just discussed – and more. 
When you need more efficient and accurate management for your legal documents, turn to the contract management experts at Contract Logix – we can help you streamline all aspects of your system. 
Contact Contract Logix today to learn more about legal contract management software.
Read More