Why HIPAA Compliant Contracting Software is Critical for Healthcare Organizations
If you work in the healthcare industry, having HIPAA compliant contracting software is critical. While some contract management platforms are fully compliant with all HIPAA regulations, not all are. 
The question then becomes, does your organization have HIPAA compliant contracting software? Read on to learn how to choose a contract management software solution that doesn't put your organization at risk of HIPAA noncompliance.
Key Takeaways
HIPAA was designed to protect the privacy and portability of patients' personal medical information.
Noncompliance with HIPAA regulations can be financially and legally costly.
Many healthcare organizations are inadvertently noncompliant in the contracts they sign.
Contract management software designed specifically for healthcare can ensure that all future contracts are HIPAA compliant using robust security, automation, and audit & reporting capabilities.
What is HIPAA? 
The Health Insurance Portability and Accountability Act (HIPAA), passed by Congress in 1996, regulates the privacy and portability of people's personal medical records. It's designed to ensure that patients' health-related information, in both electronic and paper form, stays private. 
Most individuals regard information about their health to be extremely personal. They don't want their medical records shared with just everyone, especially entities that might use that information to discriminate against them. They also don't want their private medical information sold for profit. It's also important that private medical records are protected from malicious actors who might use that information for identity theft.
HIPAA was created with two goals in mind. First, to keep Protected Health Information (PHI) from unauthorized use or theft. Second, to ensure that an individual's medical records are portable – that is, are easily transported or transmitted between authorized users, such as different doctors or medical facilities. 
(The following video provides a detailed overview of HIPAA regulations for the healthcare industry.)
SOURCE: HIPAA TV via YouTube

HIPAA meets these goals by requiring specific actions on the part of healthcare providers, healthcare plans, healthcare clearinghouses, and healthcare business associates. To be HIPAA compliant, all affected individuals and organizations must provide the required technical, physical, and administrative protections, as detailed in the regulations.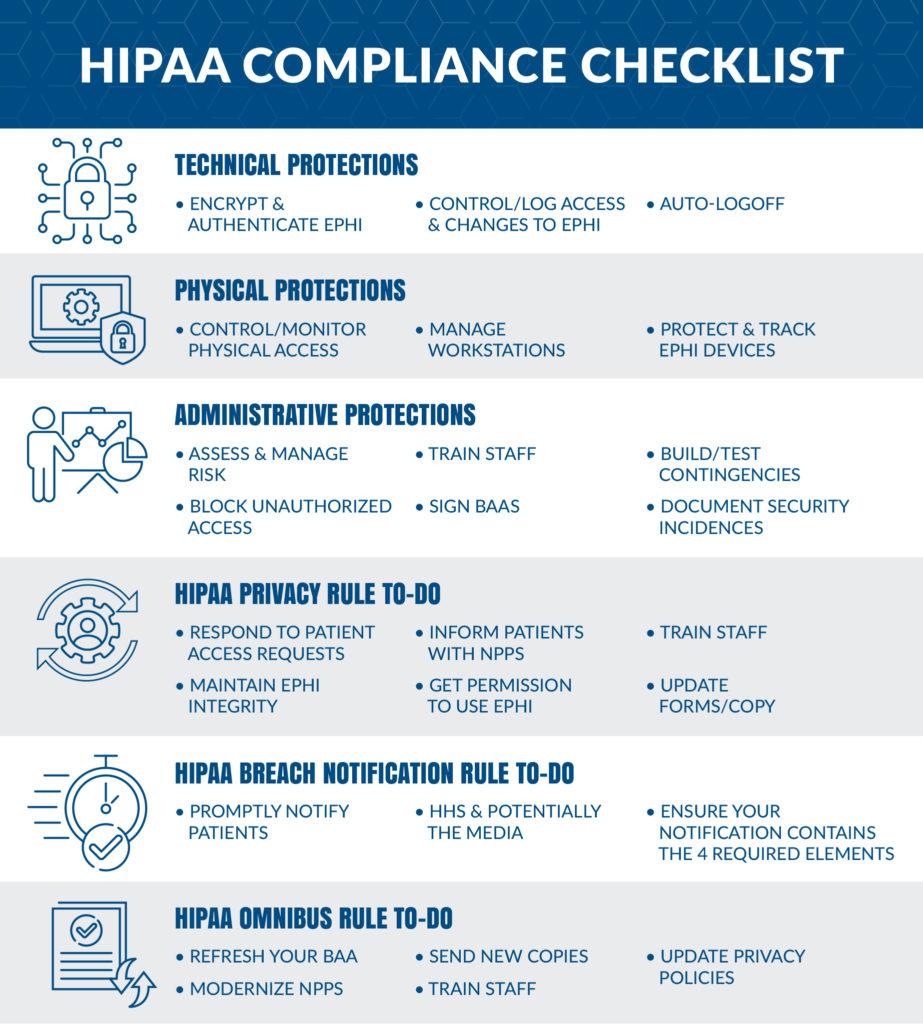 SOURCE: https://www.atlantic.net/
Why Is HIPAA Compliance Important?
All healthcare professionals and organizations should feel a moral obligation to protect the privacy of their patients, and HIPAA codifies that obligation. To ensure that medical practitioners comply with HIPAA regulations, violators are subject to fines, civil lawsuits, and possible criminal charges. These fines can be hefty, running anywhere from $100 to $50,000 per violation, up to a maximum of $1.5 million in any given calendar year.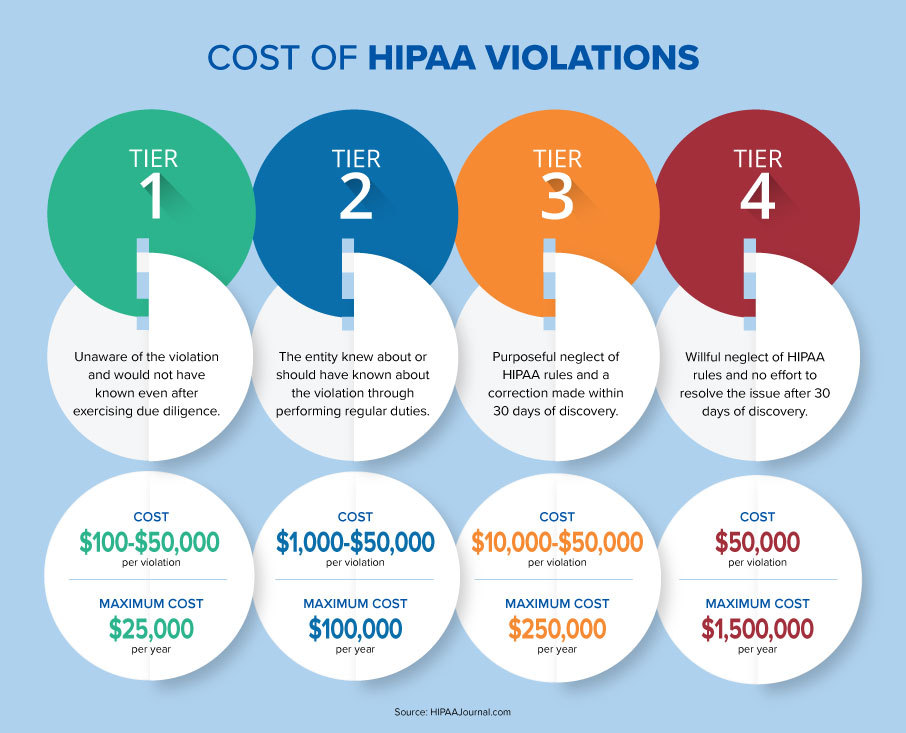 SOURCE: https://www.securedrive.com/
There are, unfortunately, many ways to violate HIPAA regulations. The most common violations include:
Unauthorized access to PHI

Failure to implement procedures to ensure the confidentiality and availability of PHI

Not maintaining access logs for PHI

Not providing HIPAA awareness training

Failure to encrypt PHI to prevent unauthorized access

Providing PHI to third parties without prior patient authorization
Most violations are discovered when the Department of Health and Human Services' Office of Civil Rights (OCR) conducts an internal audit of the offending organization. Audits are typically triggered by formal consumer complaints or when a data breach occurs.
According to the HHS' latest HIPAA Audits Industry Report, the healthcare industry is having difficulty ensuring HIPAA compliance. The report found that only 2% of audited organizations fully met HIPAA's Notice of Privacy Practices requirements and that 94% did not have an ongoing HIPAA compliance program in place. 
It is certainly in the best interest of your organization or practice to comply with HIPAA regulations in all of your actions – including the contracts in which you engage. It's common for healthcare organizations with good intentions to comply with HIPAA regulations in their day-to-day record-keeping but fail to recognize contract terms that are clearly noncompliant and put their patients' privacy at risk.
Why is Contract Management Software Important for HIPAA Compliance?
Because HIPAA compliance is essential in all of your organization's operations, you need to ensure that all the contracts you sign fully protect your patients' privacy. The best way to do this is with HIPAA compliant contracting software that automates all aspects of contract creation and execution and protects contract data from security breaches. It's also important for your contract management software to capture a full history of activities associated with your contracts and the ability to report on that data in the event of an audit.
A recent survey by Black Book Research revealed that 96% of health systems and providers in the U.S. either did not have a contract management system in place or were using CLM software that was outdated and inadequate for today's healthcare needs. This means that the vast majority of healthcare organizations are at extreme risk for HIPAA violations in the many contracts in which they engage daily. 
How Do You Know if a Contract Management Solution is HIPAA Compliant?
To begin with, it's critical to ensure your contract management software has been third-party verified and certified to be HIPAA compliant. Additional security considerations such as SOC 2 Type II are also extremely valuable for ensuring data privacy. 
Beyond third-party certifications, there are some additional capabilities that are key to HIPAA compliant contracting software to help you meet regulatory requirements. Here are a few examples.
First, HIPAA compliant contracting software must actively look for noncompliant language, terms, and clauses and have the ability for users to search for, report on, and flag that information. The system must enable users to quickly and easily locate what is permissible under HIPAA and what isn't; simply adhering to general contractual principles isn't enough to ensure adherence to specific HIPAA rules.
One of the best ways to ensure that a contract is HIPAA compliant is to start with a contract template for agreements such as BAAs and PPAs that meets all HIPAA requirements. This template should be specifically designed to include HIPAA-compliant language, terms, and clauses. By basing all new contracts on HIPAA-compliant templates – and not allowing any deviation from these preapproved terms – your contracts are ensured to meet even the strictest HIPAA requirements.
As part of that ability, it's also key for HIPAA compliant contracting software to have a data-driven approach to contract management. This enables the system to search, filter, sort, and report on virtually any datapoint in the software. That, coupled with automated document version control and tracking, give you the ability to be audit-ready at all times which is key to demonstrating HIPAA compliance. If any questions arise about the versions of a contract, associated documents like insurance certificates, or even provider credentialing, all of that information is at your fingertips. This also helps if you trying to locate specific agreement types such as BAAs, PPAs, or simply trying to find a fee schedule.
Security is another incredibly important consideration and requirement for HIPAA compliant contracting software. After all, HIPAA is all about protecting patient information. It's critical that your contract management system and process have the appropriate controls in place to regulate access to sensitive information. There are a variety of variety of robust security tools designed to ensure the privacy of PHI that should be leveraged in every Healthcare organization's contract management efforts,  including:
Logically separated data structure to ensure data is never co-mingled between customers

Data encryption at rest and in transit

Role-based and featured-based access control and user authentication

Data storage and audit capabilities designed for compliance with HIPAA, HITECH, Medicare, and other government and industry regulations
Not all contract management platforms have these HIPAA protections built in. It's important to look for contract management software designed specifically for the healthcare industry, such as the Healthcare Contract Management Software from Contract Logix. As previously mentioned, this software should be third-party validated to be HIPAA compliant. These features ensure that all contracts created with Contract Logix's Healthcare CLM solution are fully HIPAA compliant – and that your patients' personal data remains private.
Moore County Hospital District is committed to putting patients first by delivering high quality care. It's critical that our business processes such as contract management are modern, efficient, and compliant, so that this can happen. The ease, intelligence, and automation of Contract Logix's platform as well as the company's approach to customer service has allowed us to digitally transform our CLM and focus on high-value activities while assuring compliance and minimizing risk.
Cody McCutchin, Risk Manager, Moore County Hospital District
Let Contract Logix Help Ensure That All Your Contracts are HIPAA Compliant
Contract Logix has been providing the healthcare industry with HIPAA compliant contracting software for over a decade. We work with many different types of hospitals, mental health facilities, skilled nursing facilities, regional healthcare providers networks, and more.
Our Healthcare Contract Management Software helps our customers automate the entire contract lifecycle while ensuring full compliance with HIPAA and other regulations. It streamlines all contract-related processes, including authoring, negotiation, execution, fulfillment, and archiving – all while employing robust data security to protect sensitive patient information. It's the perfect way to ensure a more efficient contract process that complies with all HIPAA regulations. 
Contact Contract Logix today to learn more about HIPAA compliant contracting software for your organization. 
Read More