11 Essential Contract Management Software Features
By Karen Howe, Director of Training, Contract Logix
Frustrated by managing your contracts with shared folders, spreadsheets or filing cabinets? Are you considering contract management software to improve and digitize your process and make life easier? Well, you aren't alone. In fact, a recent study by KPMG and WCC found that 76% of organizations are planning to digitally transform the way they manage contracts.
To help companies navigate the  CLM market, we've created a list of "must-have" features you should be looking for when considering the purchase of a contract management software solution.
Contracts are your most important form of business data. Download our new Essential Guide to Managing Contract Data to learn how to leverage it.
# 1          A Centralized, Intelligently Organized Contract Repository
Having all your contracts stored electronically in a central database is essential to any good contract management system. Users need quick and easy access to contracts and contract data and will appreciate solutions that give them a variety of ways to view information – at the contract, organization, contact, document, or task level.  Spreadsheets and shared document folders just can't compete with this kind of flexibility. In addition, a cloud-based and centralized contract repository ensures you and your team can appropriately access all your contracts and related documents from anywhere on any device which is increasingly critical in today's world.
#2           Powerful Search Capabilities
Having all your contracts in a central database won't do you much good if you can't find anything. Look for systems that provide search tools like Contract Logix's full-text search enhanced by automatic optical character recognition (OCR) scanning and indexing of documents and our Quick Search feature. Simply type whatever you're looking for in the field – a company name, a legal term, even a word or phrase inside a document – and get fast results, then click to open that record or document. You can also save those search results to a report or export them to a file, if necessary. Being able to quickly search for contract-related information is a huge time saver for anyone involved in contract management.
#3           Automated Alerts and Alert Rules  
Unless missing important deadlines and contract obligations doesn't bother you, the next feature you should be looking for is automated alerts on key dates. With Contract Logix, users can set up alerts based on any date field captured in the contract. A simple-to-use form provides options such as when to start sending the alerts (before, on, or after the date), how often to send them, and what format they take (emails, in-system notices, or both). For dealing with standard notice periods (say for example a 90-day advance notice for all expiring Master Service Agreements) you can set up an alert rule and let the system do the rest. Having automated alerts is a huge driver for CLM software because it helps you eliminate missed obligations such as an autorenewal you intended to cancel. It's a great way to mitigate risk in your contract management process.


#4           Reporting and Dashboards 
A contract repository contains a wealth of information, but in order to profit from that data and gain and visualize actionable insights into your contract processes, you need reports and dashboards. Contract Logix not only comes with standard reports and dashboards but enables users to create, save, and share their own reports. By selecting the relevant columns of data then filtering, sorting and grouping, users can generate a report in no time, export the results, and even save the report to their personal reports tab so they can run it whenever they want. Many organizations use this reporting and dashboard intelligence to benchmark and track KPIs that can be used to optimize the performance of their contracts and contracting processes.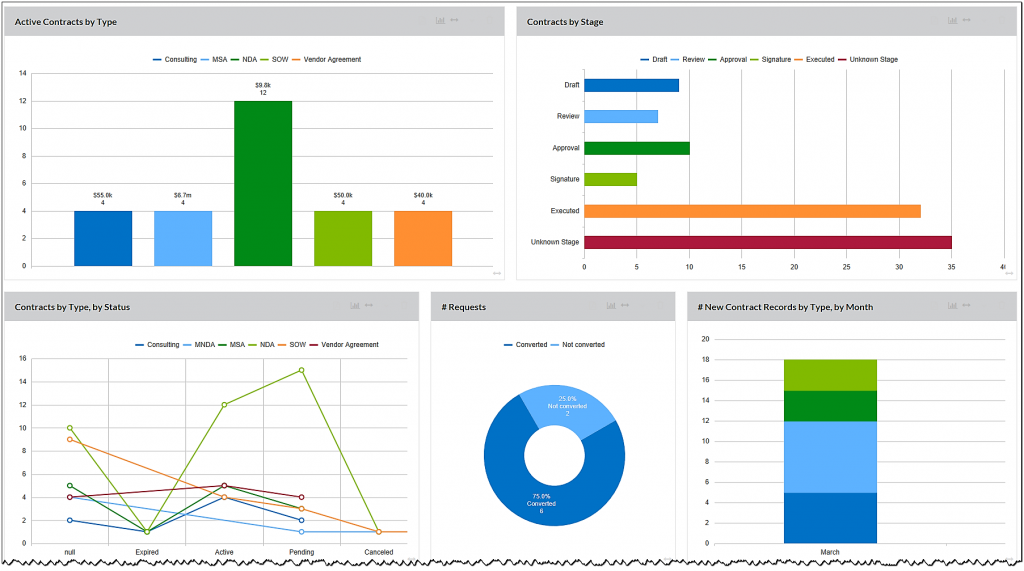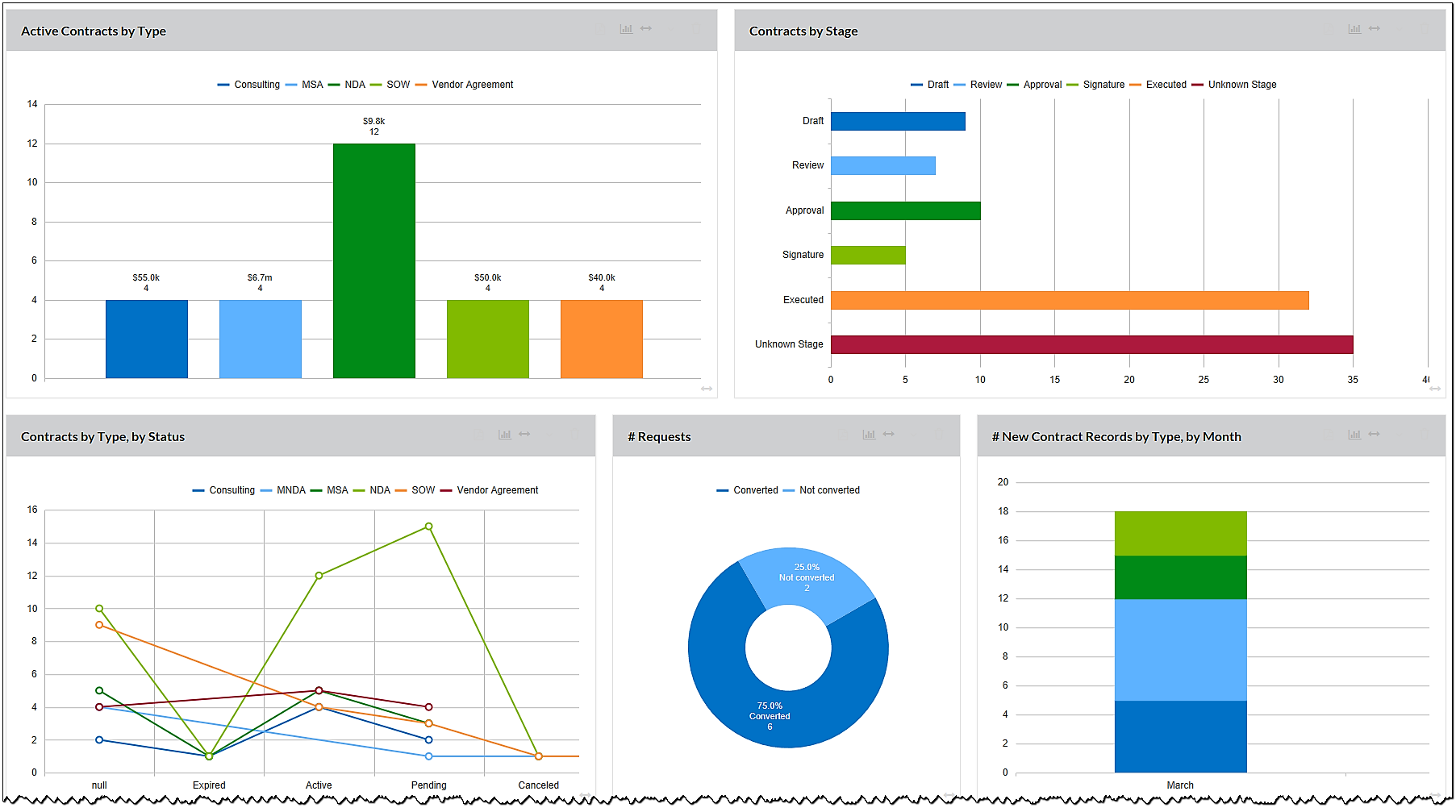 #5           Role-based and Feature-based Security 
A centralized contract repository is essential, but just because all your contracts live together in the same electronic storage location doesn't mean all users should have equal access to all contracts.  Nor should all users be able to perform the same tasks. Look for the ability to define your own custom security roles. A truly flexible system will enable you to configure access and permissions in a variety of ways. For example, with Contract Logix you can create an unlimited number of roles, each role defining which types of contracts and features users can access. You can then place that role within your organizational hierarchy, effectively restricting users to contracts owned by the sub-organization to which their role belongs. Contracts contain some of your most sensitive information about your business and its relationships with customers and suppliers. And, in today's world of data breaches and hackers, it's critical to keep that information safe and secure from unauthorized access. CLM software like Contract Logix makes that easy and reliable to do.
#6           Dedicated Functions for Managing Common Contracting Tasks 
As an example, Contract Logix has an Amendment menu option (for when some of the original terms, rates, or dates need to be modified) which automatically creates a new version of the contract and saves the previous version for reference. Users can access any version of the contract from the version history list. The key here is ease-of-use and taking the guesswork out of handling everyday tasks. It's an excellent way to ensure keep track of contract changes and can be used to maintain an audit trail.
If you're looking for a complete Contract Lifecycle Management (CLM) solution, you should add the following features to your wish list.
#7           Contract Clause and Template Libraries 
Speed up the creation of contracts with pre-approved language and templates that enable non-legal staff to generate contracts quickly and easily, freeing your legal staff to handle more complex legal matters. With clause and template libraries, you can also automatically assemble documents based on business rules. They are an excellent way to ensure the most recent language and format is used in your contracts, they free up legal to focus on more strategic activities, and they give your users some self-service abilities.
#8           Redlining, Approvals, and Collaboration Tools
Streamline the negotiation and review process. Look for track changes capabilities, automatic versioning, real-time contract collaboration features like concurrent editing, comments and chat, and the ability to share for review and approval by third parties. One of the slowest and most challenging and costly parts of contract management is the negotiation and signature process. It's critical to remove as much friction from that as possible to get business done faster and more efficiently. In fact, WCC research shows that the cost to negotiation a contract can range from $6,900 to $49,000 depending on the agreement's complexity. Tools such as Contract Logix's Collaboration Room make this much better and provide a superior user experience.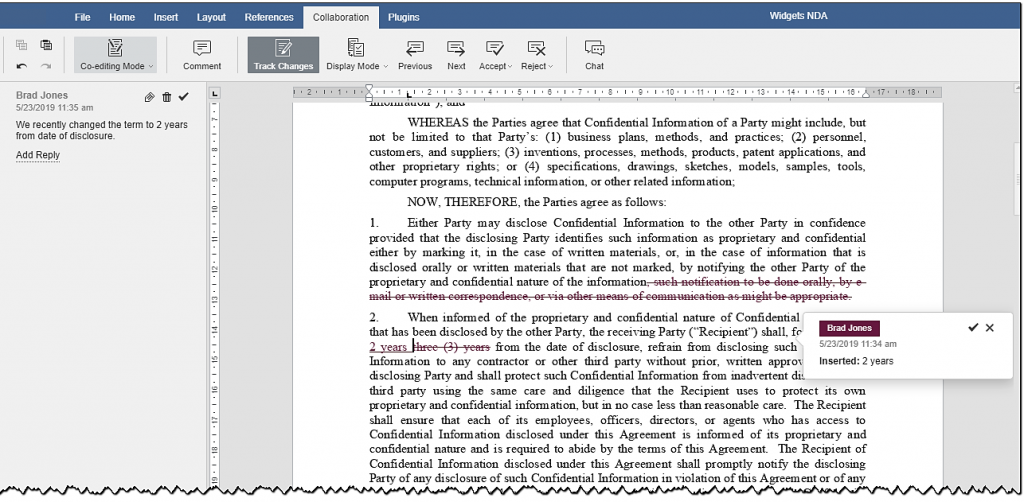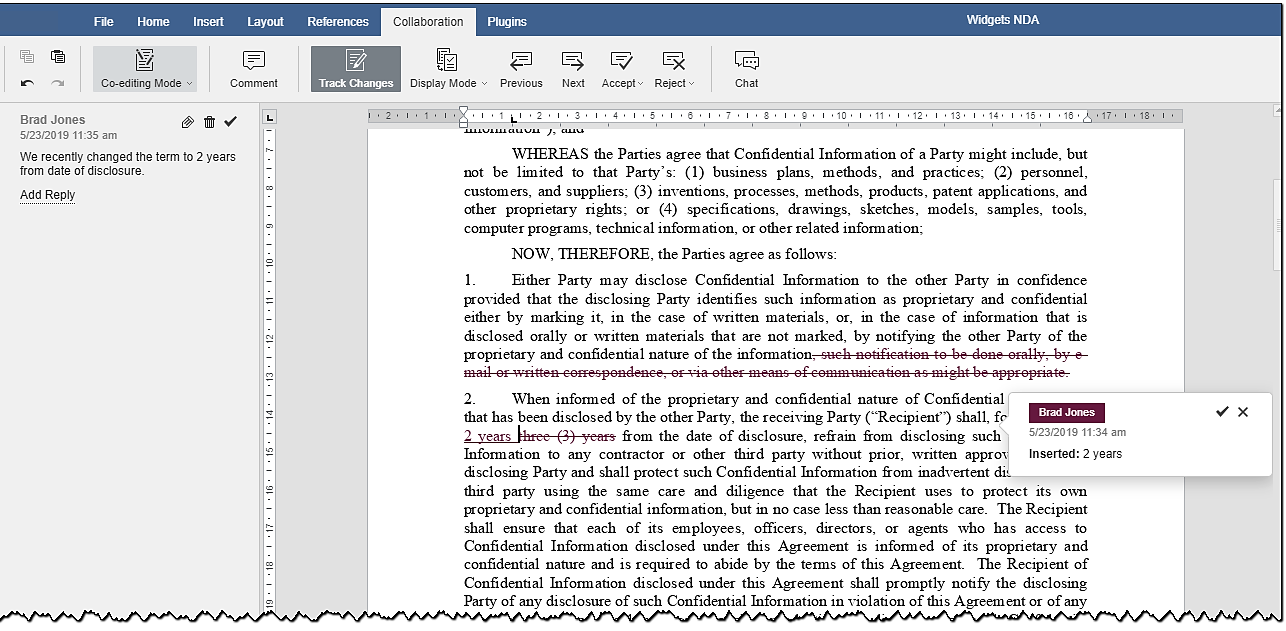 #9           Electronic Signature
The benefits are clear when you go paperless. You gain control of your entire contract process because you can track your contracts all the way from initial draft, through the review and approval cycle, to final execution, using system tools. Look for integration with leading e-signature providers. They provide a great user experience and your contracts can be signed from anywhere, even using a smart phone.
#10        Contract Request and Intake
You shouldn't have to rely on email to request new contracts or submit existing ones. With Contract Logix you can design your own custom request forms that anyone with minimal training or limited system access can use to submit requests or upload existing documents. A single click converts the request to a contract. Centralizing your contract request and intake process is a huge time saver, it eliminates back and forth emails and other inefficient communications, and it ensures information accuracy.
#11        Managing Contract Process through workflows.
Not only do workflows ensure that all steps are being properly followed, they will also enable you to track each contract throughout its pre- or post-execution phase. Contract Logix provides a simple to use visual workflow designer with options for defining multiple steps, assigning tasks, sending notifications and conditional branching. Automated workflows are an efficient way to ensure your business rules are followed throughout your CLM process. They also keep contracts and tasks moving forward and eliminate the need for manual intervention.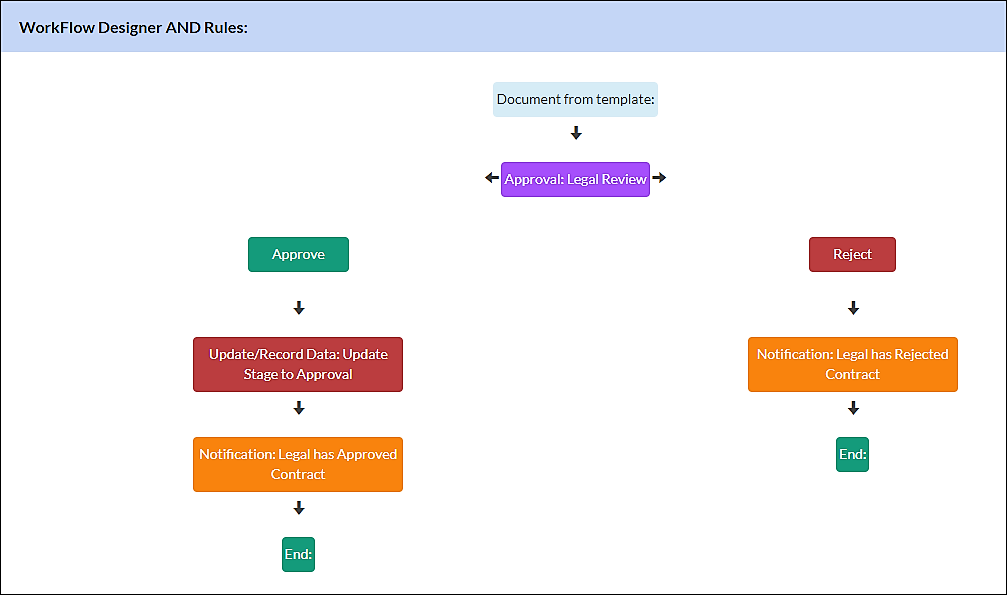 Takeaway
There are many features to consider when looking for contract management software. Whether you're seeking a basic contract repository or a complete lifecycle management solution, the items I've listed here should give you a starting point when evaluating software to fit your organization's needs. Let's start a conversation today.