Two Tips for Automating Your CLM Process
By Justin Perkins, Solutions Engineer at Contract Logix
When it comes to contract lifecycle management (CLM), you're likely leveraging some level of business process workflow to help you address your day to day needs. Sadly, a lot of organizations still rely on manual steps or disjointed CLM process to get this done.
Those experiencing the worst of it are setting up manual alert notifications, getting deliverables or tasks lost in the back and forth shuffle of emails, and even running around the office with contract cover sheets trying to get official signoffs & approvals completed. Each one of these manual activities multiplies potential business risk factors related to missed steps and confusion surrounding where contracts are in your CLM process.
The good news is that contract management software from Contract Logix can easily streamline and automate these items and more. Let's look at two key examples of how we help automate your CLM process: contract alerts and workflows.
Download our Guide to Unlocking the Power of Your Contract Data to learn more about the business advantages of contract management software.
Automated Contract Alerts & Notifications
Contracts that include key dates such as expirations, renewals, evergreen clauses, or annual increases need to be tracked within your CLM process so that they're not missed. Many organizations take a manual approach to building notifications to track these dates one at a time through Outlook or some other calendaring system which is error-prone and time-consuming. The dates are often tracked in a spreadsheet and entered into a different application's calendar which is a good example of a manual and disjointed process.
With contract management software from Contract Logix,  you can capture and track all your important contract related dates and schedule in a highly accurate and automated way. You can also create business rules which can be mass applied across your organization down to a specific type of agreement you have defined, rather than doing it one contract at a time. This turns into a quick CLM process win for any organization by ensuring you never miss another important deadline. And, all of it is accomplished and managed within your contract management software as part of your CLM process.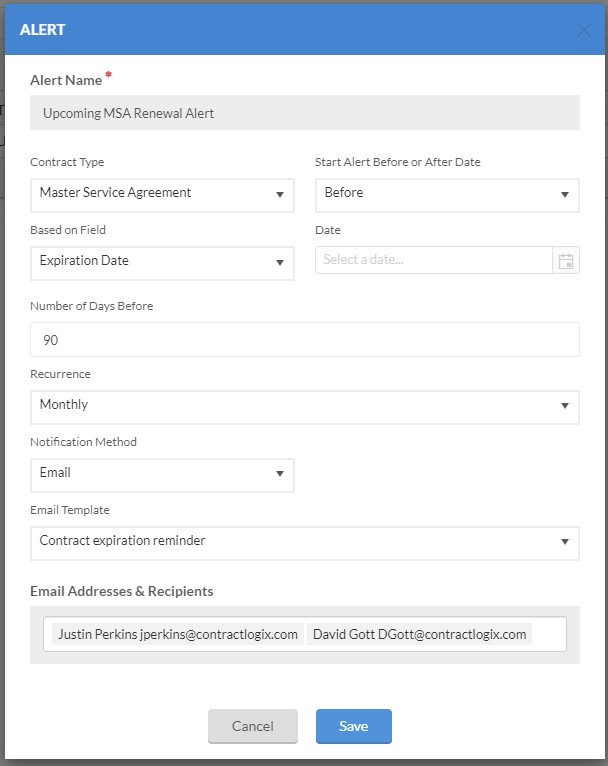 Contract Workflow
In addition to automated alerts and notifications of key contract dates, you can set up visual contract workflows to automate the flow of contracts through your defined CLM process. This greatly helps manage expectations, enforce business rules, and expedite key steps such as approvals.
You can visually see each step as you advance through your process, knowing who is responsible for what. It also helps you monitor the overall CLM process so that you reduce bottlenecks and continuously optimize it by tracking KPIs.
An important thing to consider when building workflows is that they don't have to be overly complex involving endless steps across the entire company. Some workflows might be as simple as a single key approval which always has to happen for a specific type of contract record or dollar value. By building automated workflows in the software, you take all the guesswork out of your CLM process and keep everything on schedule and compliant to your business rules.


Takeaway
The goal of these two examples – alerts and workflow — are to make your CLM process and job more efficient, reduce unnecessary risks, and provide greater visibility into your contract management activities. Alerts give you the peace of mind that key reminders are going to happen when they need to assuring you never miss an important date. And workflows make sure each key person who needs to be involved in approvals or reviews or any part of your CLM process is correctly notified while providing the visibility and audit trail of each step.
Interested in learning more? Schedule a conversation with one of our CLM experts.