Streamline Your Contract Intake Process
By Karen Howe
One of the most critical steps in the development of a contract lifecycle management process is figuring out how the contracts will enter the system in the first place.  You need an efficient and simple-to-use contract intake process for both new and existing contracts in order to avoid chaos and confusion.


Why a Separate Intake/Request Process?
The contract intake process (or contract request process)  can serve several different purposes. It might involve asking the Legal Department to draw up a new non-disclosure agreement for a business relationship your company is about to enter. Or it might be used to submit a signed and executed agreement from a third party that needs to be added into your central contract repository so it can be monitored.
There are several reasons why this is best solved via a dedicated request process. Such a contract intake process can:
Eliminate email traffic back and forth by capturing the critical information up front
Enforce submission standards, such as required information and documentation
Enable automatic routing, approvals and/or rejections
Provide visibility into the status of each request
Email Isn't the Answer
Perhaps today you are relying on email to request new contracts or submit existing ones, but there's a better way. With a contract lifecycle management solution like Contract Logix, users fill out a request form in the system, upload any required documents, and submit both form and documents electronically. The system takes care of routing the request and automatically notifies the submitter if the request is rejected for any reason, such as for missing information or documentation. The submission process is uncomplicated and can be performed by anyone with minimal system experience.
Custom Request Forms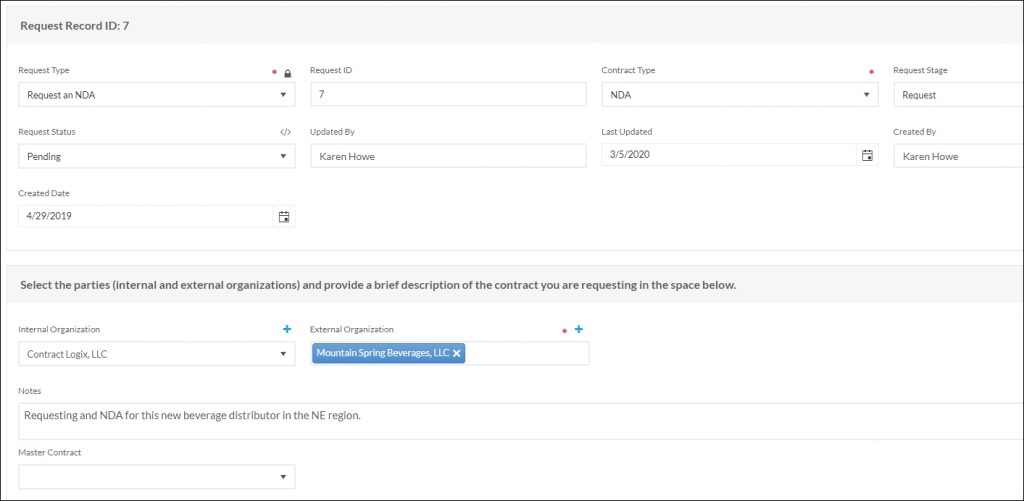 Being able to design your own custom request forms ensures that all the relevant and required information you need for different types of requests is captured up front, before the request gets submitted. This cuts way down on email traffic back and forth to ask questions or call for additional details, thus streamlining and speeding the entire process of contract intake.
Custom forms also make for a seamless transition from request to actual contract. With one click of a button, and no re-keying necessary, an approved request is converted and on its way to the next steps in your contracting process, such as generating the draft document, negotiation and redlining, and obtaining approvals.
Better Visibility
So often without an electronic system solution, submitters send in a request and then are forced to continually ask for information about the status of their contract. That puts a strain on the Contracts department, or whatever group handles the contract intake process. Having visibility into the real-time status of every request eliminates the need for constantly calling or emailing to get updates. All request data, documents and status updates are available in one place, easily accessible from the user's Home page.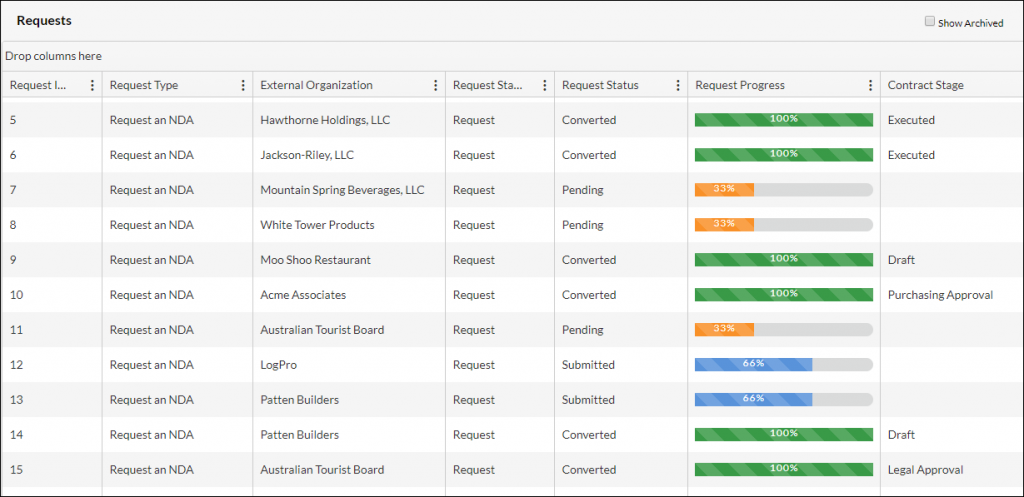 Takeaway
Managing contract requests can be a real headache without a good system to ensure that all the requisite information is available when and where it's needed. Systems like Contract Logix that allow for customized intake form design, clear and simple submission and approval/rejection actions, and visibility into the entire process will streamline your entire contract intake process.
Interested in learning more? Schedule a demo of our contract management software.