11 Capabilities of Enterprise Contract Management Software
Nov 3rd, 2023
In today's business world, large organizations rely on enterprise contract management software for sustainable success. With the proliferation of documents, clauses, and stakeholders involved in the contractual lifecycle, traditional contract management methods have become cumbersome and error-prone, especially in a world of digital transformation. 
As contractual obligations evolve and expand, enterprise contract management platforms have become indispensable. They streamline processes and reduce time to approval by an average of 82%. 
This article covers the key capabilities of enterprise contract management software, highlighting its critical features and establishing it's a game-changer for organizations aiming to outpace competition.
Key Takeaways
Enterprise contract management software streamlines contractual processes, ensuring efficient oversight, compliance, and risk mitigation.
Modern systems integrate AI-powered data extraction, automated contract generation, and collaborative tools, enhancing contract precision and real-time performance assessment.
Integration with core business platforms, coupled with robust security measures, fortifies data consistency, security, and comprehensive operational strategy.
What Is Enterprise Contract Management Software?
Enterprise contract management software is a specialized business software that streamlines the contract lifecycle for large organizations. It centralizes all contract-related documents, providing businesses with easy access, efficient navigation, and precise oversight. 
From automated approval workflows to AI-powered data extraction, these systems facilitate timely actions, ensure compliance, and mitigate risks. When integrated with core business systems such as CRMs and ERPs, they enable a cohesive approach to managing agreements. This cohesion enables businesses to optimize their contractual processes, safeguard sensitive data, and make strategic decisions based on real-time insights.
Key Capabilities of Enterprise Contract Management Software: The Cornerstone of Risk Mitigation
While features may differ across platforms, essential capabilities for enterprise-level deployment include:
Centralized Repository and Accessibility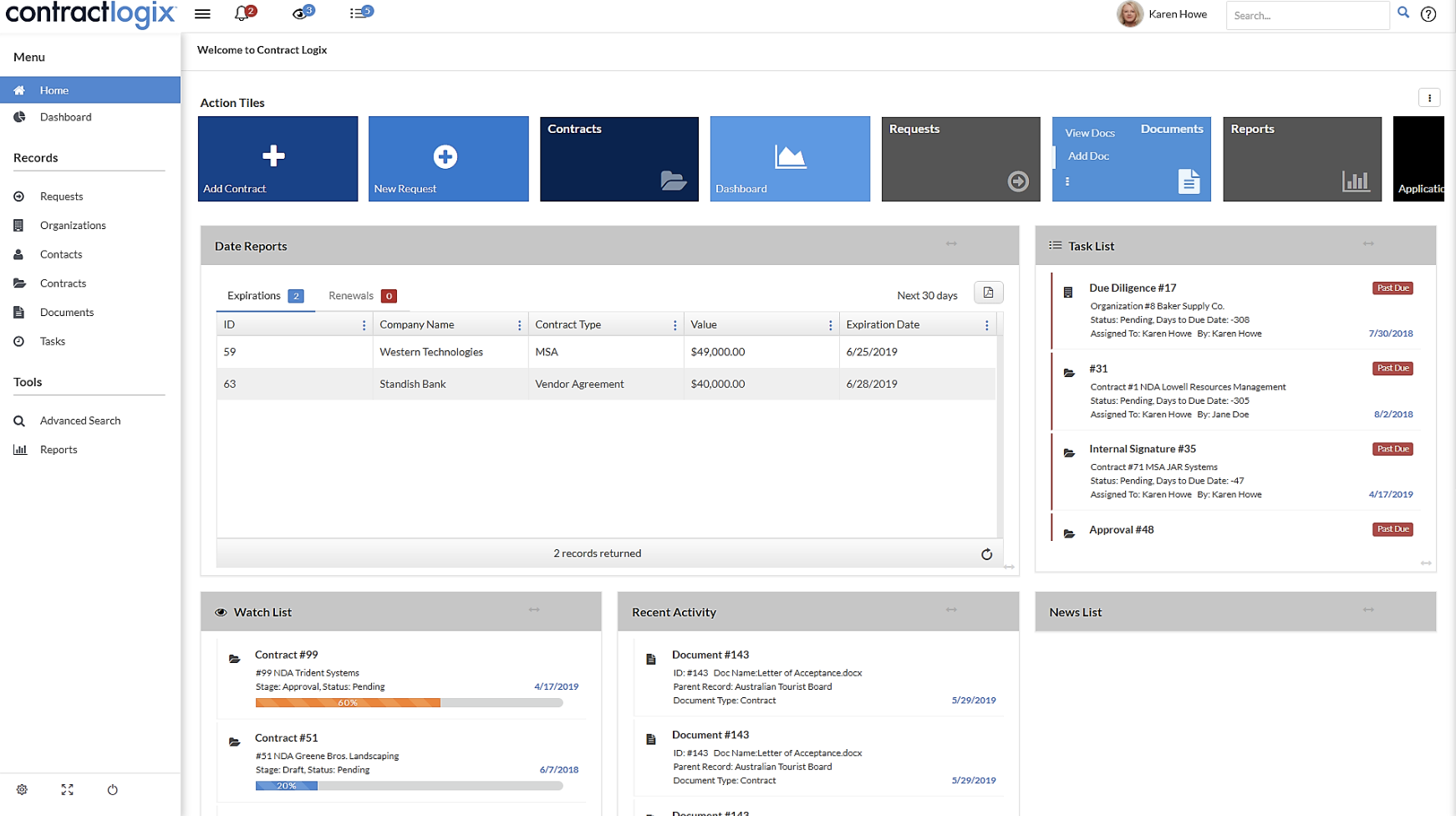 Modern enterprise contract management software consolidates all contract documents into one unified repository. This not only simplifies retrieval but also minimizes the risk of misplacing crucial agreements. A single point of reference helps organizations:
Streamline contract management

Reinforce data security

Provide uniform access to vital contract information for stakeholders
Advanced Search and Reporting
Navigating numerous contracts requires precision and efficiency. Enterprise contract management software's advanced search functionalities let users quickly locate specific clauses or terms. 
Customized reporting tools offer insights into contract performance, compliance levels, and risk areas. These features enable clear oversight of contractual obligations and decisive action.
Automated Approval Workflows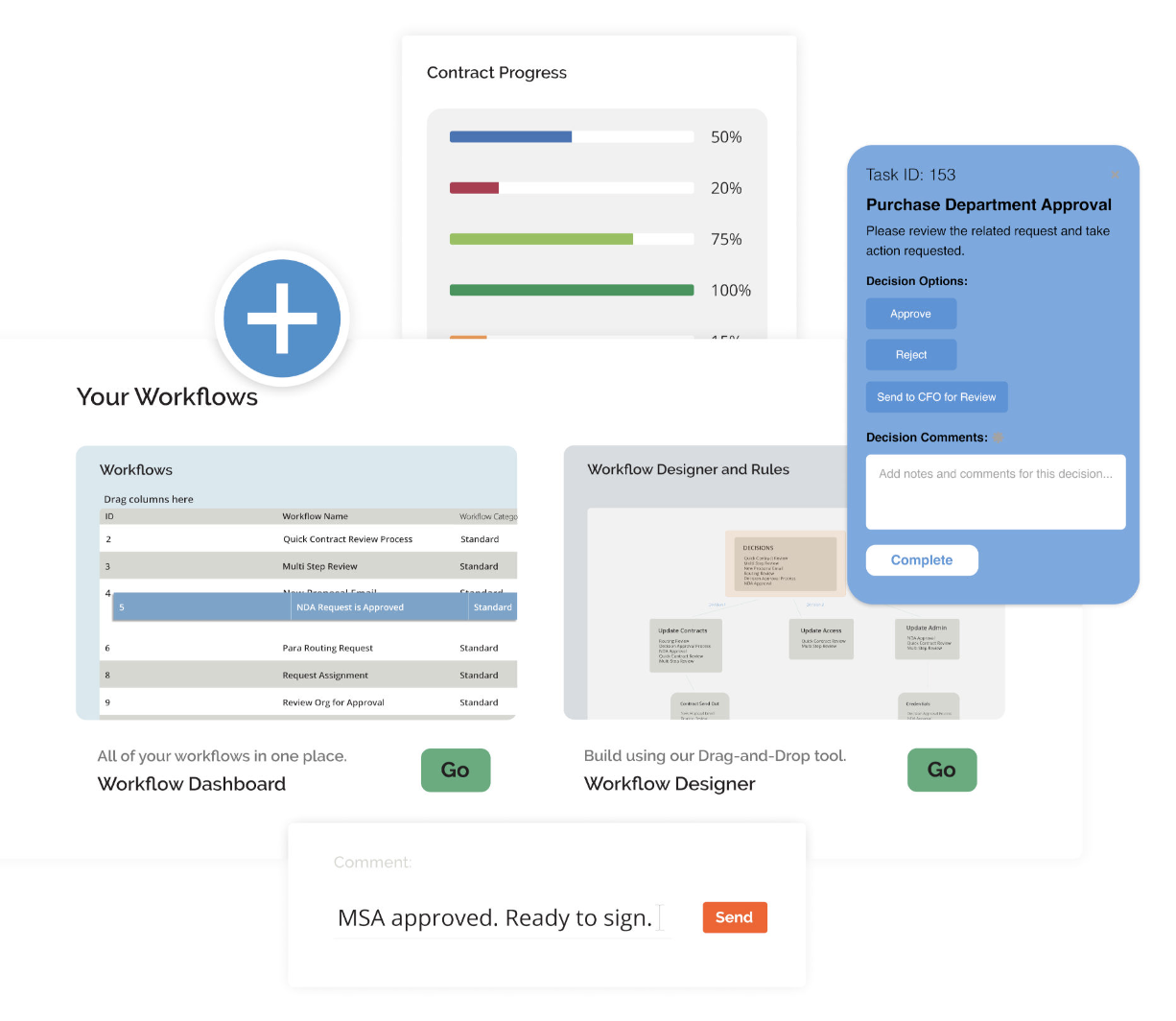 Precision is key in contract management. Automated workflows in enterprise contract lifecycle management software guide contracts through their lifecycle. By setting predetermined approval processes, businesses ensure each contract undergoes thorough scrutiny, receives timely endorsements, and adheres to established organizational protocols, minimizing potential pitfalls.
Real-Time Alerts and Notifications
Timely actions often dictate contract management success. Built-in alert mechanisms in enterprise contract management solutions notify users of critical milestones, impending deadlines, or renewal dates. These real-time notifications enable businesses to act proactively, avoiding missed opportunities, and contractual breaches.
AI-Powered Data Extraction
One of the biggest barriers to adopting contract management software is getting all of your contract data into the system. With AI-powered data extraction that leverages natural language processing (NLP), users can automate this critical capability. Contracts can be uploaded to the CLM software and then the key data points are auto-extracted and populated in the system. This saves tremendous time, reduces risk of manual error, and automates the whole process resulting in faster and easier adoption.
Clause and Template Libraries
Uniformity in contract drafting significantly reduces compliance risks. Clause and template libraries in enterprise contract management platforms enable businesses to maintain consistency across agreements. These libraries lay the foundation for contract creation, aligning each document with organizational standards and industry regulations.
Integration with Other Business Systems
A holistic approach demands integration with core platforms like CRMs, ERPs, and financial systems. Such integrations enable real-time data exchange, data consistency, and error elimination from manual entry, making contract management a cohesive part of broader operational strategies for enterprises.
Security and Compliance Management
Contracts often contain sensitive information, necessitating state-of-the-art security measures. Enterprise contract lifecycle management tools employ stringent security protocols like:
Role-based and permissions-based access

Multi Factor authentication

Audit trails

Support for password and another authentication policies

Single Sign-On (SSO)
These measures safeguard contract data, limit access to authorized personnel, and keep transparent records of contractual activities, reinforcing compliance and trust.
Dynamic Contract Generation
Modern contract management systems offer dynamic contract generation. Using pre-approved templates and clauses, users can swiftly draft contracts tailored to specific deals or partnerships based on business rules. This functionality accelerates contract creation and ensures precision, relevance, and alignment with current business needs, reducing the time spent on manual modifications.
Collaborative Editing and Version Control
Effective contract management often requires collaboration among stakeholders. Enterprise platforms offer collaborative editing tools, enabling multiple users to work on a contract simultaneously.
Version control tracks all changes, reducing conflicts and ensuring all parties work on the most updated version of the document.
Performance Tracking and Analysis
Understanding the real-time performance of contracts is pivotal for continuous improvement. Performance tracking features in enterprise contract management solutions monitor the effectiveness of agreements, assessing metrics like:
Fulfillment rates

Breach occurrences

Overall profitability
This data enables businesses to analyze the success of their contractual relationships, identify areas of improvement, and strategize future contract negotiations with informed insights.
Elevate Your Contract Management with Contract Logix
Designed for enterprises, Contract Logix centralizes, streamlines, and automates your contract processes. Its features manage high volumes effortlessly, ensure compliance, mitigate risk, and optimize operations. 
To get started elevating your contract management performance, request a demo of Contract Logix today.
Accelerate Your Digital Transformation With Contract Logix
Download our Data Extraction Product Brief to learn how you can automate the hard work using artificial intelligence