The Definitive Guide to Enterprise Contract Management
Sept 15th, 2023
Contracts are like pieces of a puzzle that form a bigger picture, but it can be difficult to see that picture if you only look at the pieces one at a time.
Enterprise contract management provides a structure for managing your contracts—saving you time and money while mitigating risks in the process. This guide covers the essentials of enterprise contract management, its goals and challenges, and the best contract management software for your organization.
Key Takeaways:
Contract management spans the entire lifecycle of each contract, from requests and drafting to eventual deletion.

Enterprises use contract management software to digitally transform their contract management processes.

Contract Logix's contract management software adds new functionality and protection to your contract activities.
🤔Curious about how to measure success? Read our guide to contract management KPIs HERE.
What is Enterprise Contract Management?
Enterprise contract management includes all the activities, processes, and tools your organization uses to manage its contracts. The contract management lifecycle begins with drafting and continues until you destroy your defunct contracts—often years or even decades after the contract has ended.
What's Unique About Enterprise?
As an organization scales, so does the complexity of its contract management. 
Enterprise contract management is unique from other types of contract management through the sheer volume and variety of contracts that enterprises use. 
To handle this complexity, enterprises often turn to contract management software. This tool simplifies your process by consolidating all the different functions of contract management, a topic we'll delve into later.
Types of Enterprise Contracts
Your organization likely uses a wide variety of contracts, such as:
Employment contracts:

These detail terms for salaried, hourly, contractual, and even freelance workers. 

Sale contracts:

Used to formalize transaction details, whether your enterprise sells products, services, or both.

Patient consent forms:

Essential for healthcare providers like hospitals and clinics to formalize the agreement with patients.

Procurement contracts:

Does your organization manufacture a product or process raw materials? Do you buy inventory to sell to customers? Do you use office supplies, like copy paper and sticky notes? If so, your organization needs a system for managing procurement contracts.

Service contracts:

Often seen with big-ticket items like leased multifunction printers or IT infrastructure. 

Construction contracts:

If you hire another party to construct a building on your behalf, or if you are a builder who constructs buildings for other parties, your organization uses construction contracts.

Leases and rental agreements:

These dictate the terms for your enterprise's physical building (whether you rent or lease).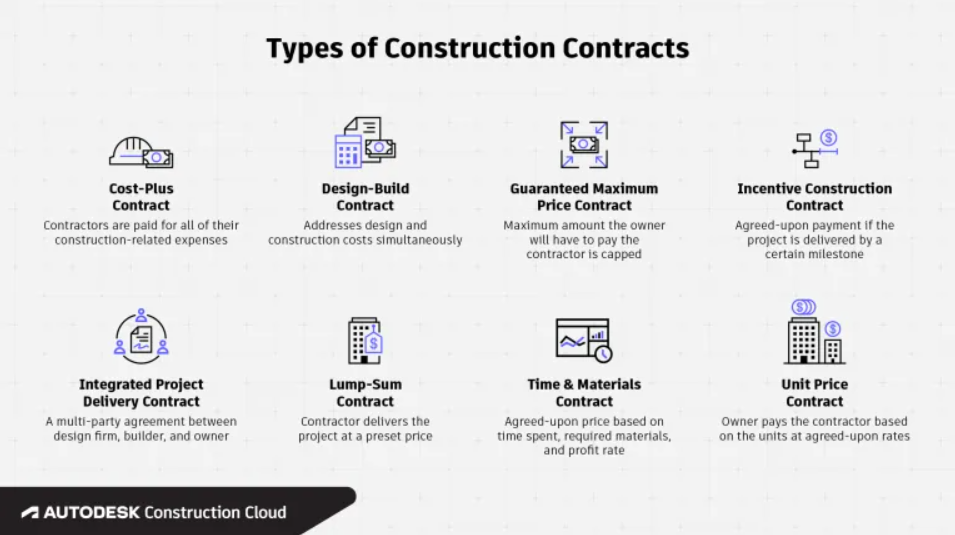 Image Source: https://constructionblog.autodesk.com/construction-contracts-types/
Goals of Enterprise Contract Management
Managing a contract might still sound a little abstract or vague, but it serves concrete goals. Let's discuss these goals and answer the question, "Why do enterprises use contract management software?"
Contract Management Activities
Contract management includes all the activities, people, and tools that oversee contracts throughout their lifecycle. Enterprises often accomplish these tasks with the help of contract management software. 
The activities include:
Requesting and submission:

Whether it's a request for a new contract on your paper or submitting one for review on third-party paper, the contract lifecycle typically starts here.

Drafting and authoring:

The language of your contract is crucial. Software helps enterprises create templates and manage the content of their contracts.

Negotiation:

Contracts involve an agreement between at least two parties, making negotiation essential. It's important not to lose sight of your goals and to maintain consistent, legally-sound language.

Signing:

Whether wet-signed (i.e., parties must sign it in-person and in ink) or signed electronically, secure delivery is vital. Contract management software helps deliver encrypted contracts securely so you can gather digital signatures in a secure environment.

Execution:

After signing, the contract goes into effect. In the execution stage, enterprises use contract management software to track deadlines, regulatory requirements, and obligations (both theirs and those of the other party.)

Storage:

It isn't enough to have a filing cabinet full of paper contracts—your contracts must be stored in a way that is both meaningful and secure. Contract management software helps ensure contracts are secure, indexed, and searchable, which is how large organizations are able to get the most out of their contract data.

Archival and Deletion:

At the end of the contract lifecycle, after the terms of the contract have ended (and sometimes after the contract has been archived for a number of years to meet legal requirements), contracts should sometimes be destroyed to protect the security and privacy of both parties.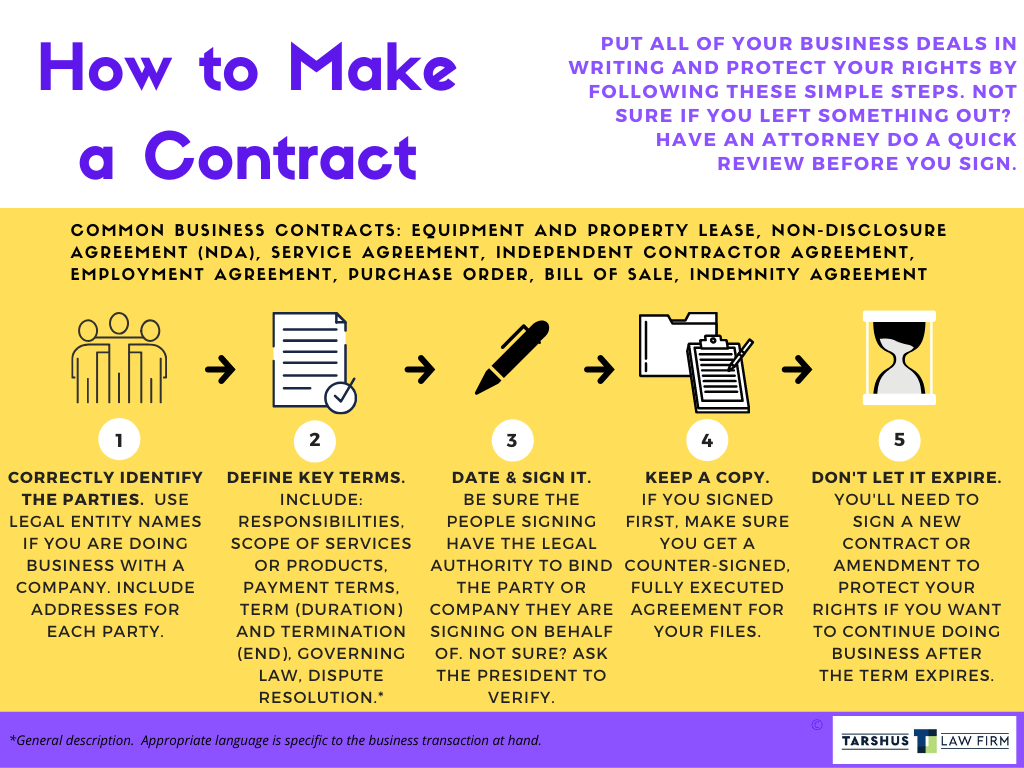 Image Source: https://lawyerforbusiness.com/blog/starting-a-business-mini-series-how-to-make-a-contract
Benefits of Enterprise Contract Management
Contract management software enhances functionality and security, but the benefits go far beyond simply staying organized and secure:
Time and cost efficiency:

If you don't have a contract management process, you're likely wasting time. Specialized software saves time and money by streamlining processes, keeping documentation secure, and automating workflows and data tracking.

Risk mitigation:

Contract management helps you stay compliant by tracking your obligations, including key dates (like renewal dates or obligation deadlines) and monitoring regulatory requirements.

Data optimization:

Data is the lifeblood of many industries and the world's

most valuable resource

. Contract management not only digitizes and stores key data points but also generates new data and metadata about your contracts.
Enterprise Contract Management Software from Contract Logix
As organizations grow, their contract management process becomes exponentially more complex. Often, enterprises are blindsided by how quickly their contracts can go from manageable to completely out of control. Contract Logix's contract management software helps businesses navigate this maze, offering workflows that suit your needs without compromising data quality or security.
To explore Contract Logix capabilities, request a free demo today.
Accelerate Your Digital Transformation With Contract Logix
Download our Data Extraction Product Brief to learn how you can automate the hard work using artificial intelligence