Contract Strategy for Successful Project Management: 8 Tips
As a project manager, you know how integral contracts are to project management. Contracts determine when essential goods are delivered and how much you pay for them. A poorly negotiated or unfulfilled contract can throw a project off schedule and over budget. 
Because contracts can make or break a project, it's important to develop a contract strategy for successful project management — and part of that strategy should involve automated contract management software. 
Key Takeaways
Contracts are an integral component of most large projects
Contract management is essential to project management success
Your contract strategy should include defining the contract scope, assembling necessary resources, and specifying roles and responsibilities
You also need to create a deliverables timeline, identify potential risks, aggressively negotiate prices, and incentivize timely deliverables
The best way to manage contracts in your projects is to employ automated CLM software
Why Contract Management Is Important to Project Management Professionals
Most business projects have many moving pieces and parts and often involve contracting with third parties for supplies and additional services. The contracts you negotiate and sign with these third parties detail how much you pay for those goods and services, when deliverables are due, and who is responsible for various functions. 
(The following video discusses the various types of contracts used in project management.)
SOURCE: David McLachlan via YouTube
Because third-party contracts can greatly affect the success or failure of a project, it's important to devote the necessary resources to contract management. Contract management is a process with its own requirements, negotiations, risks, and rewards, but it's a necessary part of successful project management. 
Unfortunately, poor contract management can impact the successful completion of any project. The Project Management Institute reports that 11.4% of resources are wasted because of poor project management processes — including contract management. As revealed by Wellingtone's The State of Project Management 2020 report, contract management also affects project schedules. Wellingstone reports that only 29% of organizations consistently complete their projects on time — and only 43% consistently stay on budget. 

SOURCE: https://wellingtone.co.uk/
The Four Stages of Project Contract Management
For these reasons and many more, you need to develop a detailed contract strategy for your organization's important projects. Project contract management, as some call it, consists of four key stages:
Ideation and creation

Transition

Contract management

Evaluation and close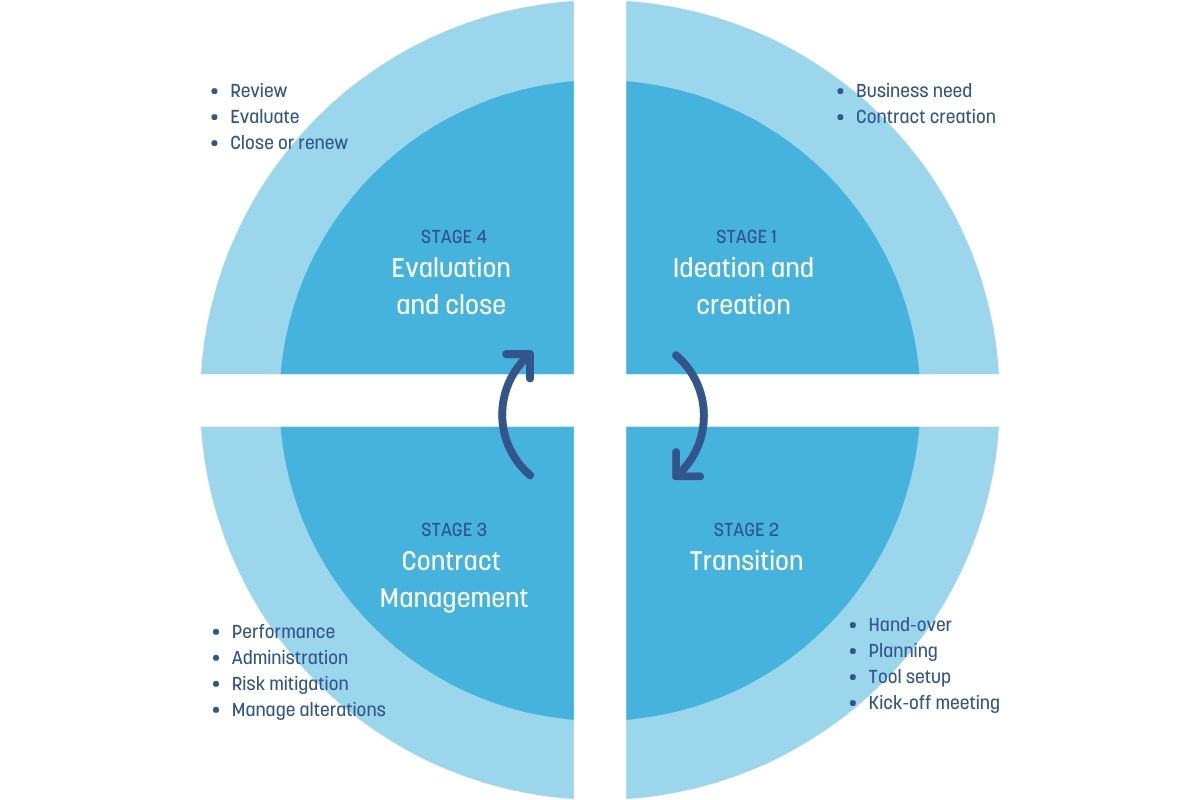 SOURCE: https://www.aipm.com.au/
Stage 1: Ideation and Creation
The first stage in project contract management consists of these primary activities:
Stakeholders identify the business need for the contract

You choose the desired contractor

The two parties negotiate the terms of the contract

You, your staff, or more commonly, the third-party, draft the contract

All parties negotiate, approve, and sign the contract
Stage 2: Transition
The transition stage is where the contract enters into the project in full. It involves the following activities:
Contract hand-over, where you take control of the contract and familiarize yourself with the details

Planning, where you map out the timeline, roles, and resources related to the contract

Set up your contract management tools, either simple spreadsheets and calendars or more sophisticated

CLM software

Hold kick-off meeting to bring all appropriate stakeholders into the process
Stage 3: Contract Management
The third stage of the process is contract management proper, including the following activities:
Manage the performance of the contract

Initiate any administrative activities for the management of the contract

If necessary, implement any risk mitigation measures

Manage any alterations that the contract requires
Stage 4: Evaluation and Close
The final stage of project contract management occurs upon contract fulfillment. It includes:
Reviewing contract details to ensure that all work is complete

Evaluate how the process went for this contract and suggest any changes for future projects

Decide whether to close, renew, or renegotiate the contract if necessary
8 Tips to Improve Contract Strategy for Successful Project Management
The right contract strategy can contribute to a project coming in on time and within budget. Here are eight tips you can employ for more successful project management. 
1. Clearly Define the Contract Scope and Deliverables
Before you create any contract, you need to clearly define the scope of the contract, in particular the contract's deliverables. Specify what the contract needs to cover to stay focused and prevent scope creep. 
2. Assemble Necessary Resources
What — and who — do you need to successfully create and manage the contract? You should specify which team members should be involved and any other resources necessary. (Those resources might include CLM software, as you'll soon discover.)
3. Specify Roles and Responsibilities 
When you determine who should be part of the management of a contract, you also need to specify each person's role and responsibilities. It needs to be clear who is responsible for what, or you'll have missing pieces. Use a RACI (responsible, accountable, consulted, informed) model for this step.
4. Create a Deliverables Timeline
Just as you create an overall project timeline, you need to create a timeline for all your contract deliverables. This timeline should include milestones, deliverables, and other important dates necessary to meet your project deadlines. 
5. Identify Contract Risks
All contracts carry some degree of risk. The contract risks most relevant to project management are missed deadlines and cost overruns. Lay out all these risks and contingency plans for what to do if the worst happens.
6. Aggressively Negotiate Prices
Cost management is essential for successful project management. One key place to address costs is the contracts you sign with suppliers. That means aggressively negotiating prices and other terms. Be willing to compromise on delivery dates to get a lower price. Negotiate the best price possible that works for both parties. 
7. Incentivize Timely Deliverables
Sometimes the delivery date is more important than the price. To keep your project on schedule, be willing to pay more for an accelerated delivery date. You may want to negotiate this as a bonus for delivering on a certain date or a penalty for not meeting an early date. 
8. Delegate Liability
Another thing you can negotiate in your contracts is liability. You don't want to be held responsible for activities you didn't perform, so pass off as much liability as possible to suppliers and subcontractors. 
One Final Tip: Use CLM Software to Automate the Contract Management Process
Just as project management software facilitates project management, contract management is easier with contract lifecycle management (CLM) software. CLM software, such as that offered by Contract Logix, automates the entire contract process, including document creation, negotiation, workflow, and execution. Some CLM platforms such as Contract Logix also send automatic notifications when deliverable deadlines are approaching. 
By using CLM software in your projects, you benefit from:
A faster contract process

Accurate tracking

Fewer contract errors

Higher legal and regulatory compliance

Lower contract management costs 
Finally, you and your staff can spend more time managing your projects and less time managing contracts by using CLM software. It's a win-win for you.
Turn to Contract Logix for Contract Strategy for Successful Project Management
When you need to successfully manage the contracts that are part of your organization's project management, turn to the contract experts at Contract Logix. Our cloud-based CLM Platform automates the entire contract process, minimizing your time managing your project's contracts. Our CLM software helps you negotiate better terms, keep track of all deliverables, and ensure your projects come in on time and within budget. 
Contact Contract Logix today to learn more about incorporating CLM software into your project management process.
Read another recent article from our team, 5 Contract Management Challenges in 2022.
Read More