How to Lead Your Industry with Contract Intelligence
You can summarize intelligence as knowing what to do, how it should be done, and when to do it. With contract intelligence, forward-looking organizations use all their business data to make smarter decisions that make them leaders in their industry. As the contract management lifecycle drives almost every business process in an organization, using your contract management software to extract critical information and act on these insights is essential for future success. 
The value of contract intelligence comes from the ability to analyze data derived from past and current contracts, allowing you to optimize the systems and processes for improved operations. Leading companies often have to manage thousands of agreements that contain valuable and actionable information if analyzed correctly. From knowing whether you fully realized the intent of each agreement to track where your biggest contract risks are, contract intelligence enables you to automatically harness, benchmark, and track contract data to inform your business decisions. 
Read on to find out everything you need to know about contract intelligence and CLM solutions that give you the capabilities you need to be a leader in your industry. 
Key Takeaways:
Contract intelligence is the next evolution of contract management capabilities that help organizations thrive in a complex business environment
With an intelligent CLM platform, your teams can collaborate effectively, respond with agility, and reduce risks throughout your operations
The benefits of contract intelligence span the entire organization and give your teams the ability to make decisions confidently using data from a single source of truth
What Is Contract Intelligence?
Contract intelligence is critical with contract lifecycle management (CLM) technology. It takes a fresh approach to contract management with automation tools and advanced analytics to increase the efficiency of each stage during the CLM process. While contract management software helps to centralize, digitize, and standardize contracts, contract intelligence can:
Intelligently structure contracts to speed up and streamline all processes

Link specific data relating to clauses and obligations to your other business systems

Track and report on compliance-related issues to help mitigate contract risks

Generate insights from all of the contracts to help decision-makers act faster and smarter

Benchmark and track key processing metrics to optimize performance
An intelligent contract management platform like Contract Logix supports the entire CLM process for each agreement while leveraging this information for data-driven decision-making.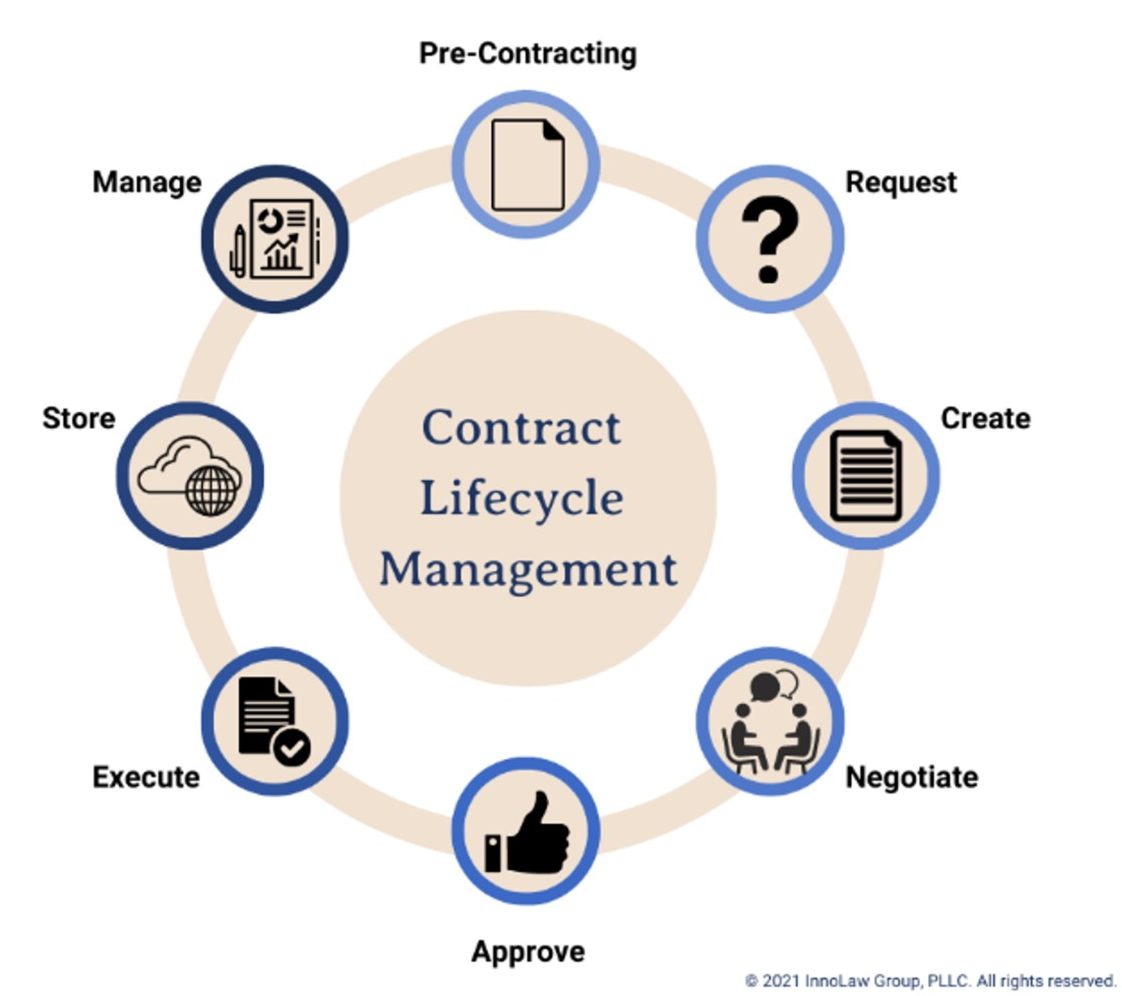 Source: https://www.legalevolution.org/
The Benefits of Contract Intelligence
A contract intelligence solution brings a range of benefits to the entire organization. It redefines what is possible when drafting, signing, executing, measuring, and finalizing every agreement that the business depends on. Below, we look at five of the biggest benefits available to your organization from contract intelligence. 
1. Speedier Execution
From employment agreements to business service providers, contract intelligence speeds up every stage of the contract initiation and approval process. Faster onboarding, quicker responses to requests for information, and seamless collaboration all become possible with contract intelligence. Integrating the intelligent CLM solution with other business systems, including your ERP and CRM software, will speed up all operational processes. By sharing contract data bi-directionally between all your existing tools, you can close the feedback loop and accelerate your contract management tasks. 
2. Greater Scalability
Managing all agreements and maintaining control over each obligation becomes extremely difficult as the business grows. If you don't have access to contract intelligence and rely on manual processes, you'll need to add more resources to the team to stay on top of each agreement or open yourself up to contract risks. Contract intelligence lets you scale your operations and add new agreements without overwhelming your staff. Automated alerts, advanced dashboards, and extensive audit trails ensure your teams can respond quickly and effectively without missing any obligation, regardless of how many agreements you have to manage. 
3. Improved Performance
Contract intelligence doesn't just save you time and money. It also improves your performance by ensuring you realize each entitlement, track obligations between each party, and empower resources to make confident decisions while executing their duties. Sales teams can close deals faster, you'll spend less on legal fees, and you can remain compliant with all regulations using standard clauses and terms in all of your contracts. An intelligent contract management solution will ensure you don't miss any contract expiration or renewal date, preventing leakage and improving your bottom line. In addition, with contract intelligence you can leverage your data to benchmark and track processing metrics to development KPIs to optimize your contracts and business.
4. Maximum Visibility
Uncovering insights into business performance requires maximum visibility into every agreement if you want to respond effectively to an evolving marketplace. By extracting key information and generating analytics that pulls together your data from different sources, you can see where new opportunities are as well as mitigate risks before they become disputes. Intelligent CLM lets you operate with greater agility by providing precise information about your operations from the only source of truth – your contracts. 
5. Effective Collaboration
From your vendors to your SMEs, contract intelligence gives you the tools you need to collaborate effectively during each stage of your CLM processes. You can control who exactly has access to different pieces of information while resolving issues quickly without resorting to endless back and forth between the parties. Teams will have access to the specific details, document intakes will be seamless, and they will understand every obligation to ensure you meet all contractual terms. As the CLM platform will guide you through the different process stages, you can reduce contract risks, avoid disputes, and collaborate between departments to reach a new plateau of productivity. 
Take Charge of Your Industry with Contract Intelligence from Contract Logix
Contract intelligence provides you with the foundation from which you can optimize all of your digital transformation initiatives. As a single source of truth, you can use intelligent CLM tools from Contract Logix to identify opportunities for improvement and discover where your performance isn't having the desired effect on your business operations. Contract Logix will help empower your teams to act confidently and respond to changing market forces with greater agility. 
Now is the time to use contract intelligence from Contract Logix to take charge of your industry. To get started, schedule a demo today. 
Read another recent article from our team, The Ins and Outs of a Contract Lifecycle Management Process

Read More