6 Top Considerations When Selecting a CLM Software Provider
Do you know what to look for when evaluating a CLM Software provider/contract management software (aka contract lifecycle management (CLM) software)? At a minimum, there are six key factors to consider. Read on to learn all about them – and how to make the best choice for your organization. 
Key Takeaways
When choosing CLM software, consider how the onboarding and overall implementation process works

Look for a full range of capabilities, ease of use, and support for the entire contract lifecycle

Evaluate the software's business process automation, reporting and analytics, and security features

Look for a solution that offers a variety of pricing models for different needs of your users and departments
How to Choose the Best CLM Software Provider for Your Organization
Organizations of all sizes and industries, especially regulated industries such as pharma, healthcare, and energy, are rapidly adopting contract management software as part of their digital transformation strategies. In fact, research by KPMG shows that 76% of organizations say digitizing the contract process is now a priority.
However, purchasing the first CLM solution you find does not guarantee success. You need to select the right vendor and platform for your business needs – and there are many options to choose from.
To help you choose the right CLM software for your organization, here are six key areas to focus on when evaluating a CLM software provider and its technologies.
1. Onboarding and Ongoing Customer Success
Once you've made the decision to purchase a CLM solution, how will you get up and running? There's a lot to consider and the ease of onboarding should influence your choice of CLM provider. 
For example, how will you get your contract data in the software? Will you have to buy custom and expensive implementation services or does the vendor have a customer success model? Do they have experience doing this? If so, what is their model?

Consider what we at Contract Logix call the CLM Success Map. This map outlines the four core components that ensure a quick and successful implementation of a CLM solution. With the CLM Success Map you can find a provider that has the right approach to identifying and working with your:
Business challenges

Project ownership and software administration

All your contract data and architecture

Business value requirements and KPIs
To successfully onboard a CLM solution you need to drive change management in the business. Does the vendor you're evaluating have a proven track record for helping their customers do that?
2. Complete CLM Capabilities and Support
It's important to choose a CLM solution that includes all the features and functionality your organization needs. Does the vendor's software support the full breadth of the contract lifecycle from the request and intake of a contract all the way through the termination of it?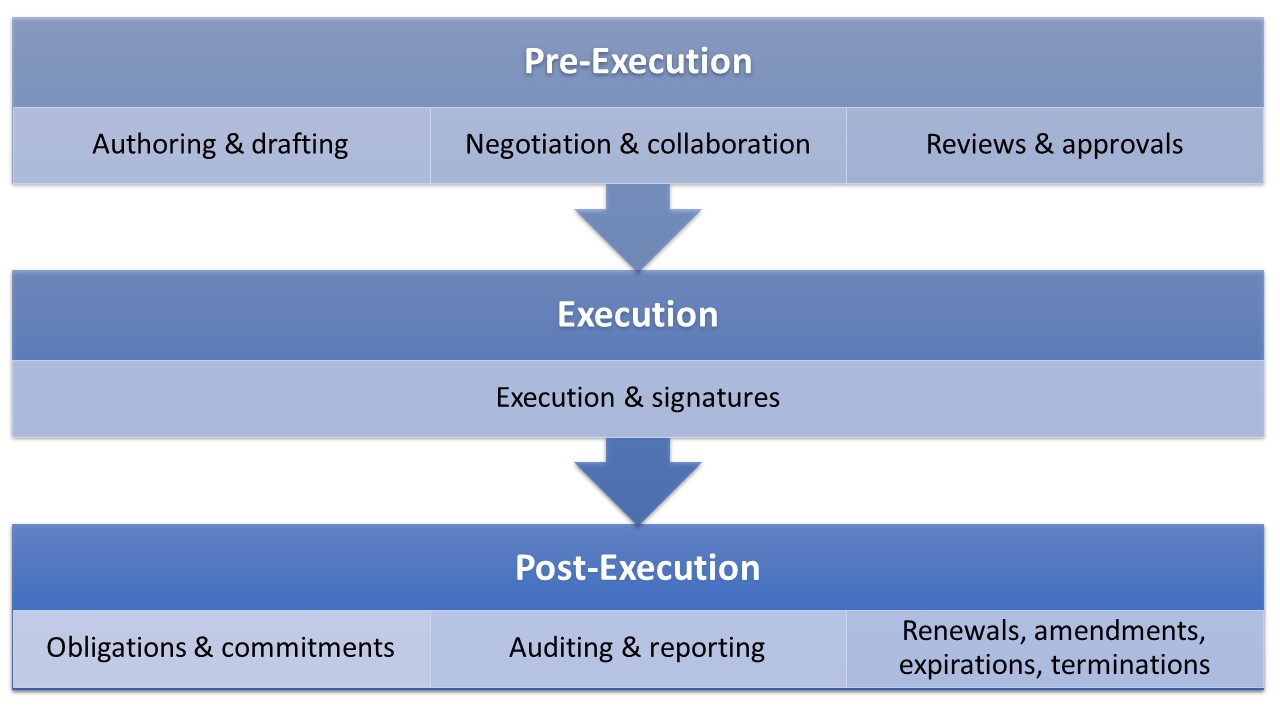 The contract lifecycle consists of three distinct phases and your CLM software should have the option for you to manage and automate all related activities in each phase:
Pre-execution

, including request and intake, authoring and drafting, negotiation and collaboration, and reviews and approval

Execution

, including physical or e-signatures

Post-execution

, including obligations and commitments, auditing and reporting, and renewals, amendments, expirations, and terminations
Does the software you're evaluating force you to activate all stages at once, or can you more slowly integrate the software into your existing system? Make sure the CLM software works the way you work – and integrates with your current processes. Some organizations may want to start with just the post-execution management portion and then have the ability to turn on all of the pre-execution capabilities as they mature. With Contract Logix's contract management platform, that process is as easy and clicking a mouse to activate the functionality.  
3. Business Process Automation
Automating business processes is one of the biggest drivers for adopting CLM software. It helps ensure compliance, mitigate risk, finalize business faster, and free up legal resources to focus on strategic activities. It can also save your firm big money. According to Deloitte, moving to an intelligent CLM platform can result in a 60% cost reduction compared to traditional approaches.
There are several key features in CLM software that affect business process automation, including:
Automated workflows

Alerts with alert rules

Document assembly using clause and template libraries

Automatic field merging from request and intake forms

Automatic version control and tracking

Real-time collaboration

E-signature and other business application integrations
When evaluating a CLM software provider, consider how easy it is to configure and use these items. Look for software that offers "no-code" automation that lets you easily create workflows using a drag-and-drop workflow builder or easily build alert rules and create contracts with merge fields and conditional rules. You don't want to have to engage costly developer or IT resources every time you reconfigure your contracts or workflow. You want the ability to easily do it yourself and not have to rely on the vendor or a software developer.
4. Reporting and Analytics
Digital transformation is all about data – and your contracts contain a wealth of data that can be used to optimize your business and business relationships. To get the most from the data contained in your contracts, you need a data-driven approach to CLM— one that lets you harness the data in your contracts to deliver actionable business intelligence. therefore, it's critical your contract management software has a data-driven, not document-centric, approach to managing your legal agreements.
Look for a CLM software provider that lets you:
Centralize all your contracts and related documents in a cloud-based and data-driven repository

Quickly search for information in individual contracts or across multiple contracts

Offers robust and sharable reporting

Creates real-time information-rich dashboards
The following video discusses ten essential KPIs for measuring contract management performance.
5. Security
All your contracts contain sensitive information about your business and your customers, partners, vendors, and other parties. You need to protect all that data and regulate access to it.
It's important that you ask what security capabilities the vendor provides and what certifications and third-party validation they've undergone. In particular, you should ask if the CLM software offers:
Roles-based and features-based permissions

Configurable authentication settings to align with your IT policies

Multi-factor authentication (MFA)

Single sign-on (SSO) with pre-built integrations for leading SSO vendors

SOC 2 Type II compliance

HIPAA and FISMA compliance

PCI compliance

Data encryption at rest and in transit

Logical separation of data

A secure hosting environment such as MSFT Azure
Any CLM solution that does not meet these requirements is not fully secure.
6. Subscription Types
When it comes to CLM software, one size does not fit all. Chances are you will have different people in your organization or in different departments that have different use cases or needs from the software.
For example, a General Counsel will use CLM software differently than a paralegal or contract manager or someone in procurement or sales. Ensure the vendor has different pricing models you can use for different needs, such as full user, submitter, and read only. Also, make sure the vendor doesn't charge based on the volume of contracts you have – that's a model that will end up costing you way too much in the long term.
Summary
Choosing the right CLM software provider is essential for the immediate and long-term success of your organization's contract management. Consider the six important factors listed here to determine if a given CLM software vendor meets your needs and can serve your company for years to come.
Let Contract Logix's CLM Software Improve Your Contract Management
The best CLM software today comes from the experts at Contract Logix. We've helped thousands of professionals in a variety of industries replace their legacy contract management operations with automated CLM software. Our CLM Platform automates the entire contract lifecycle and offers robust reporting and security. As a CLM software provider, we offer a variety of pricing models to best fit your organization's unique needs, so contact us today to learn more. 
Contact Contract Logix today to learn how our CLM software solution can benefit your organization!
Read More