What is the Importance of Procurement Contract Lifecycle Management?
Do you know how procurement contract lifecycle management can benefit your business? Proper contract management can improve your organization's procurement process in several ways, making procurement more efficient, more accurate, and less costly. Read on to learn why contract management is essential to efficient procurement and how to use procurement contract lifecycle management software to automate, streamline, and improve your procurement and buy-side operations.
Key Takeaways
Contracts are the lifeblood of the procurement process.
Contract management can streamline the procurement process, improve efficiency, and reduce errors.
Effective procurement contract management stores all contracts digitally, improves reporting and analysis, and ensures internal and external compliance.
The best way to implement a modern approach to procurement contract management is via contract lifecycle management software.
What is Procurement Contract Lifecycle Management?
A contract is a written and legally binding agreement between a buyer and a seller in which the buyer – your organization – agrees to purchase specified goods/services from the seller for a specific dollar amount. The procurement team or buy-side operation of a business revolves around contracts – and lots of them.
Challenges of Procurement Management
Before you cut a single purchase order, you or the seller need to generate a contract, negotiate it, and execute that contract with the sell-side party. Contracts spell out legal obligations for both parties and define all the financial terms, deliverables, and due dates. Contracts help you keep track of what's coming in, what you need to pay out, and what you've done in the past. From a buy-side or supply chain perspective, the average organization can have hundreds if not thousands of contracts could involving facilities and maintenance, various products, outside services, other equipment, consulting, and more. And, each one of those contracts might have multiple statements of work (SOW), purchase orders (POs), amendments, addendums, change orders (COs), certificates of insurance (COI), and other requirements.
Managing all these contracts and supporting documents can be challenging. For each contract, you need to ensure that the contract:
Meets your organization's standards

Contains all essential information

Is financially viable

Can be properly fulfilled (by both parties)

Is properly executed

Is legal

Complies with all applicable regulations

Fits within your overall procurement budget

Doesn't duplicate any other existing contracts
What Procurement Contract Management Does
To ensure that every contract meets these requirements, you need to institute a rigorous procurement contract management process. This process should manage the creation, execution, and fulfillment of every contract within your organization. Ideally, it should also store all completed contracts and make them available for reporting, analysis, and ongoing obligation management and tracking.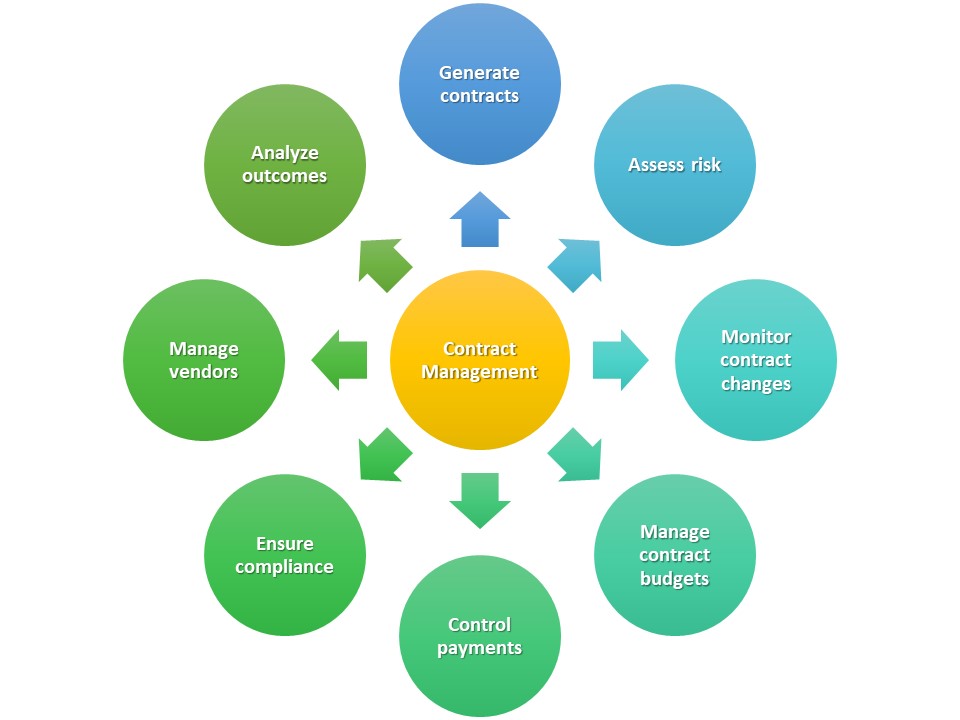 You can do contract management manually or automated via contract management software. However you do it, a robust contract management process should assist with:
Generating new or renewing existing contracts

Mitigating contract risk

Managing changes to contracts

Managing and tracking line items in contracts

Auditing, reporting, and information gathering

Ensuring compliance with internal standards and external regulations

Managing vendor relationships and evaluating your vendors
Without the right procurement contract management approach, your procurement process is at risk of spiraling out of control. With proper procurement contract management, you stay in control of everything you purchase – and become more efficient at it. 
10 Ways Contract Management Can Benefit Your Procurement Process
Many companies today use contract lifecycle management (CLM) software to help manage the procurement contract process. CLM software, such as that from Contract Logix, automates the entire contract process, from initial request and contract generation to execution and fulfillment. Instead of managing your procurement contracts manually via email and spreadsheets, CLM software handles everything in a self-contained digital system that integrates with your existing operations such as an ERP or CRM system.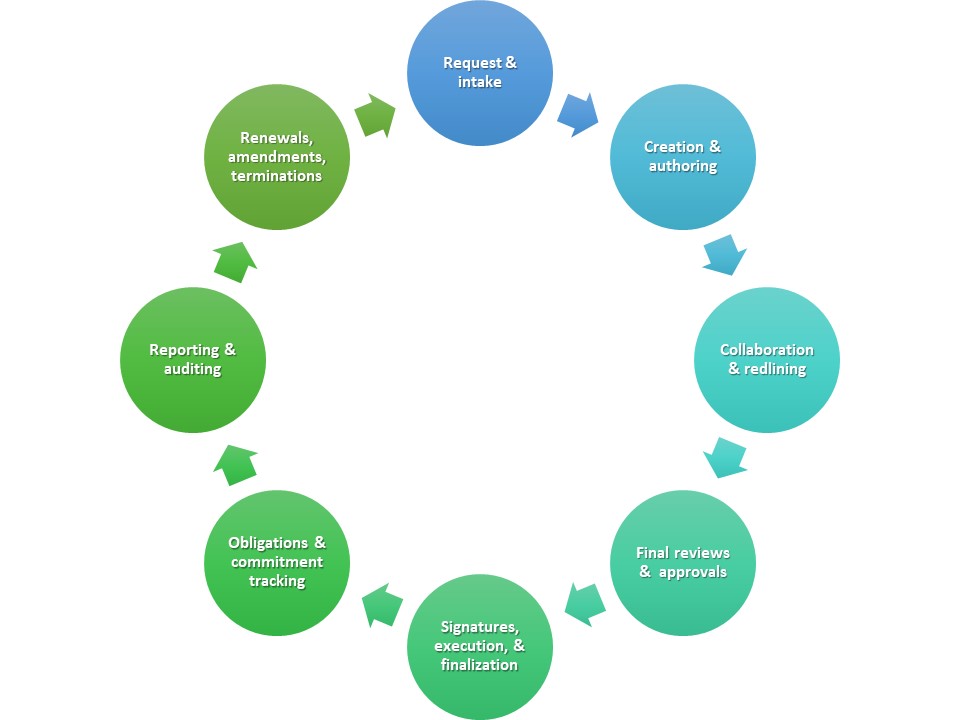 Automating procurement contract management offers many benefits. Here are ten of the most significant ones. 
1. Streamlines the Procurement Process
By automating contract management, CLM software streamlines the entire procurement process. This speeds up ordering and ensures faster deliveries while improving overall operational efficiency.
2. Reduces Errors
CLM software eliminates manual contract creation by using preapproved contract clause and template libraries. This, along with other automated operations, helps to reduce errors throughout the entire procurement process so that you can create negotiation-ready contracts in minutes.
3. Optimizes Vendor Management and Identifies Your Best Suppliers
By more closely managing your procurement contracts, CLM software can better analyze each contract and identify your most reliable and profitable vendors through real-time reporting. You'll also be able to better manage all your vendors, thanks to the enhanced contract tracking, obligation management, and other helpful analytics. 
4. Ensures Internal and External Compliance
The contract templates in CLM software contain preapproved terms and language that ensures that all contracts meet your internal guidelines and standards. These contract clause and template libraries also ensure that your contracts comply with all applicable governmental and industry regulations – no more rogue contracts that put your business at unnecessary regulatory risk. And by using automated workflows, you will ensure your contract reviews, approvals, and other CLM-related activities always follow your business rules.
5. Eliminates Missed Deadlines
CLM software includes built-in alerts to automatically notify your procurement staff of upcoming payments and other important contractual obligations. You can also automate alerts for deliverables and other milestones that are due from your suppliers. 
6. Improves Access to Past Contracts
One of the key benefits of CLM software is that it creates a centralized digital repository for all your contracts and related documentation, including purchase orders and other related documentation. This makes it easy to search for and retrieve individual contracts or specific information from multiple contracts. It's a lot easier – and more secure – than storing and tracking paper documents. Plus, you will always know which version is the latest for a contract.
7. Eases Reorders
Many companies regularly reorder popular items from established suppliers. CLM software makes it easy to generate new contracts based on historical usage patterns with a minimum of fuss. You can easily create amendments and addendums as well with the click of a button.
8. Improves Reporting and Analysis
By electronically storing all contracts and related documents, CLM software makes it easy to generate stock and custom reports. Using a data-driven CLM solution like Contract Logix enables you to create reports with detailed analyses that provide actionable insights regarding specific vendors or your entire procurement process.
9. Enables More Accurate Forecasting
The robust reporting functionality in CLM software enables more efficient and accurate budgeting and forecasting. The more you know about your contracts now and in the past, the better you can forecast your procurement operations going forward.
10. Reduces Costs 
According to Deloitte's 2020 Chief Procurement Officer Flash Survey, CPOs identify cost management as their top day-to-day priority. That's not surprising, given that most organizations waste between 3% and 4% of their procurement spending on excessive transaction costs and inefficiency.
Procurement contract management can help to reduce waste and excessive spending. CLM software can uncover contract terms that fall outside established parameters, identify your most profitable and most reliable suppliers, and reduce bureaucratic waste. It's a more efficient and effective way to manage your overall procurement budget and ensure the financial viability of individual contracts. 
Let Contract Logix Help with Your Procurement Contract Lifecycle Management
The best way to manage your procurement contracts is with CLM software from Contract Logix. Our Procurement Department Contract Management solution automates the entire procurement contract management process from start to finish, ensuring internal and external compliance and providing quick and easy access to all of your contracts, current and historical. 
Contract Logix's data-driven contract management software also streamlines your procurement contract process and reduces contract-related costs. It's the perfect way to manage all your procurement contracts. 
Contact Contract Logix today to learn more about how procurement contract lifecycle management can benefit your business or organization. 
Read More