How to Choose the Best Enterprise Contract Software
With evolving technologies and elevated expectations from your customers, vendors, and partners, choosing the right enterprise contract software should be a priority for your business. If you have a modern contract lifecycle management (CLM) system in place, you can streamline and automate your company's processes to reduce costs, ramp up productivity, and generate new insights into your business efficiency.
Enterprises need to consider moving towards a more digital and collaborative contracting model to unlock new value, improve performance, and support their digital transformation strategies. Early adopters of collaborative contract management practices perform 20% better on average across all industries, according to a research study from McKinsey. 
If your organization is looking for enterprise contract software, this blog will help you make the right decision for your enterprise. 
Key Takeaways:
Enterprise contract software allows you to unlock new efficiencies across your business while mitigating risk and increasing compliance.
Choosing the right enterprise CLM software depends on your current needs but should support your plans for the future.
With a more competitive business landscape, enterprise contract software allows you to adopt a more collaborative contract management model.
The main features you'll need include automation across pre- and post-award contract phases, cloud-based repository and access, information security, reporting and analytics, and integration with other applications.
What is Enterprise Contract Software?
In enterprises, contract management software brings all the company's business agreements together into a single, efficient solution. The software allows organizations to automate many of the manual tasks that make up the CLM process. You can use enterprise contract software to replace inefficient, manual contracting processes by centralizing all your contract documents in a secure and searchable repository, quickly draft negotiation-ready contracts with standardized clause and template libraries, automate workflows and alerts for actions such as approvals or renewals, easily maintain version control and audit trails, report on contract performance, get tremendous visibility into negotiations, and so much more.
The best enterprise contract software helps you to:
Monitor performance using a data-centric contracting system to maximize financial performance with the ability to search all contractual information and generate reports and dashboards for business intelligence

Streamline compliance requirements and reduce risks by ensuring business rules are followed and eliminating missed obligations

Provide a secure and user-friendly contracting environment for all of your sensitive legal information with role-based and feature-based permissions, encryption, and compliance with SOC 2 Type II, HIPAA, FISMA, and other standards

Enable faster contract requests, authoring, approval, and execution processes with standardized intake of contract requests and submissions, real-time negotiation tools, clause and template libraries, and other automated functions such as workflows for approvals, e-signatures, etc.
Governance concerns and demonstrable compliance remain some of the biggest challenges faced by today's enterprises. To overcome these challenges, enterprise contract software should support the entire contract lifecycle from request to termination or addendum and streamline the way your teams perform their duties. 
5 Features to Consider When Looking for the Best Enterprise Contract Software
Choosing the right enterprise contract software will depend on many factors. You'll need to evaluate solutions against your current business needs as well as consider your plan for the future. Before you start evaluating different solutions, here are five things to keep in mind when selecting an enterprise CLM solution. 
1. Data-Centric vs. Document-Centric
While agreements are still documents, the information contained in the files should help you make smarter business decisions. A data-centric enterprise CLM provides you with the ability to monitor performance across the business and respond to issues effectively. After all, contracts contain a wealth of data such as names, dates, terms, values, and more. In addition, with a data-centric solution you can view, sort, filter, and report on your contract data however you like. Document-centric solutions do not allow that flexibility.
The benefits of a data-centric system include:
Quick and powerful search capabilities across all your enterprise agreements

Flexibility to view your contracts and data by any relationship like vendor or contract type

Granular permissions and role-based access to ensure confidentiality and security

Centralized management of standard clauses, templates, and other supporting information

Ability to build dashboards and reports at agreement, department, vendor, user level, and more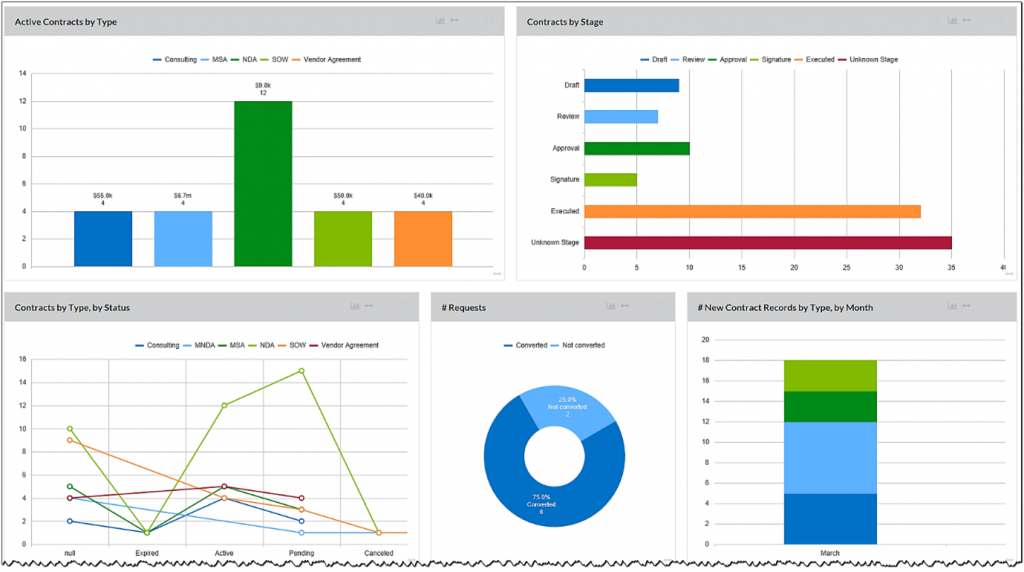 Source: https://www.contractlogix.com/contract-management/11-essential-contract-management-software-features/
2. Robust Compliance and Security Features
Enterprises have to comply with regulations like HIPAA and FISMA including information security frameworks like SOC 2 Type II. To achieve compliance, your enterprise contract software should support modern security tools like multi-factor authentication (MFA), and single sign-on (SSO) as well as the above mentioned regulations. 
Additionally, you'll need to secure your contracts and regulate access to that information using granular permissions like role-based and feature-based access. Ensure that the enterprise contract software you select includes the latest information and data security features and comes with data encryption capabilities. 
3. Support for the Entire Enterprise
CLM cannot operate in a silo if you want to unlock the most value from your enterprise contract software. And while enterprise contract software should be your single source of truth for legal agreements, integration with your enterprise resource planning (ERP), customer relationship management (CRM), and other line-of-business (LOB) applications such as business intelligence (BI) should factor into your decision.
Additionally, you'll need to consider your customer onboarding processes and document intake procedures. It's important to have the ability to automatically populate key fields in new agreements, speeding up the drafting process while reducing human error. By streamlining all these tasks, you can establish an enterprise CLM model that supports the entire business and provides value to all departments. 
4. Task and Business Process Automation
A data-centric solution enables you to build workflows for all your CLM processes and automate specific tasks for quicker processing. Workflows and automated alerts will ensure your staff don't inadvertently circumvent approval processes or miss any key dates or obligations.
With user configurable workflows, you can model your enterprise's existing CLM processes without the need to write any code. Having drag-and-drop configurability is a key advantage. As contracting processes have many different stakeholders involved, your enterprise contract software should help you automate the flow of information and allow you to respond to issues quickly using a workflow engine. And, as your processes change, you can easily modify workflows to meet those new requirements without requiring expensive developer resources.
5. A Collaborative Contracting Process
Finally, your enterprise contract software should allow everyone to collaborate effectively during the draft, negotiation, approval, and execution stages of your CLM. Customers, vendors, contract managers, buyers, and technical experts all need access to contract information. 
Legal teams can manage clauses and when reviews are required, you'll need to redline and markup documents easily. Change tracking and an auditable history for each agreement will help with dispute resolution while keeping all your stakeholders informed of any new developments. 
Look for an enterprise CLM solution that provides you with concurrent collaboration features, redlining capabilities, integrated e-signatures, and automatic change tracking for all your contracts and related documents. 
Support Your Business with Enterprise Contract Software from Contract Logix
With Contract Logix, you get all these features and more. You can establish an enterprise CLM that supports all your business functions and streamlines the contracting process according to your needs. Contract Logix gives you complete control over your CLM business process, helps you mitigate risks, and ensure compliance with all applicable regulations. Start finalizing business faster today with contract management software from Contract Logix.
With an enterprise contract software that's data-centric, easy to implement, and provides you with collaborative contracting tools; you can uncover new efficiencies, speed up your processes, and reduce costs. 
To see how Contract Logix can help your enterprise thrive with a streamlined CLM, schedule a demo

today.
Read More