Does My Bank Need Contract Management Software?
June 23rd, 2023
Does your bank still manage its contracts manually? If so, you're spending a lot of time and money unnecessarily, as well as exposing your institution to risk. Contract management software greatly benefits banking institutions by automating the entire contract management process. It centralizes your contracts, simplifies access to key information, and enhances regulatory compliance. With contract management software for banks, the entire process becomes more efficient as everything is digital.
Key Takeaways
Bank contract management software digitizes and automates all of your firm's contracts.
Banks benefit from accelerating the contract process, improving productivity, and reducing errors.
Contract management software increases visibility and access, ensures greater regulatory compliance, and facilitates auditing.
Other benefits include automatic obligations management, reduced risk, improved reporting, and increased profitability.
🤫 PS: Discover what contract management software is and how it can benefit you HERE.
What is Bank Contract Management Software?
Contract management software is a tool that automates the entire contract process. It starts with initiating a contract request and assembling a contract, flows through editing and approvals, includes execution and meeting obligations, and ends with secure storage, reporting, and renewal evaluation.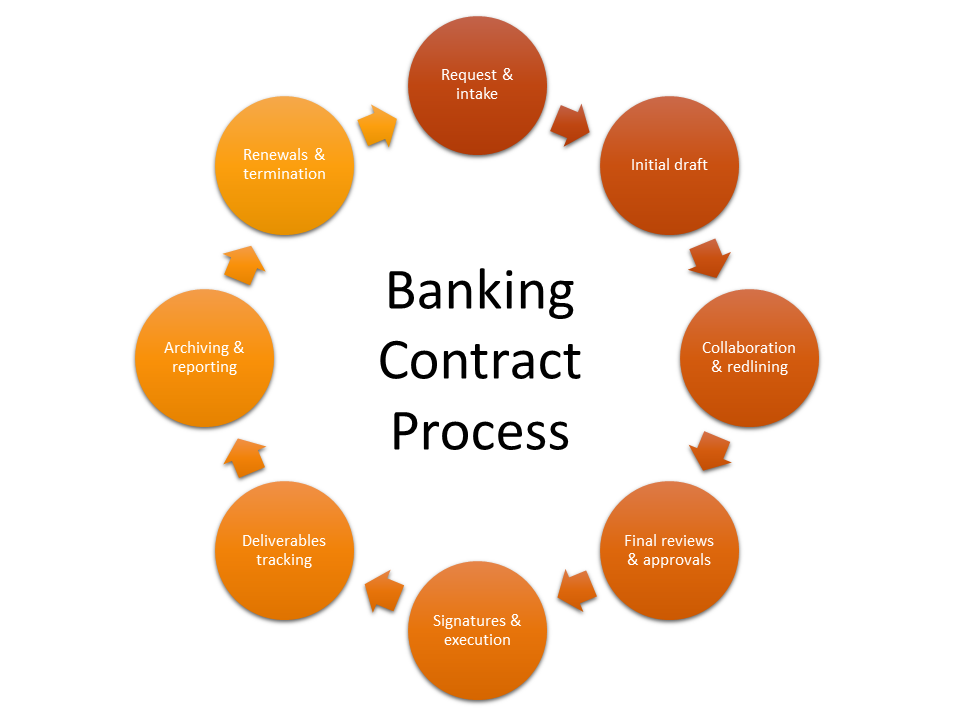 Historically, all of this has been done manually. Paper contracts are the bane of the financial industry, and even firms that have gone electronic still manage these processes manually. 
Contract management software designed for banks and other financial institutions automates this entire process. Contract creation is a matter of selecting options from an onscreen menu. Reviews and approvals are done electronically using routing and workflow rules you create. Execution is achieved with e-signatures, and all electronic contracts are consolidated into a single company-wide repository. 
This system enables fast and intuitive access to signed contracts as well as detailed reporting and analysis. Nothing gets lost in the process or within the system. Everything is electronic and fully visible to authorized parties—exactly what a banking institution needs in today's fast-paced environment. 
10 Reasons a Bank Need Contract Management Software
Any agreement between a bank and a customer is a legally binding contract. Banks engage in a large volume of contracts with their customers every day. Keeping track of those contracts requires considerable time and effort, both in their creation and their post-execution management. 
A banking institution can try to manage all those contracts manually, either on paper or electronically, but the more customers you have, the more daunting the task. If you don't have immediate visibility and access to any given contract, your bank may struggle to maximize revenues and profits and comply with industry and governmental regulations.
Contract management software can help a bank manage and get maximum value from all its contracts. Consider these 10 important benefits you can realize from using contract management software.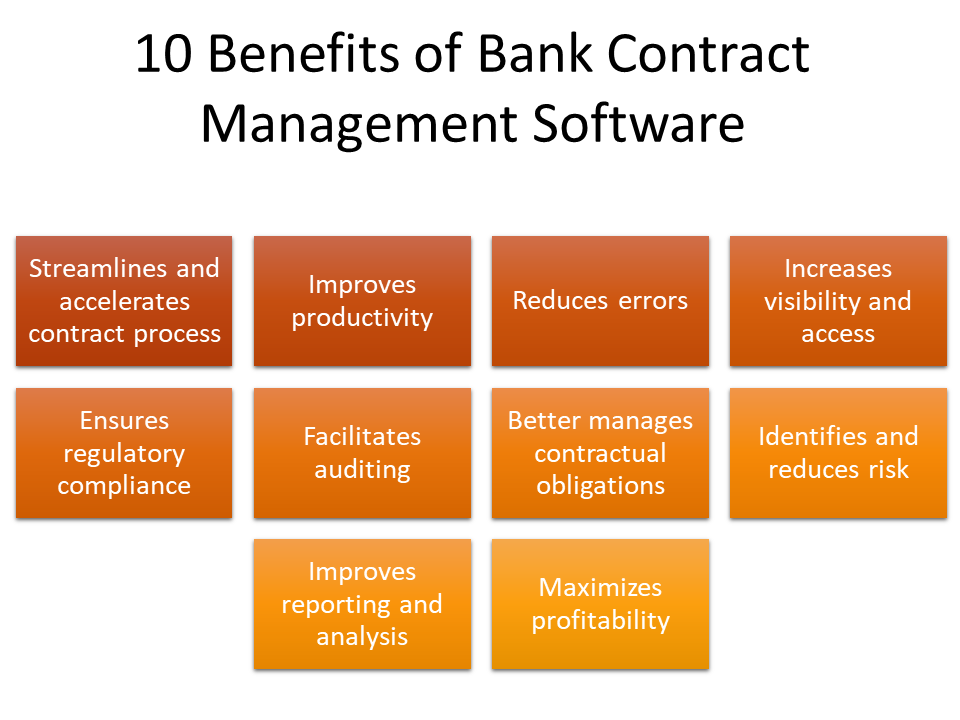 1. Streamlines and Accelerates the Contract Process
You can lose customers if you don't turn contracts around in a timely manner. Contract management software streamlines the entire contract process, from creation through execution. This improves efficiency and reduces the time to finalize a contract. Faster contract processing increases customer satisfaction, especially for those customers who need your financial support.
2. Improves Productivity
Contract management software automates the entire contract process, freeing your staff from the time-consuming tasks of manual contract writing, redlining, and management. Creating a contract is as easy as working from a pre-designed template and a library of pre-approved clauses. Contract routing is done electronically, and execution is via electronic signature—which reduces the average execution time to just 37 minutes. Your staff spends less time on busy work and can redirect their efforts toward more productive tasks. 
3. Reduces Errors
When you base your contracts on pre-approved templates and clauses, you reduce the opportunities for errors in the contract language. In addition, automating the process minimizes the chances of human error, like sending a contract to the wrong person, resulting in cleaner contracts with fewer mistakes. 
4. Increases Visibility and Access
A fully automated, digital contract management system provides unparalleled visibility into your contract process and the contracts themselves. Need to pull a contract or related document? Simply search for it. Robust search and retrieval capabilities are part and parcel of a state-of-the-art contract management solution, whether you're searching for a specific contract or data across multiple contracts. This improves compliance and makes it easier to do further business with existing customers. 

5. Ensures Greater Regulatory Compliance
The banking industry is subject to numerous regulatory requirements, including:
Sarbanes-Oxley Act (SOX)

Financial Industry Regulatory Authority (FINRA)

Banking Regulation Act

Dodd-Frank Reform and Consumer Protection Act

Truth in Lending Act
Not surprisingly, 57% of all executives say that regulatory compliance is a top priority for their firms.
To ensure compliance with these and other regulations, you need to have easy access to all your contracts and the ability to pull information from multiple contracts for reporting purposes. This is most easily accomplished via the use of contract management software. By centralizing all contracts in a central electronic repository, it's easier to ensure compliance. 
6. Facilitates Auditing
Contract management solutions track all stages of the contract process and employ robust version control. This, combined with the central contract repository, makes future audits easier. Everything is done electronically, eliminating the need to sift through paper documents.
7. Better Manages Contractual Obligations
It's almost impossible to track every single obligation in physical contracts. Digitizing all contracts makes that task easy. In contrast, contact management software electronically tracks all deliverables and automatically notifies you of upcoming deadlines. 
8. Identifies and Reduces Risk
Minimizing risk is a crucial component of contract management for banks—and the more contracts you manage, the more difficult the task. Contract management software enhances visibility into every contract you manage, making it easier to identify and quantify contract risk. Detailed reporting and analysis provide the in-depth information you need to make intelligent risk-based decisions. 
9. Improves Reporting and Analysis
Generating any level of reporting from paper contracts is virtually impossible. Even if your contracts are electronic, trying to generate in-depth reports using spreadsheets and BI software typically yields unsatisfactory results.
The only way to generate the detailed reporting and analysis your firm needs is to employ contract management software. It offers default reports for any employee to use and customized reporting designed for your specific needs. When you can extract highly detailed information, you can create accurate and actionable insights to inform better business decisions. 
10. Maximizes Profitability
Contract management software should increase your firm's profitability. Increased visibility and detailed reporting help you identify and collect unpaid revenue, pinpoint cost-saving opportunities, and improve efficiency—all of which will positively impact your firm's bottom line.
Does Your Bank Need Contract Management Software?
If your bank does any amount of business, you can benefit from contract management software from Contract Logix. Our bank contract management solution is FISMA certified and can automate the entire financial contract lifecycle. You get tighter regulatory compliance, a streamlined process, fewer errors, and increased visibility and access to contract data. It's an effective way to make banking contract management easier and more accountable. 
Contact Contract Logix to learn more about contract management software for banks. 
Accelerate Your Digital Transformation With Contract Logix
Download our Data Extraction Product Brief to learn how you can automate the hard work using artificial intelligence