Six Ways Contract Logix Can Help Automate CLM Processes
By Karen Howe
I like to go to our website every once in a while, to see what visitors to contractlogix.com are learning about who we are and what we do. Recently this statement…
"Contract Logix' workflow automation and visual designer tools provide powerful control over your contract processes."
…got me wondering if I could list some concrete examples that illustrate the value of using workflows to automate CLM processes. As a result, I came up with six different ways to use workflow automation in Contract Logix. There are many more, but I picked these six examples because each is a little different in its approach and highlights specific workflow features and options.
A workflow triggered by an approaching contract expiration or renewal date.
The Contract Logix "Alerts" feature automatically sends email notifications—you choose the date field, the recipient(s), and the schedule—but you can do more than send a simple email reminder. By linking a workflow to an alert, you can automate CLM processes like the assignment of tasks, contract approvals, or any other preparations needed to "get the ball rolling" on renewals or expirations.
A workflow that allows for end user decision-making and provides helpful instructions.
It's all well and good to have a standard process that "flows" a certain way every single time, but that may not be flexible enough. Providing an opportunity for an end user to make a choice, which then influences the next steps in the process, is a real advantage.  When designing a workflow, you can add in "Decision Steps" and even compose your own on-screen instructions to guide end users through your process.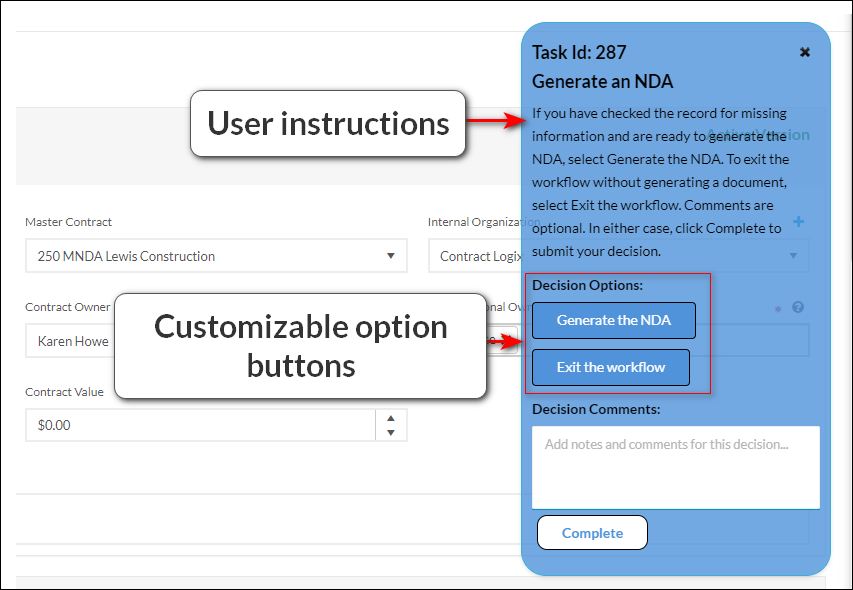 A workflow tied to a request form.
Requesting a new contract or submitting 3rd party contracts for review can be a frustrating exercise involving a combination of email, voicemail, or verbal communications between departments. Contract Logix's contract management software solves this with its Request feature, which allows users (even those without full system access) to fill out a web request form and submit it securely from any device.
Couple this feature with a workflow that sends an email notification and assigns a task to the individual or group who needs to review that request and link that workflow to the request form, so it triggers automatically whenever someone submits the form, and you have an automated process that is easy for anyone to follow.
A workflow that combines generating a contract draft with notifying internal reviewers.
The process of drafting a new contract (even something as simple as a non-disclosure agreement) can be inefficient and time consuming. A user might have to search for the latest version of your standard NDA, then prepare it for initial review by entering details about the contracting parties, and then email it to whomever is reviewing the initial draft.
You can avoid all that by creating a workflow that automates the generation of the document, complete with merge fields that insert entity names and addresses where appropriate, and then dynamically notifies the proper individual or department via email that the contract is ready for initial review. The email can even include a link to the document's location in the system! It's a great example of how a contract management software workflow can automate CLM processes and make everyone's life easier.
A workflow that enables "self-service" contracts.
Another use case combines some of the elements of Examples 3 and 4 above.  Here a user (perhaps someone in a field office) fills out a request for a new, standard contract type, like NDA, and submits it.  The system converts the request to a contract record, generates the NDA document (using a template with approved language), and the user can download a copy. This "workflow" actually consists of two smaller workflows, one triggered off the other. The first workflow converts the request and the second generates the document, but to the user it's a seamless, fast, and efficient process.
A workflow triggered by the addition of a new record into the system.
A good example of this might be an email notification to the proper user(s) that a new External Organization has been added, so the recipient can review the organization's details to ensure they are correct. Note: An alternative might be to utilize our role-based security to prevent certain users from creating new organizations in the first place!
Takeaway
To fully reap the benefits of any CLM system, you should incorporate workflow automation. Well-designed workflows allow you to combine several tasks with one action or click and can automate CLM processes and steps that are tedious or tend to lead to user error. They can be triggered automatically based on business rules and can guide end users through your process. Most importantly, they ensure everyone is following the same standards.
If you'd like to learn more, please request a demo of Contract Logix's intelligent and data-driven contract management software.