4 Easy Steps to Creating a New Contract
By Karen Howe
When I think about how I approach teaching users a new software application, I like to put myself in their shoes.  What are they trying to do? What would they be looking for? But most of all –how difficult is it going to be for them to accomplish a task?
To learn more, please download our eBook on the top 10 contract management best practices.
Here are some ways that Contract Logix makes creating new contracts easy.
1.      User Interface Simplified with Action Tiles
Handling common tasks, such as adding contracts or starting a new request, are simple with Action Tiles. Action Tiles are clickable buttons located on the Home page of your contract management software. They're big, they're bold and they can be rearranged to put the tasks you do most often first. No need to go poking through lengthy menus…a single click and you can get right to work!

2.      One-Click Conversion of Requests to Contracts
With Contract Logix, contract managers can quickly convert a request for a contract into an actual contract. The request comes in from a user who fills out a request form in the system and submits it along with supporting documentation.  No paper forms or emailed requests to keep track of. If the decision is made to move forward, a single click converts it to a contract, including all the data and documents, so there's no need to re-key or re-upload.
3.      Contract Data Entry Forms Tailored to Contract Type
An NDA is quite different from an MSA when it comes to the data you need to track. Contract Logix makes it easy to deal with all the different types of contracts you manage. Power users can create custom layouts specific to each contract type. Not all contracts are the result of converted requests, so when adding contracts manually to the system, end users simply choose a type and get a suitable form to fill out.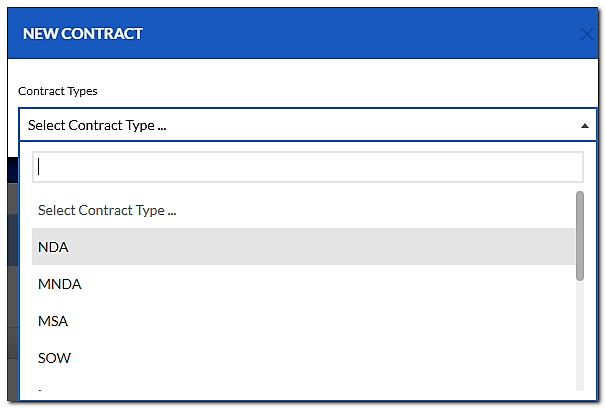 4.      Clause and Template Libraries Streamline Document Creation
When drafting a new contract, it can be difficult for users to know which document template contains the currently approved clause language, especially if templates are scattered in various folders across your network. After drafting the contract, there's often manual work involved to add the custom elements (company names, addresses and so forth) or substitute alternative language.
With Contract Logix, users generate the contract document by clicking a button right in the contract record. They can then select a template from your Template Library, made up of clauses which you populate with your own approved standard and alternative language.  The Libraries utilize merge fields, auto-numbering, and conditional clauses to cut down the work needed to whip a contract into shape before it can be sent out for approval.

Takeaway
User adoption of new software is directly related to ease of use. Since the process of creating new contracts is a routine task faced by many users of any contract management system, the easier and more intuitive is, the faster users will pick it up and accept it.
About the Author
Karen Howe is the Training Director at Contract Logix.  This month she's working on a new set of video tutorials aimed at end users of Premium and Express. Outside of work, she's been reading a lot (sometimes 3 books at a time!), and keeping her fingers crossed that the timing is right to catch the cherry blossoms in full bloom at the Tidal Basin on her trip to Washington, D.C. in early April.