Introducing Collaboration Room: Transforming Contract Review and Negotiation
By Karen Howe
"Has our corporate legal counsel looked at this yet? She needs to review it before we can send it out for third-party review."
"I sent you my redlines last Friday. Didn't you get my email?"
"Who was involved in this negotiation?  Who agreed to these terms?"
"Has the customer reviewed the agreement yet?"
Sound familiar? Negotiating a contract, even something simple, can involve multiple parties and entail umpteen back-and-forth emails. It can be a struggle and even a mystery to see who changed what and to reconcile various redlined versions, not to mention the time wasted preparing, sending, and waiting for emails to come back. Until today.
Introducing Collaboration Room
This week, Contract Logix announced the release of Collaboration Room for its flagship CLM platform. This is exciting and groundbreaking news, because for the first time, the entire negotiation process, from initial redlines to approved final copy, can be managed without the document ever leaving the system. Collaboration Room provides a truly frictionless negotiation experience for everyone involved.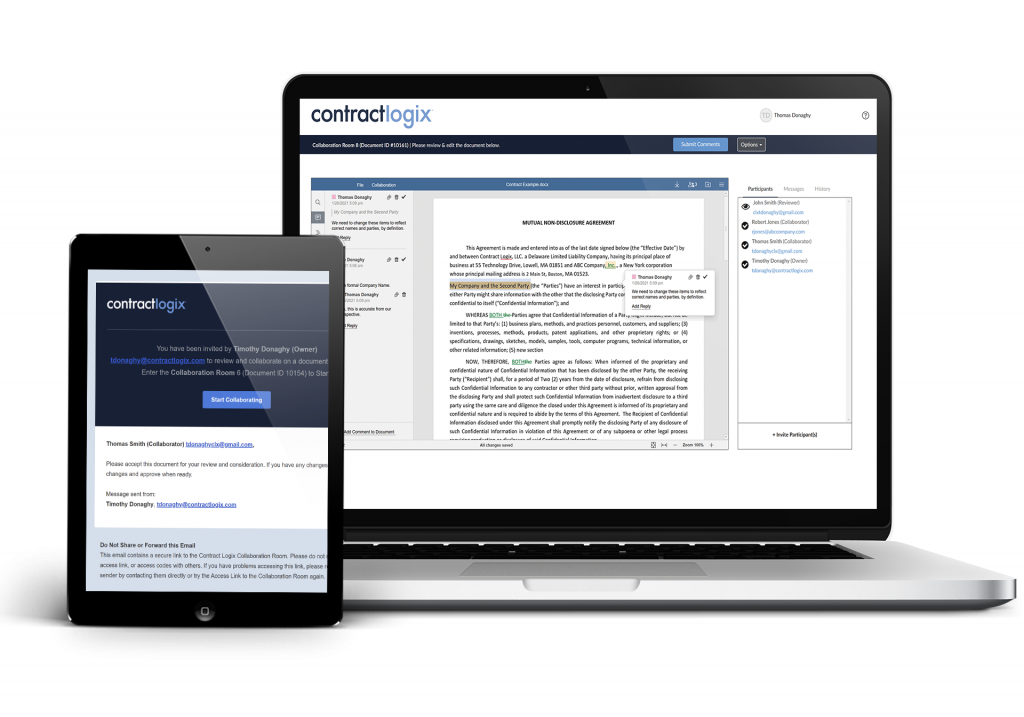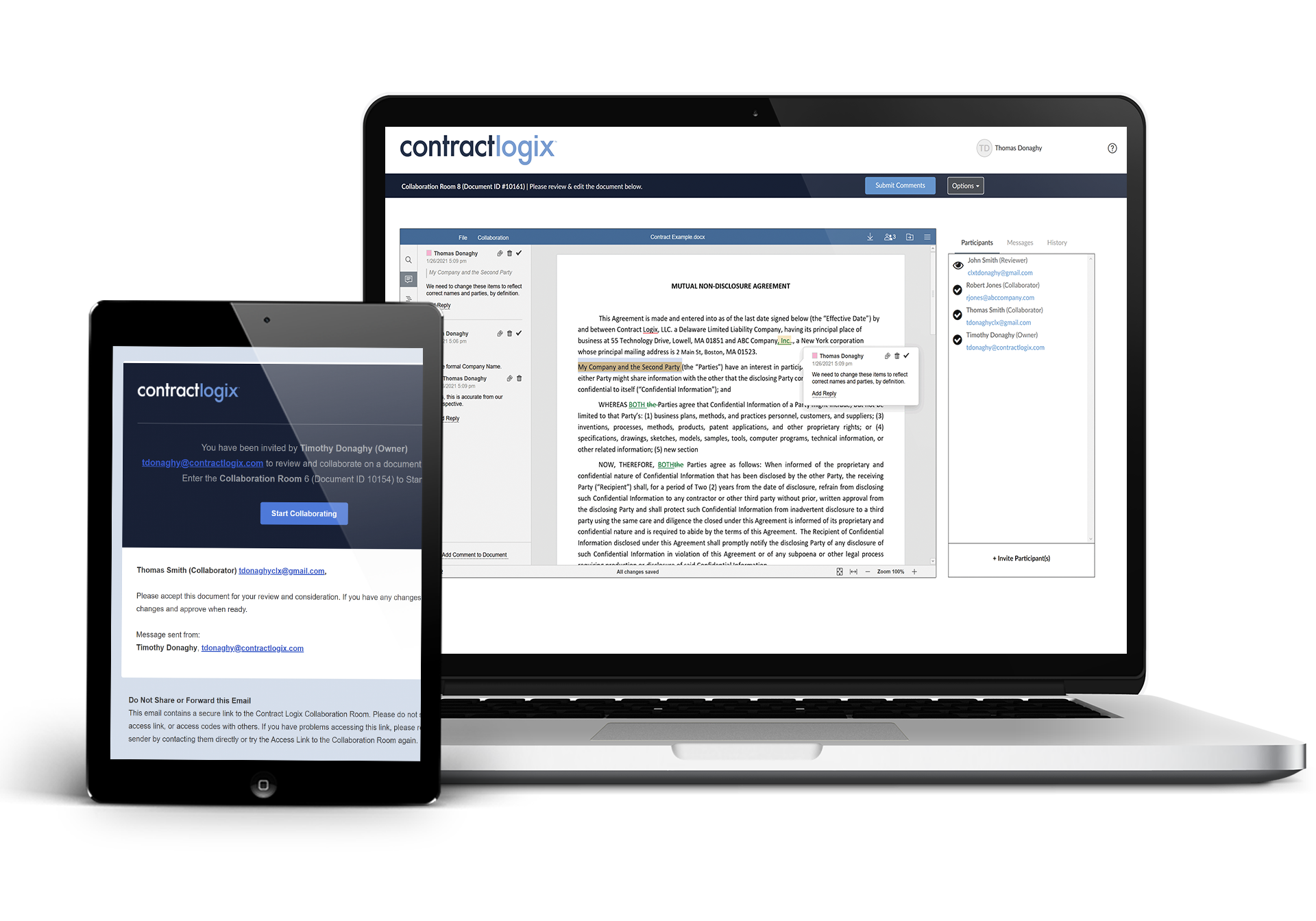 How it Works
Briefly, it works like this. A Contract Logix user generates a contract from a template, or uploads one into the system, then creates a "Collaboration Room" with a single click and invites one or more participants, who can be internal or external parties, to join the room. Participants get an email with a secure link to the room instead of an attachment.
Once in the Collaboration Room, you can publicly or privately review, redline, add comments, and send in-room messages to other participants. Whether editing occurs simultaneously or not (you choose), all changes are captured and synchronized.  And if you need someone else's opinion, you can invite additional participants to join the collaboration right from within the room. Yes, it is that easy.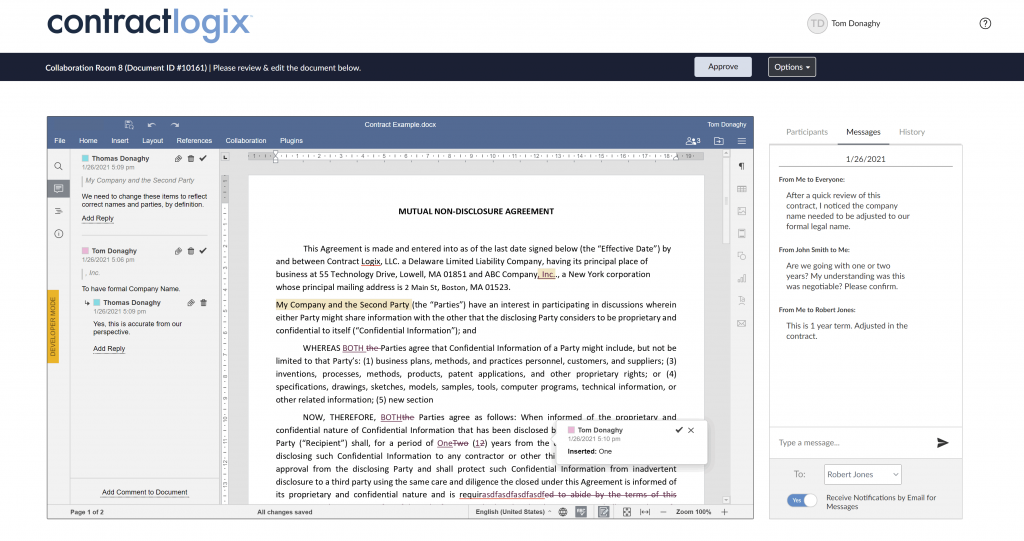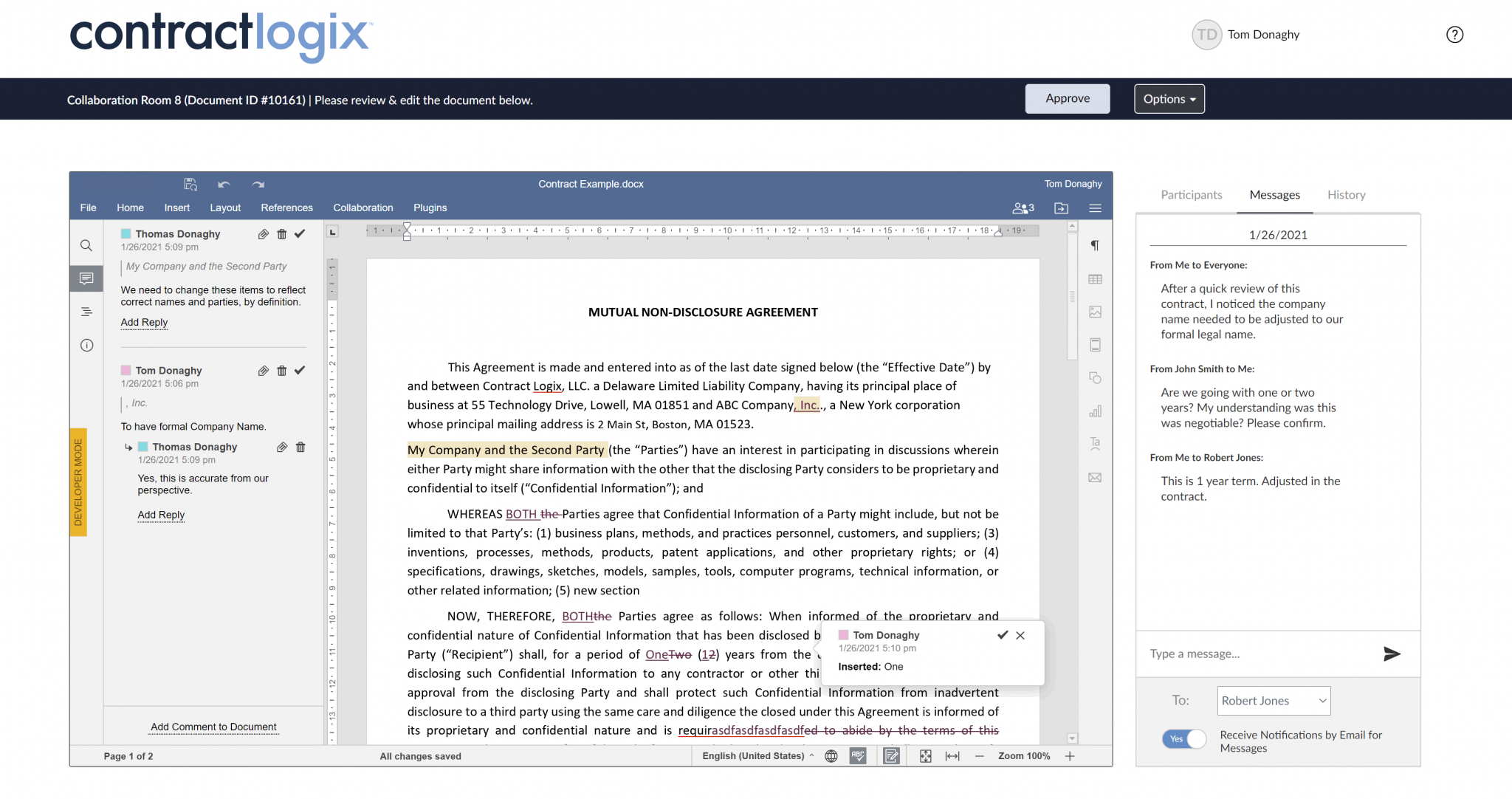 As soon as the document is approved by all parties with the click of a button, the Collaboration Room ends, and the approved version is added to the document record in the system – automatically. Even after the collaboration has ended, a complete Collaboration Room History and list of all individuals who participated is maintained with the document record in the system. It gives you an accurate and effortless audit trail.
Takeaway
Anything that makes the process of reviewing and negotiating contracts easier, faster, and more secure sounds like a win-win for all parties involved, doesn't it?  Contract Logix's new Collaboration Room technology is just one part of our data-driven contract lifecycle management solution, ready to help you digitally transform the way your organization manages – and negotiates – contracts.
Are you intrigued yet? Contact us today to see it in action and discuss your needs.