8 Things to Consider When Implementing a Contract Management System in Healthcare
Healthcare organizations have to manage a large number of contracts across multiple departments, organizations, and disciplines. Manually managing these contracts is time-consuming and incurs significant administrative costs. A better approach is to automate the entire process with a contract management system in healthcare. 
If your organization is looking to adopt an automated contract management system, there are eight best practices you need to follow. The resulting savings in time and money can be substantial.
Key Takeaways
Traditional contract management in healthcare can be costly and time-consuming

Automating contract management with contract lifecycle management (CLM) software results in multiple benefits to healthcare organizations

When implementing a contact management system in healthcare, best practices dictate creating a central repository, optimizing data and security, and standardizing all contract practices

Organizations also need to create a set of pre-approved terms and clauses, design a set of contract templates, and completely automate the contract workflow
Understanding Contract Management in Healthcare
According to Black Book Market Research, healthcare providers in the U.S. spend $157 billion each year to manually manage their contracts. That's because 96% of healthcare providers have not yet automated their contract management. 
Healthcare providers have to deal with a wide variety of contracts, including provider agreements, business associate agreements (BAAs0, employment agreements, technology licensing agreements, equipment purchases and leases, service agreements, patient agreements, vendor agreements, and more. In many cases, the contract lifecycle is similar for these different types of contracts, as detailed in the following illustration.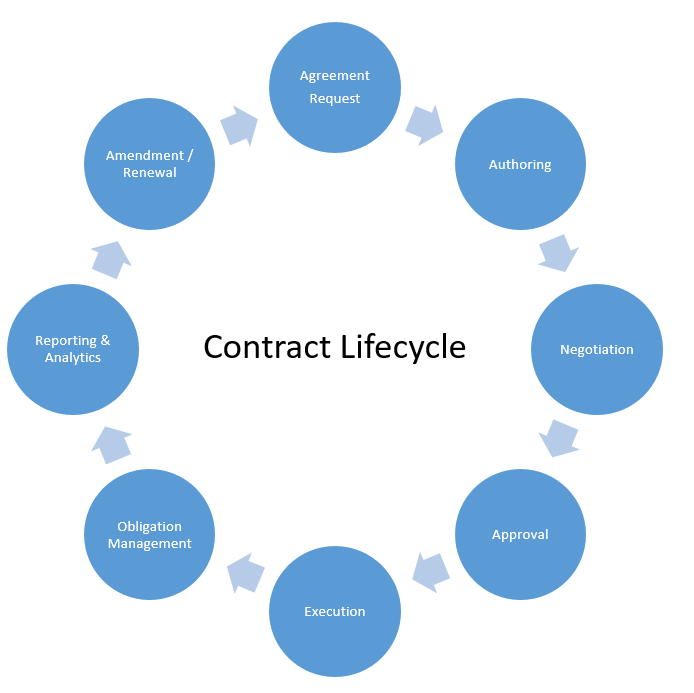 If you're doing all this manually, the process can be tedious, time-consuming, and prone to error. The better approach is to automate all aspects of the process with contract lifecycle management (CLM) software. It's estimated that healthcare organizations can save the equivalent of 2% of their total annual costs by automating their contract management. That's a cost savings your organization cannot ignore.
As a real-world example, leading EHR provider PointClickCare implemented Contract Logix's CLM solution and saw a near-immediate return on their investment.
The benefits presented by automating the contract management process with CLM software are many, especially in the healthcare field. Not only can CLM software result in lower costs, it also streamlines and speeds up the entire contract process, mitigates risk, significantly reduces errors, and ensures greater compliance with all industry regulations. All of these are key reasons that the market for healthcare CLM software is set to explode over the next several years.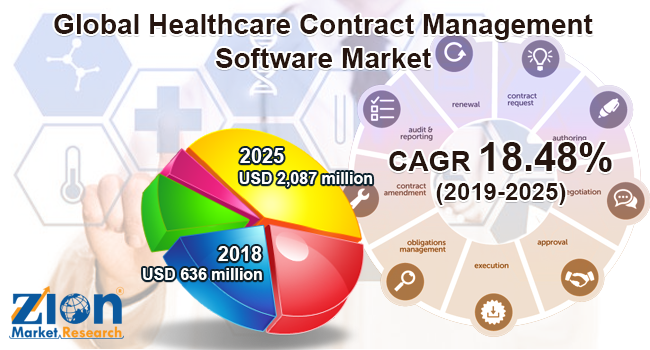 SOURCE: ZionMarketResearch.com
Best Practices for Contract Management System in Healthcare
When your healthcare facility wants to implement a state-of-the-art contract management system, what things do you need to consider? You want to improve the efficiency of your office operations without affecting the quality of your patient care. To do so, you need to adhere to the following best practices.
1. Create a Central Contract Repository
All your contracts and supporting documents need to be stored and managed in a central location, no matter which departments are involved. You'll want to ensure your CLM software provides a digital, dynamic, and searchable contract repository. In addition, data-driven solutions like Contract Logix ensure that all the information in your contracts and documents like type, vendor, date, term, etc. is searchable so that you never have to worry about keyword tagging or having difficulty locating important items.
2. Optimize Data Security
Because contracts contain some of your most sensitive information, make sure your digital data is stored securely to minimize the risk of data breaches or inappropriate access. You're required to comply with HIPAA, HITECH, and other federal regulations and guidelines concerning data privacy, and failure to comply can result not just in hefty fines, but also damage to your reputation. It's important that your CLM software enables you to implement role-based and feature-based security, multi-factor authentication (MFA), and single sign-on (SSO). It's also key that your healthcare CLM system is SOC 2 Type II and HIPAA compliant, and encrypts your data at rest and in transit.
3. Use Alerts and Notifications
One of the biggest risk factors in healthcare contract management is missed obligations. When you implement CLM software, make sure to leverage and automate alerts on key dates, commitments, and tasks. This will eliminate missed obligations and make it easy to track these items without the need for spreadsheets and email calendars. It's one of the biggest ways that CLM providers like Contract Logix help healthcare organizations significantly mitigate risk.
4. Create a Set of Pre-Approved Terms and Clauses 
When it's time to create new contracts, it helps for everyone involved to use contractual language, terms, and clauses that are acceptable to your company – and authorized by your legal staff. The best way to do this is to build a collection of terms and clauses that are pre-approved for use. When new contracts are written, they should use this pre-approved language to minimize rogue language that might not be acceptable. With CLM software, healthcare organizations can also use business rules to auto-populate clauses into contracts and leverage merge fields to auto-populate key information like names, addresses, and other details.
5. Design a Set of Contract Templates
In addition to building new contracts using pre-approved language and clauses, you can also get a head start on new contracts by using pre-designed contract templates. There's no reason for anyone in your organization to reinvent the wheel. You can populate your CLM software with all your contract templates for NDAs, BAAs, provider agreements, and more to make contract creation fast and compliant.
6. Integrate with Other Business Systems
CLM software should be your database of record for all your contracts, related documents, and contract data. However, it's also valuable to integrate that information with other applications like CRM, ERP, ITSM, HRSM, or BI systems. Through the use of a REST API, you can send, receive, and sync important information to and from your CLM software. This helps healthcare organizations ensure information accuracy and efficiency across the organization.
7. Enable Detailed Reporting
All contracts contain valuable data that can help you manage other aspects of your operation and deliver actionable insights.  CLM platforms that are data-driven enable you to harness that wealth of data and create detailed and real-time reports and analysis, which can be used to help you minimize contract-related risk, ensure full regulatory compliance, and better plan for the future. Answers to all your contract-related questions is right at your fingertips. 
8. Automate Your Workflow
The last best practice for healthcare contract management is to automate each step of your contract-related workflow. This will enable tremendous efficiency and speed across the entire contract lifecycle from request to addendum. In addition, you can ensure your business rules are always followed which drives significant compliance. You will minimize all opportunities for human error and speed up the entire process. That's what CLM software does best.
Let Contract Logix Help Automate Contract Management for Your Organization
When your organization wants to automate and streamline the contract management process, turn to Contract Logix. We offer state-of-the-art CLM software designed especially for healthcare organizations. Contact us today to learn how you can easily move your current processes into our CMS platform and reduce your contract management costs.
Contact Contract Logix today to learn more about automating your contract management.