How Can Cloud Contract Software Help with Contract Management?
Cloud contract software is helping in-house legal, procurement, finance, and sales teams implement strategies that drive growth and build resilient organizations capable of dealing with future challenges and critical business strategies such as digital transformation. According to McKinsey, five areas will determine the success of today's enterprises:
Building a resilient supply chain

Adopting zero-based value-creation strategies

Focusing on innovative supplier relationships

Accelerating digital transformation

Moving to an agile operating model
Successfully implementing these strategies will depend on your ability to manage contracts across your business landscape efficiently. Cloud contract management solutions can help you to mitigate risk, increase business performance, drive compliance, and cut costs relating to the IT infrastructure where possible. 
This blog details all the ins and outs of cloud contract software and why you should consider it a lifeline that your business needs.  
Key Takeaways:
Cloud solutions allow you to streamline the way you manage all your business processes
With cloud contract software, you can connect your daily operations with the vital data sets contained in your business agreements

Cloud contract software provides a single source of truth while giving you better control, visibility, and security over one of the most important aspects of your business — contracts
What is Cloud Contract Software?
The rise of cloud computing is transforming the way companies store, access, and disseminate information. Cloud contract software is a solution that enables companies to manage the entire contract lifecycle process from beginning to end while harnessing the data contained in their business commitments and obligations from a secure, central location across any device. 
Contracts support almost all of your business functions, from employee contracts to vendor agreements. Moving to a dedicated contract lifecycle management (CLM) solution that's cloud-based is one way you can increase your efficiency and effectiveness. For in-house legal and procurement teams especially, a cloud CLM can help set up the organization for success in the future.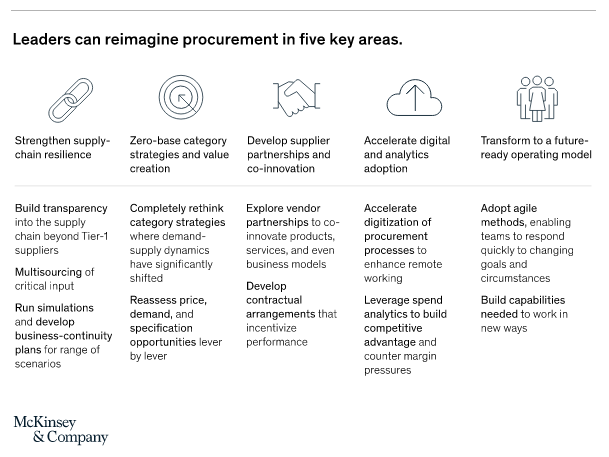 Source: https://www.mckinsey.com/business-functions/operations/our-insights/reimagining-procurement-for-the-next-normal
Business Value of Cloud Contract Management Software
None of the strategies above are possible without moving to a centralized source of truth for all key business data. Cloud contract software can improve supply chain management, finalize business faster, extract valuable insights about process efficiency, and improve collaboration throughout the organization. 
Here are five big business benefits available from cloud contract management software. 
1. Centralized and Secure Contract Control and Administration
By centralizing all of your contracts and contract data in the cloud, you can manage and administer the entire contract lifecycle from a single location. With this single source of truth, you can extract additional value from your business processes by having greater control and visibility over your contract management resources. 
Legal teams can create libraries of contract templates and clauses that can be used by procurement, sales, and other non-attorney employees to draft and assemble contracts using approved legal language. Speeding up the draft and internal approval phases of your CLM will save money while giving you complete control over every agreement the company executes. 
Centralized and data-centric cloud contract software provides:
Greater accessibility, security, and control over vital business information

Streamlined drafting and approval processes

A library of contract templates and clauses that help improve compliance

Ability to search, report, and analyze contract data for business insights and KPIs
2. Efficient CLM Process Management
Although the drafting and negotiation stages of your CLM remain iterative, cloud CLM gives you the ability to design and automate business process workflows for different types of agreements, approvals, obligation management, and more. Teams will know exactly what is required at each stage of a contract's lifecycle, and, by guiding resources through the different steps, become more efficient and compliant when executing tasks. You can define the requirements for each task/step, such as listing the supporting documentation like a certificate of insurance, routing approvals based on dollar values or other parameters, and triggering alerts for specific obligations. 
By building and automating workflows for each of your contract-related business processes, you can:
Reduce risk, increase compliance, and zone in on areas where there are process inefficiencies or bottlenecks

Improve productivity and speed by reducing the manual effort required from your team members

Gain new insights and provide greater transparency into all your contract management tasks and obligations
3. Mitigating Business Risks
Contracts are a critical mechanism to transfer and mitigate risks in your business, from performance to compliance-related issues. Risk management requires you to identify, prioritize, and control any element of your day-to-day operations that can harm the business. Cloud contract management software allows you to implement effective risk management strategies within the agreements that control your operations. 
The three main ways to manage contract risks include:
Transferring risks to the responsible party with obligations and standardized contract clauses

Indemnifying against major risks, such as loss of services or buying insurance for hazards that you can't avoid

Building controls into your business process such as early warning and automated alerts, permissions and security, and workflow automation that avoid risks from human error
A cloud CLM makes it easier to review all your contract-related risks and ensure you mitigate the damage from these hazards effectively. 
4. Building a Stronger Team Culture
With improved transparency and cross-functional collaboration, you can build a better business culture in your organization and with third-parties. When team members know exactly what their responsibilities and duties are, there is less conflict, and everyone works together to achieve the business goals. 
Cloud CLM gives you contract collaboration tools that streamline communication between your business units, vendors, suppliers, and any third parties involved in the process while reducing friction during contract negotiations. You can define the roles required for your CLM and grant access to the required resources, allowing everyone to work in the same environment. Automated alerts mean you won't miss another key date, and you can track organizational, process, and contract performance using the data-centric analytics you generate from the system.
5. Better Business Integration
Cloud contract software can integrate with other business applications to streamline your operational processes even further. Once you have your cloud CLM in place, you can integrate with your CRM, ERP and other systems to auto-populate information related to your contracts. 
Eliminating duplicate data entry provides greater accuracy and can help uncover opportunities for further improvement. You can also ensure data security with tools like two-factor authentication (2FA), encryption, SOC 2 Type II compliance, and single-sign-on (SSO) to keep all your information secure. 
Leverage the Benefits of Cloud Contract Software with Contract Logix
If your company needs to increase efficiencies, reduce risks, and maximize productivity, you should consider cloud contract software from Contract Logix. An intuitive interface gives your teams access to all essential contract information while providing you with a single source of truth that helps analyze your organization's performance. Let us help you streamline and automate your contract lifecycle management today!
For more information about how you can benefit from cloud contract software, request a demo from Contract Logix today. 
Read More