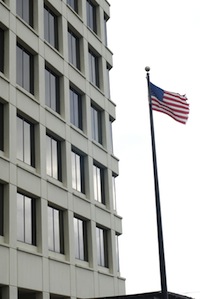 Achieving Operational Efficiency through Cloud Technologies
Created by the E-Government Act of 2002, the Federal Chief Information Officer of the United States (US CIO) oversees federal technology spending, federal IT policy, and strategic planning of all Federal IT investments. In 2009 Vivek Kundra became the first American to hold the title of US CIO. Kundra's most important accomplishment was the publication of the 25 Point Implementation Plan to Reform Federal Information Technology Management a. This plan became a pivotal point in how the US Federal government would manage IT as it put cloud-based technologies as one of top priorities for achieving IT efficiency. Here is an overview of Kundra's plan on how to achieve operational efficiency through cloud-based technologies.
Consolidation of Data Centers
As of 2010, the US federal government was operating close to 2,100 data centers. Besides the obvious disadvantage of a large operational cost to maintain such a vast network of IT servers across the nation, there are also the disadvantages of large carbon footprint, increased exposure to cyber-threats, and computing inefficiency. Set by Kundra's 25 action plan, consolidation of data centers promote the use of environmental-friendy solutions that reduce the overall energy and real estate footprint of government data centers. Then, overall IT security is increased by limiting the potential access points to the grid from 2,100 to an estimated 800 by 2015.
Finally, computing efficiency is achieved by using cloud-baseed technologies. There have been so many changes in hardware and software that more affordable IT platforms are available within the scope of current processors and memory configurations. Shifting several data centers to a single cloud-based center achieves operational efficiency at a lower cost. For example, picture having access to all of your contracts from anywhere through an cloud based contract management system with just a browser and Internet connection, versus being forced to access them through a single location
Improved Availability of Data
With consolidation of data centers and increased computing efficiency, the extra capacity makes sure that data is continuously accessible. An example of the importance of continuos data availability was the failure of the Federal Government's Car Allowance and Rebate System (CARS, also known as "Cash-For-Clunkers") to meet demand due to inadequate IT infrastructure. Demand far exceeded initial projections, and within three days, the system was overwhelmed, leading to numerous unplanned outages and service disruptions .
By using cloud-based IT infrastructure, the government is not exposing itself to the dangers of products that will eventually phase out and no longer have technical support. Two examples of this are Internet Explorer 6 and Windows 2003 Business Server. On the one hand, Microsoft no longer provides support to users of Internet Explorer (IE) 6 and is already planning to no longer provide support to users of IE 7. On the other, Windows 2003 Business Server runs on a 32-bit architecture, which has exploitable vulnerability and decreased efficiency.
A shift to the cloud makes sure that computing power is scalable any time to meet increased demand loads and optimizable during lower demand periods.
Leveraging Private Sector Best Practices
Another important point from the 25 point plan to reform government IT management is leveraging shared services of "commodity" applications such as e-mail across functional organizations allows organizations to redirect management attention and resources towards value-added activities. Instead of incurring the cost of developing solutions in-house every single time, federal IT managers now evaluate cloud-based solutions that meet government standards. For example, an agency can incur important savings by using a government approved enterprise contract management software to manage its vendor contracts, instead of having to spend scarce monies in developing one from scratch.
Furthermore Kundra established, "our aim is to drive to a set of common services across the government supported by a community, rather than an agency-specific risk model." He  proposed leveraging private sector best practices such as "approve once and use often" to create a more agile IT implementation and adoption process.
Takeaway
The US CIO office is spearheading a "Shift to Cloud First" policy, which means that cloud computing should be the default option whenever possible. If the government mindset is swiftly shifting from monolithic IT servers towards cloud computing, it is a good indication that your business should also consider such a move. A perfect first step towards cloud computing is through the adoption of Software-as-a-Service (SaaS) solutions.  Cloud-based solutions consolidate the cost of data centers, improve your availability of data, and leverage best IT management practices.